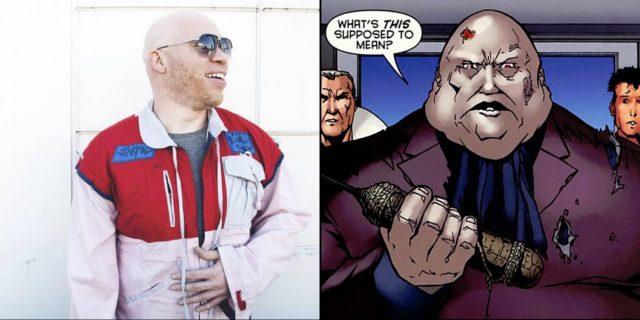 Fans of the underground hip hop scene in the state of California might be more familiar with Marvin Jones III as "Krondon," who is one of the three members of Strong Arm Steady. In more recent times, some people will have heard of him because of his casting as Tobias Whale in Black Lightning, meaning that he will be playing the arch-nemesis of the titular superhero.
Here are 5 things that you may or may not have known about Marvin "Krondon" Jones III:
He Is Albino
Krondon has albinism, which is when a person has a congenital disorder that causes either a partial or a total lack of pigment in their eyes, their hair, and their skin. It seems probable that this was one of the reasons that he was chosen to play Tobias Whale, who is a character with the same congenital disorder. However, it should be noted that the executive producer for the TV show made note of his intelligence, his street smarts, and his physical presence as well, which are all components of the character along with his physical appearance.
Has Remained a Core Member of Strong Arm Steady
Initially, Strong Arm Steady started out as a group of at least eight members. By the time that it had started recording in the studio as well as putting on live performances, it had pared that number to four members, with Xzibit serving as the frontman. However, Xzibit left the group in 2006, reducing its membership to a trio that has remained constant since that time. Said individuals are Mitchy Slick, Phil Da Agony, and Krondon.
Pioneered Mixtape-Based Marketing
It is interesting to note that Krondon and the rest of Strong Arm Steady pioneered a mixtape-based marketing approach on the West Coast. This happened because none of the members were DJs. For that matter, none of the members were even affiliated with DJs. With that said, Strong Arm Steady did not come up with the mixtape-based marketing approach, seeing as how it had seen successful use on the East Coast just before them.
Comes from South Central
Krondon comes from South Central, which is a common name for South Los Angeles. In his own words, he said that he came from humble beginnings in said region but went on to experience all of what it had to offer. Krondon has stated that he wants to follow in Ice Cube's footsteps by being a reporter of sorts, meaning that he wants to use his music to tell people both within and without the place that he comes from about what is happening within it.
Not His First Role
Suffice to say that Krondon has been performing music for a long time. However, it is interesting to note that his role as Tobias Whale on Black Lightning will not be his first acting role. Instead, that was Castor Mukasa on Harry's Law in 2001, which was about a group of misfit lawyers who went on to form a most unconventional law firm. While the TV show lasted no more than two seasons, it did manage to secure a Primetime Emmy Award along with other awards and accolades.