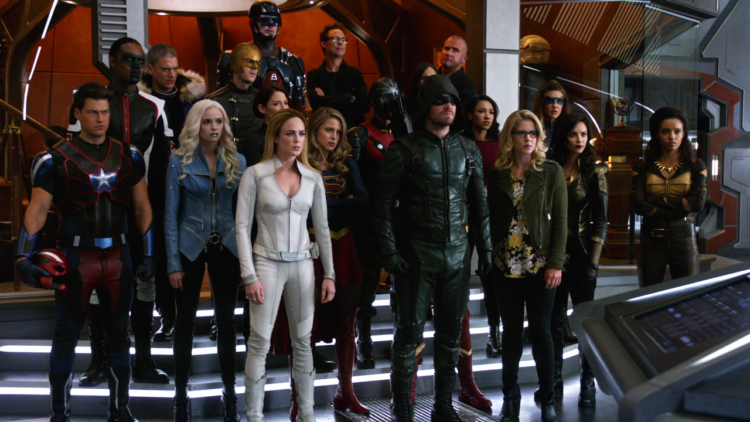 Crossovers are a delight for any fan when they finally happen and in the DC universe it was something to keep the audience glued to the TV since it brought together a wide assortment of heroes that were needed to combat a very real threat that was something beyond what they'd seen before. Packing this many heroes into a program is something that could easily backfire but in DC's case it was rather important that Crisis on Earth-X was brought out as the TV series are really all that's keeping DC alive when it comes to live action. Their animated films are still popular enough, but in terms of live action DC has been tanking at the movie theater and in the opinion polls when it comes to their continual need to compete with the MCU. So to be honest this attempt was something that absolutely needed to happen in order to keep them afloat.
Not every series they've come out with to this date has been entirely successful, but banking on Arrow and The Flash seems like a good idea since people have responded to the two heroes and have managed to enjoy whoever gets brought in for the duration. But considering the amount of competition they're still dealing with from the MCU it seems as though they should have been bringing out the big guns a lot sooner than they did. There's still a lot left to DC and a lot of things that can be redone if they put some time and actual effort into their films, but for now their shows are the most important part about them since they're the most dynamic part of the franchise and the ones that people are really excited to watch. Plus, they're far more accessible than the movies, which only come out so often and can't be watched from the comfort of home until several months after they hit theaters.
The beauty of this crossover is that it came out before Infinity War reached theaters, and while it might seem as though DC was attempting to one-up the MCU on a smaller scale, it's also evident that the Crisis story would be less tragic and far more heroic as people want to see it. The problems with the MCU in the recent past, well, not problems so much as quirks, is that they have been allowing their heroes and villains to finally die off and go on to rest, whereas the DC universe has done the same, but just like Marvel finds ways to bring their people back and continue the idea that heroes can't really be killed, nor can villains. In Crisis it seems as though the majority of the heroes will make it out, while in Infinity War there was already a good idea that not everyone was making it out of the film alive.
If you're a DC fan that knows the whole Crisis angle then it's possible that you might know a little of what's coming and what to expect, but for those of us that are Marvel fans or simply watch whatever is on because we're interested, the idea is usually that the hero wins and things turn out more or less the way they should. One big reason that Crisis is so important however is that in a way it managed to keep the DC universe alive and still capable of being considered a serious contender for the audiences that are interested in superhero shows. The MCU hasn't done all that badly in TV but they've dominated at the box office more consistently and with Infinity War it's safe to say that they remain on top, especially since there's a continuation movie on the rise that will come out at one point. After that it's hard to imagine where the MCU will go, but DC will need to keep up and Crisis was one important way to do this as it managed to allow the franchise to finally pull everyone together for a common problem that they had to deal with as a unit instead of on their own.
DC is still a viable contender when it comes to TV, and if it continues to pull in the ratings there's a chance that the movies might eventually being to shine at the box office on a more consistent basis as well. The story of Crisis was great in fact since Earth-X is a dystopian world where the Nazis won WWII and the world suffered for it. In this hellish landscape superheros like Supergirl and Green Arrow became the bad guys, or Dark Arrow and Overgirl. Earth-X is basically a place where those that are good in other worlds are evil and vice versa. If nothing else the crossover managed to put most of the favored superheroes together for a stunning display that no doubt wowed a great many fans.