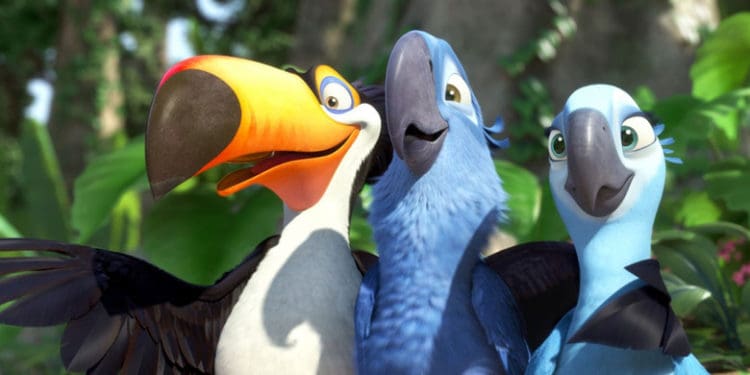 On the surface, most animated movies are geared towards kids, but there are quite a few that appeal to adults as well. The 2011 movie Rio was one of them. With a stellar cast, an interesting storyline, and beautiful animation, Rio was a box office hit and received lots of good reviews from critics and viewers alike. Although it's hard to believe, it's been 10 years since the movie's release and lots of things have changed since then. Many of the movie's cast members have gone on to have stellar careers, but there are some who have been a little less active in terms of being in the spotlight. Keep reading to find out what happened to the cast of Rio.
Anne Hathaway
By the time Anne Hathaway was cast in Rio she was already a star, and her star has continued to shine bright ever since. Anne has been in more than a dozen movies since Rio including Rio 2 which was released in 2014. Additionally, Anne has several projects in the works including a TV series called WeCrashed which is slated to premiere in 2022. On top of the work she's done in front of the camera, Anne has also stepped on the other side of the camera. She has produced four projects since 2014 – two of which have yet to be released.
Jesse Eisenberg
Like many of the other cast members from Rio, Jesse Eisenberg hasn't spent a lot of his career doing voice work. However, he had no problem rising to the occasion for his role in Rio and Rio 2. Since then, however, the rest of his acting work has been live action. He has been working consistently with most of his focus being on film opportunities. His most recent credit is the 2021 film Zack Snyder's Justice League and he has two film projects in the works. Outside of his work, Jesse has also been enjoying his personal life. In 2017, he married Anna Strout. The couple has one child together.
Jemaine Clement
Jemaine Clement's name may not be as widely known as some of the other cast members on this list, but he has had a very successful career and it gets a little better each year. A lot of Jemaine's most recent work has been in the TV world, but he certainly left the movie world behind. He will be appearing in the next four Avatar films as Dr. Ian Garvin. Jemaine is also a talented musician who has been a part of several soundtracks.
Leslie Mann
Well known for her impeccable comedic timing, Leslie Mann did an outstanding job voicing Linda in the Rio movies. After Rio, Leslie landed parts in several well known projects such as This Is 40 andMotherless Brooklyn. Leslie hasn't had any roles in 2021, but she'll be back on all of our screens in no time. She is currently working on some a TV show called The Power as well as two film projects.
George Lopez
George Lopez has been in the entertainment industry for more than 30 years and he has covered a lot of ground during that time. He is known for his great sense of humor and bright on-screen presence. Needless to say, George hasn't had any issues finding work in the years since Rio was released. In addition to reprising his role in Rio 2, George has also been in a number of other movies and films and he has also produced several projects.
Jamie Foxx
Over the years Jamie Foxx has shown time and time again that he can do it all. From acting, to singing, to comedy, he is the truth definition of a triple threat. He has been involved in a wide variety of projects since Rio and Rio 2 and he doesn't have any intention of slowing down any time soon. The next few years are going to be incredibly busy for him as he has a number of movies that are currently in the works.
Rodrigo Santoro
Some actors struggle to move between genres, but that has never been an issue for Rodrigo Santoro. Whether it's comedy, drama, or action, he knows exactly how to put on a great performance. While he hasn't done a lot of voice work, you'd never be able to know that by watching Rio or Rio 2. He has been in quite a few good movies and shows in more recent years, most notably the TV series Westworld.
Tracy Morgan
Tracy Morgan doesn't always get the credit he deserves. After starting his career as a stand-up comedian, he managed to successful transition into acting and he hasn't looked back since. Even though he is known for his comedic work, Tracey has more range than people would expect and his has allowed him to be part of all sorts of projects. Tracy was a cast member on Saturday Night Live until 2017 most recently he has been in The Last O.G. and Cranky Yankers.