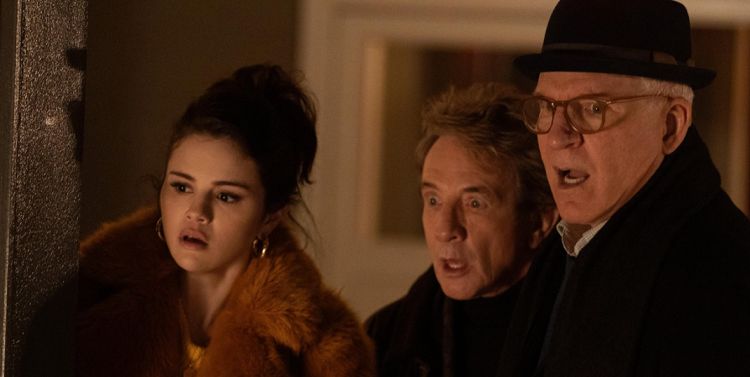 "Only Murders In The Building" is an upcoming Hulu series starring Steve Martin, Martin Short, and Selena Gomez. It looks like a wonderfully fun and funny murder mystery. According to Hulu, the series follows three strangers who all live in the same very exclusive Upper West Side apartment building. All of them happen to be obsessed with true crime stories, so when a death occurs in the building, they take it upon themselves to investigate. "As they record a podcast of their own to document the case, the three unravel the complex secrets of the building which stretch back years. Perhaps even more explosive are the lies they tell one another." And of course, as they're doing all this investigating, we're left wondering – is there a killer on the loose? However, "Only Murders In The Building" isn't available until August 31. Here's what you can watch in the meantime to get your quirky, funny, murder mystery fix.
1. Knives Out
When it comes to blending comedy, absurdity, and a good murder mystery all in one, this is just about the perfect movie. Daniel Craig trades his British accent for a Southern one Detective Benoit Blanc, who is called in to solve the murder of a best-selling crime novelist (played by Christopher Plummer). The suspect list includes most of the novelist's family…most of whom have been freeloading off him in one way or another for years. The characters are quirky, Blanc is charming and a little odd, and the entire movie, which also stars Jamie Lee Curtis, Michael Shannon, Chris Evans, and Ana de Armas is just a whole lot of fun.
Where to watch: You can watch "Knives Out" on Amazon Instant Video, iTunes, Google Play, and Vudu.
2. Miss Fisher's Murder Mysteries
This TV series set in 1920s Australia features a lady detective (gasp!) who flaunts the rules ladies were supposed to follow at the time. Essie Davis plays Miss Phryne Fisher, who makes a living as a detective while annoying the local police force with her meddling. Which is, of course, the only way anything gets done.
Where to watch: You can watch "Miss Fisher's Murder Mysteries" on Acorn TV, Hoopla, DIRECTV, and Spectrum On Demand or download it on iTunes, Google Play Movies, Vudu, or Amazon Video.
3. Clue
"Clue" features an 80s all-star cast including Tim Curry, Madeline Kahn, Christopher Lloyd, and Michael McKean in a madcap "whodunit" movie. There's a lot of running around a creepy old mansion. There's a lot of double-entendre and silly joking. There's…not one answer to the mystery, but three. Watch 'em all and decide which you like best.
Where to watch: You can see "Clue" on Amazon Video, Paramount+, iTunes, Vudu, or Google Play.
4. Gosford Park
This 2002 movie is also darkly comedic. The upstairs-downstairs dynamic is very similar to "Downton Abbey," (in fact, the show was originally planned as a spinoff of "Gosford Park") with a good murder mystery in the mix as well. It feels vaguely like an Agatha Christie novel, and it's just as much fun getting to the conclusion of the mystery.
Where to watch: You can watch "Gosford Park" on iTunes, Amazon Video, Google Play, and Vudu.
5. Burn After Reading
This Coen brothers' black comedy stars Francis McDormand, Brad Pitt, George Clooney, and John Malkovich. It's a caper about two gym employees who stumble upon the misplaced memoirs of a former CIA analyst and believe they're classified government documents. Then (and this is going to sound familiar), they try to sell them to the Russians. Some things never change.
Where to watch: You can watch "Burn After Reading" on Google Play, Vudu, Amazon Video, and iTunes.
6. Veronica Mars
If you missed "Veronica Mars" when it was on UPN, and then the CW, it's worth going back to watch now. Kristen Bell stars as a high school sleuth who helps her dad with his detective business. Instead of being a frothy high school soap opera, it's darker and more noir-feeling. Although the show came out before we binge-watched stuff, you won't be able to help yourself while watching Season 1.
Where to watch: "Veronica Mars" Seasons 1-4 are currently streaming on Hulu.
7. Sherlock
The Benedict Cumberbatch and Martin Freeman show "Sherlock" is a great twist on the classic stories. The stories and characters have been updated just enough, but they still retain their original quirks (especially the title guy). The show is a fast-paced, smart series that will keep you watching as the men fight bad guys in London and beyond.
Where to watch: You can watch "Sherlock" on Amazon Prime, iTunes, Vudu, or YouTube.
8. The Flight Attendant
Cassie Bowden (Kaley Cuoco of "The Big Bang Theory") is a flight attendant for Imperial Airlines…and a crazy partier in her off-hours. After meeting a handsome businessman on a flight and spending a day – and a night – with him, she wakes up from a blackout to discover his dead body next to her in bed. She's pretty sure she didn't murder him…but she needs to find out who did before she's in a whole lot of trouble.
Where to watch: "The Flight Attendant" is streaming on HBO Max.
9. Murder on the Orient Express
There are several versions of this classic Agatha Christie story, and they're all great thanks to her amusing detective Hercules Poirot. The Kenneth Branagh version from 2017 is a great place to start – Dame Judi Dench, Johnny Depp, Michelle Pfeiffer, Josh Gad, and the rest of the celebrity-studded cast have a whole lot of fun with their over-the-top characters. Branagh and his marvelous mustaches is great as Poirot. If you love the movie, also watch the 1974 version with Albery Finney, Lauren Bacall and Ingrid Bergman.
Where to watch: You can watch the 2017 version on Amazon Video, iTunes, Vudu, Google Play and YouTube. You can watch the 1974 version on Vudu, Amazon, and iTunes.
10. Kiss Kiss Bang Bang
Before he was Iron Man, Robert Downey Jr. was Harry Lockhart, a thief who accidentally crashes a movie audition where his genuine feelings are misinterpreted as acting. He gets hired as a movie star detective, but while he's researching his role, he gets pulled into an actual mystery. It's witty and just an all around good ride.
Where to watch: You can watch "Kiss Kiss Bang Bang" on Google Play, Vudu, Microsoft, YouTube, or AMC on Demand.Steve Martin