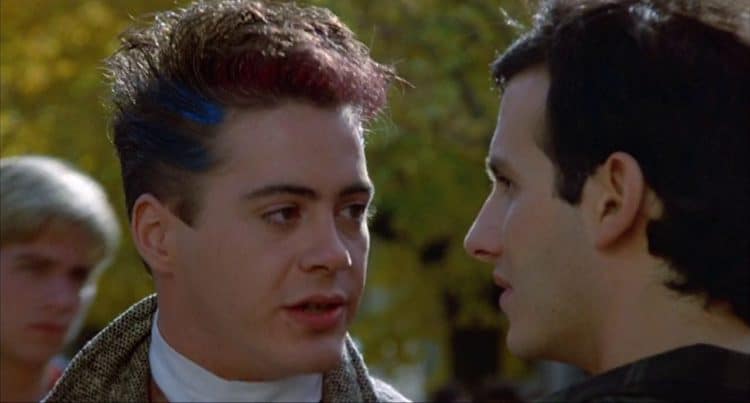 Robert Downey Jr. has had an amazing career over the years, especially considering that a lot of people might have thought that it was over at one point since he'd done just about anything and everything wrong that he could. But since he started surging upward again with his role in the MCU things have only been getting better. There was a time though when he was still kind of unknown to a lot of people and was more of a raw talent. This is partially why it's easy to think that there are movies out there that people have forgotten that he was in to start with. A lot of them are older movies, possibly dating back a couple of decades or so, perhaps a little further, but they're good examples that show how energetic he was back in the day and how nice it is to see him still exuding that same energy today in a more refined and experienced manner. He's become an inspiration for a lot of people with everything he's gone through and what he's become, but there was a time when he was either hard to like or was considered to be funny but kind of a screwball.
Here are a few movies that people might have forgotten that Robert Downey Jr. was in.
5. Soapdish
Being the producer of a hit soap opera, or playing one at least, would be kind of awkward it feels like. But in the spirit of things the movie was a mess of emotions and intrigues that ran the gamut from the most simple to the most messed up and grandiose, as is befitting a soap opera apparently. The whole thing culminates in the ambition of a single individual that's trying to supplant a popular soap star and ruin her career. Some might take issue with this movie since the antagonist is transgender and it does kind of lean heavily into a few stereotypes that might not be considered worthwhile, but it's still pretty hilarious.
4. Air America
Starring as a helicopter pilot that gets recruited to a company known as Air America, Billy is not the kind of guy that wants trouble but he ends up finding plenty of it since the outfit he's with smuggles all sorts of things, including drugs and weapons, from one place to another. When he and his people are betrayed he decides to get payback as he takes the fight to those that have been setting him up. The movie is something that might sound kind of familiar since Air America was mentioned in Lethal Weapon, which, like this movie, also starred Mel Gibson, which is a pretty cool connection.
3. Gothika
Some folks might have had to watch this movie a couple of times to really get it, but once they did it was bound to be one of the creepiest movies they'd seen in a while. The bar has definitely been raised following this movie, but as far as RDJ is concerned his role was kind of muted since he was the good friend of the protagonist. Even he didn't know what to think when the evidence pointed to her killing her husband. When it was discovered that she had a pretty good reason for it since he was doing something more horrible than anyone had guessed he finally came to believe her.
2. Weird Science
There's no other way to say it, RDJ was a bully in this movie, and in the true fashion of the decade, he was one of those bullies that's pretty much spineless when things aren't going their way and they can't rationally explain what's happening around them. But he did manage to provide a role that was useful since it brought a bit of conflict into the story and made it possible for the two main characters to find their spine a bit. After all, a person can only be picked on for so long before they finally feel the need to stand up and fight back. But as a bully RDJ was never quite that convincing.
1. Back to School
Derek was definitely one of the best parts of this movie since he played into a very heavy stereotype of the 'anti' individual that was against pretty much anything that was considered traditional. The guy lived his own life at his pace and he wasn't bound to let anyone tell him differently since he was simply doing what he wanted and didn't mind if people didn't like it. In fact, this was one of the closest characters to Tony Stark that RDJ played early on in his career. One can easily see his attitude in this role and it's great because he went so over the top that people loved it.
Yes, even RDJ can be forgotten when it comes to movies.