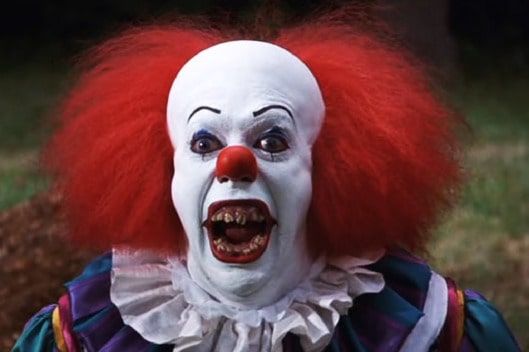 Let's face it, when you think of Pennywise your mind still goes back to Tim Curry. Even if Bill Skarsgard is that good, and he's great, no doubt, he still had some big shoes to fill and a legacy to compete against. The desire to not compete against Curry is admirable. Skarsgard wanted to make it his own and he did. But regardless of this, those of us that saw IT for the first time in 1990 are more likely, for now, to think of Tim Curry when we think of the movie at all. After all, Curry did make the clown come to life in a way that even Stephen King found admirable.
In this clip you can see and hear as Tim Curry discusses his role in the 1990 miniseries as Pennywise, and you can get a good idea of how he felt about the role and how he feels that Skarsgard will do with his chance. It's unfortunate that Curry suffered a stroke in 2012. The episode left him confined to the wheelchair you see him in and unable to do much more than speak to the audience, which is a very special treat for a lot of fans in any case.
In the clip he talks about the miniseries and the interaction between him and the child actor that played Georgie. When the young boy said that Curry was scaring him Curry replied that that was his job, to a round of applause and laughter. You can't help but agree even though you can imagine that he was trying to calm the boy down between takes. That's a big difference between the kid actors back then as opposed to today, the kids that starred in the 2017 version have admitted that they absolutely loved it. The kids back then had no idea what was coming despite being in a horror production and were scared stiff most times.
Then Curry gets asked about Bill Skarsgard stepping in to play Pennywise, and he couldn't be more supportive. So far the predicted rivalry has kind of fizzled as both Bill and Tim have been entirely complimentary of one another. No matter how they might feel away from cameras, hopefully they're still in full support mode, they are very vocal about how the other has done a great job in presenting the material. Curry happens to think that Bill will definitely do what he can to fill the role and should do a great job, which is highly encouraging from the legend that made Pennywise such a difficult character to replicate.
It might seem a little sad to see this A-list actor relegated to such a state but as we go forward in life we need to understand that things are going to happen and that we don't get to beat the clock in any way, shape or form. Curry's stroke did sideline him for a while as he took some time out to recuperate and relax, but he's been back in the public eye since then and obviously has been doing quite well. His acting days might be over but his legend is still strong.
Save
Tell us what's wrong with this post? How could we improve it? :)
Let us improve this post!