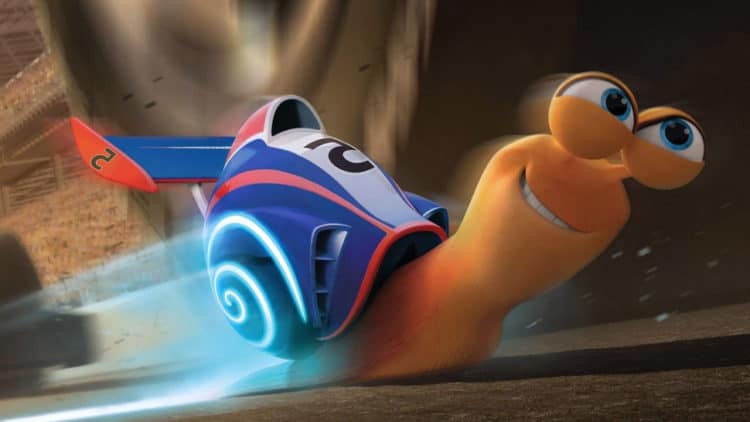 Every once in a while there's an animated movie that comes along that appeals to more than just young viewers. The 2013 film Turbo was one of those movies. Following the journey of a small snail who hopes to become a successful racer, Turbo was a tale of perseverance, adversity, and triumph. Although the movie received mixed reviews from critics, it was generally well-liked by viewers and it proved to be a hit at the box office. The fact that the film had an all-star cast definitely played a major role in its success as well. Although some of the cast members have remained in the spotlight since the movie's release, there are some that have been a little more low-key. Keep reading to find out what the cast of Turbo is up to now.
Ryan Reynolds
As the voice of the movie's title character, Ryan Reynolds brought Turbo to life in ways that only he could. Since Ryan is one of the biggest stars in Hollywood, there's not really much mystery surrounding what he's been up to since voicing Turbo. In addition to the things he's already done, however, his fans will be excited to know that he has several major projects in the works included Deadpool 3 and Clue.
Paul Giamatti
Paul Giamatti is one of those actors who's good at everything he does. From comedy to drama, Paul brings something magical to every project he's a part of. Needless to say, Turbo was no exception. In the film, he voiced Turbo's big brother, Chet. Since the film's release, Paul has continued to land movie roles both voice and live-action. Most recently, he has been playing Chuck Rhoades on the popular TV show Billions. Paul currently has three movie projects in the works including San Andreas 2, but it's unclear when they will be released.
Michael Peña
Over the course of his career, Michael Peña has earned nearly 100 acting credits, and the list grows a little more every year. Since Turbo, he has continued to get lots of great opportunities in the industry on the big and small screens. In 2021, he appeared in the movie Tom & Jerry, and that marked his only acting credit of the year. However, he is currently filming two movies that are set to be released in 2022.
Snoop Dogg
Initially best known for his work as a rapper, Snoop Dogg has also done a good amount of acting over the years. In Turbo, he was the voice of a snail named Smoove Move and he provided plenty of comic relief. On top of acting and music, Snoop has also been involved in other business ventures in recent years. In 2019, he started his own video game esports league. He is also heavily involved in the marijuana industry.
Maya Rudolph
When Maya Rudolph was cast in Turbo, she was still coming off of the success of Bridesmaids and she was likely being offered all sorts of opportunities. After the success of Turbo, Maya continued to keep the momentum going and she has made well over a dozen on-screen appearances since 2013 and she isn't slowing down any time soon. Maya will be in the 2022 movie Disenchanted and she is also working on an untitled series for Apple TV+.
Michelle Rodriguez
Best known for her work in the Fast and Furious franchise, it's always nice to see Michelle Rodriguez switch it up and do something different. Turbo was a great opportunity for her to do just that. Since then, however, she has worked on a variety of projects. Michelle has been cast in the movie Dungeons & Dragons which is set to be released in 2023.
Samuel L. Jackson
Samuel L. Jackson is one of the most legendary actors of his generation and his voice is one of his most distinctive trademarks. In addition to a few voice projects, Samuel's post-Turbo days have been full of live-action work. Some of his latest credits include the movie Hitman's Wife's Bodyguard and the TV series What If..?
Ken Jeong
Life after Turbo has been incredibly busy for Ken Jeong. In addition to acting, Ken has also become a fixture in the world of TV hosting and competition show judging. Ken's sense of humor is always a welcome addition and he seems to always know exactly what to do to light up the screen.
Richard Jenkins
Richard Jenkins may not be as widely known as some of the other actors on this list, but he has still had a very impressive career. He has continued to work consistently in the years after Turbo's release and his most recent credits include TV and film roles. Richard is currently filming an upcoming miniseries called Monster: The Jeffrey Dahmer Story which will be released in 2022.
Kurtwood Smith
With more than 40 years of professional acting experience under his belt, Kurtwood Smith has managed to find a great amount of balance between his voice and live-action work. It's clear that there aren't many things he can't do. In 2022, he will be reprising his role as Red Forman in That 90s Show.