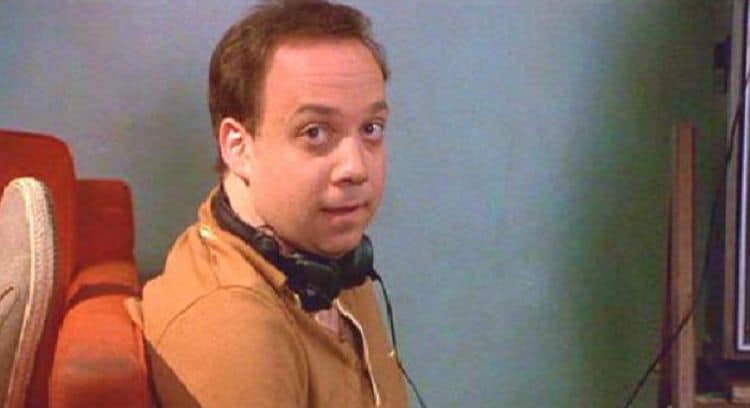 It's amazing that we can forget about certain actors and their roles in various movies, but when one really sits down to think about it they might find that it's not quite that hard when they realize how many movies some actors have been in. Simply reciting all the movies that a celebrity has been in, especially one as popular and as skilled as Paul Giamatti, is next to impossible since the guy has taken on so many roles that it's hard to remember them all. There are some that are a little easier to recall, such as Joe Gould in Cinderella Man, since he was front and center for most of that movie. And it's hard to forget him in Big Momma's House or Fred Claus or many other movies that featured him as one of the more pivotal characters that had a lot to do. But in some movies, even when he's been one of the characters that hold a person's attention, it's still possible to forget about him since if he's not one of the most influential characters he can hide in plain sight and people might forget he's there for one reason or another. It's not that he's a bad actor, it's that he knows when to lay back and let the story happen like a lot of great actors.
Here are a few movies you might have forgotten that Paul Giamatti was in.
5. Donnie Brasco
It was really easy to forget that Paul was in this movie since Johnny Depp and Al Pacino together were kind of a force to be reckoned with and the fact is that even if he is seen in a few movies that have mob dealings, this isn't exactly Paul's wheelhouse. That could be why he's seen as a character that is there to help out and be a part of the team but isn't someone that is given a lot of regard. He's basically there to do a job and be back-up when needed, but the rest of the cast kind of takes center stage in this movie, and that appears to be all well and good since Paul's character wasn't considered to be too important.
4. The Amazing Spider-Man 2
Unfortunately, this was kind of a throwaway character since the whole idea of bringing Rhino into this movie was a big mistake since it felt like the story was jumping from issue to issue without regard for any sort of continuity. It's true that this was supposed to be Spider-Man's big return to the life of a hero and he was saving a kid who was standing up for him, but it still felt as though Rhino should have been given a bigger part. The fact that Giamatti was used for this role made about as much sense as using David Thewliss as Ares in Wonder Woman, the thought was okay, but the execution was very poor.
3. Straight Outta Compton
What's odd about forgetting that he was in this movie is that he played a rather prominent character, but in the same breath he was kind of overshadowed by the portrayal of the N.W.A. since the depictions of each member really pushed him to the side. Plus, a lot of people tend to want to remember Paul as a useful character and while the N.W.A.'s manager was apparently influential in getting them going he also appeared to lose control pretty quickly as things progressed. How much of this movie is based on reality and how much is Hollywood is still up for debate though with some folks.
2. Confidence
Movies that deal with con men are usually a dime a dozen since there are good movies and there are some that you just tend to forget even if they have great casts. This movie featured a pretty impressive cast that included Dustin Hoffman and Rachel Weisz, but it still kind of fell short of being a big deal even when it came out. Paul actually plays a character who's pretty important to the group but has this weird, yet understandable, phobia that has to do with the cleanliness of bathrooms when he has to do his business. It's kind of a funny quirk that's mentioned in the movie but it also rounds out his character.
1. Turbo
There were a lot of great actors that lent their voices to this movie, but Paul was actually one of the first ones heard after Ryan Reynolds since he played Chet, Turbo's brother, and also one of the most fearful snails of the bunch since he fretted over everything and resented his brother's ambition to become a racer. But by the end of the movie, he came to accept that his brother was meant to be a racer and he even managed to get over a few of his fears at the same time.
He's not that forgettable, but it does happen.