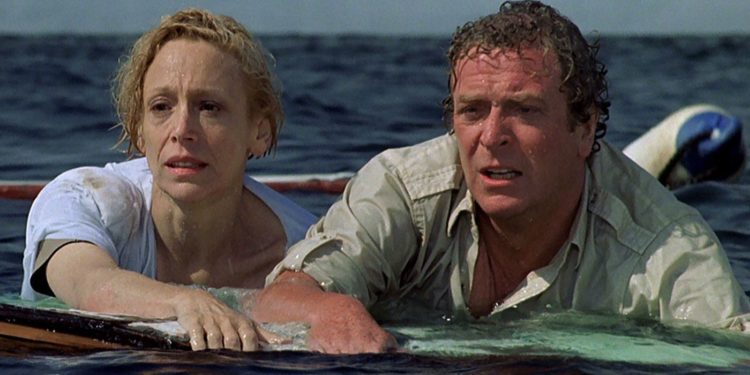 Michael Caine is kind of a hard person to forget simply because he turns in such a great performance so often, but there are those times when the movie he's in or the character he plays might slip the minds of many people for one reason or another. It could be that the movie wasn't that great or it could be that his character wasn't quite as important to the plot as people remember, but it's very possible to misplace him now and again simply because one hasn't watched the movie in a while or doesn't remember it. Some of the best actors are able to disappear, kind of, in their own movies by taking on various characters that might be important but still kind of feel tucked away within the role to a point that people forget who they're watching. Given that he's played so many different characters over the course of his career it's not difficult to think that Caine has kind of disappeared into a couple of roles here and there. But then again, it's also likely that people just forget about a few of the movies he's been in, either on purpose or by habit.
Here are a few movies that you might have forgotten Michael Caine was in.
5. Secondhand Lions
Why some folks disregard this movie is kind of surprising since to be fair it's not an epic tale but it's still a pleasing one that has a lot of feeling to it that's hard not to enjoy. Hub and Garth McCann are two elderly great-uncles that have a young boy foisted upon them by one of their less than reputable nieces and have to deal with him being around as the niece, played by Kyra Sedgwick, runs off. While it's an inconvenience for everyone at first, Garth, played by Caine, takes it upon himself to tell the story of how he and his brother were drafted into the French Foreign Legion and endured many adventures before finally coming home to Texas.
4. Jaws: The Revenge
There's a pretty good reason why anyone would forget about this movie since it was all kinds of ridiculous. Jaws was notorious for making people afraid of sharks, to begin with, but this one implied that a shark could and would track someone down for reasons that simply haven't been seen in real life. Plus, the idea of the mother being able to 'feel' when the shark is about to attack one of her family members was stretching things to the breaking point, but having the shark leap repeatedly out of the water and actually roar was beyond ridiculous. So yes, forgetting about this movie was pretty easy for some folk.
3. Now You See Me
It could be the fact that this movie kind of faded from public notice slowly but surely or that the magic tricks kind of overshadowed Caine's presence, but he actually played the main antagonist. Strangely though he wasn't really given that hard of a push when it came to being the most important antagonist in the movie. If anything, Morgan Freeman was seen as a bigger problem than anyone since he was apparently trying to debunk the Horsemen. But of course, the sequel set things aright since Daniel Radcliffe joined the cast and once again kind of muted Caine's appearance, either by design or by accident.
2. On Deadly Ground
There was a time when Caine was easily a more physical actor and could withstand the rigors of being an action star, kind of. But with Steven Seagal, the understanding is that he's kind of like Chuck Norris, but then even Norris could take an L every now and then without his ego getting in the way. Anytime a movie features Seagal it's likely that anyone else is going to be muted or will be forgotten simply because they can't stand up to Seagal's character, so forgetting that he was in this movie isn't that hard since the lead actor was one that was awesome in his day but whose typecasting became a pretty big burden.
1. Inception
There was so much going on in this movie that it would be forgivable to forget a lot of people that were in it, especially since the mind-bending effects that were used captivated a lot of people and made it possible to focus on pretty much anything else other than who was starring in the movie. Eventually, people might remember that he played an important part in this movie, but initially it does feel that people might not recall that he was a part of the cast. Plus, given that he wasn't a big part of the dream sequences, it could be understood why he wasn't given a lot of thought at times.
He's easy to remember if he's front and center.
Tell us what's wrong with this post? How could we improve it? :)
Let us improve this post!