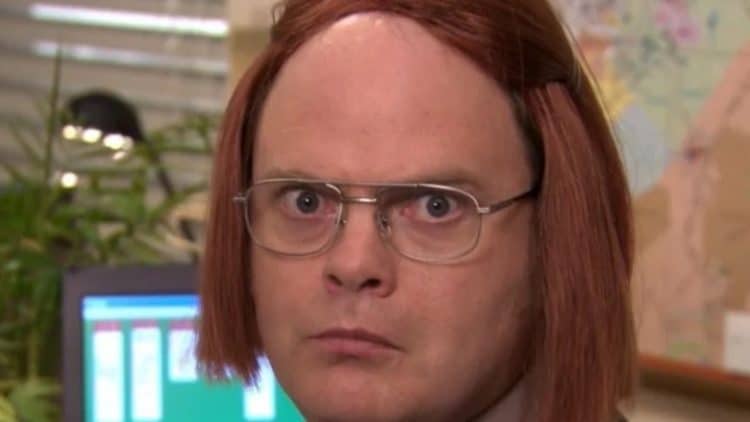 It's been 10 years since the last episode of The Office aired on TV, but the show continues to be one of the most popular sitcoms. At the height of the pandemic, the show was everyone's go-to comfort show, having been streamed a cumulative 57 billion minutes and becoming the most-streamed TV show in 2020. The Office stars Steve Carell as Michael Scott, the incompetent regional manager of a mid-sized paper company called Dunder Mifflin. Starring alongside Carell are John Krasinski, Jenna Fischer, Rainn Wilson, Angela Kinsey, and many others, as an ensemble cast that portrays the lives of employees as they traverse through the mundanity of corporate America.
Rainn Wilson played fan-favorite Dwight Schrute, an old-fashioned, hypervigilant man who also works as a paper salesman at Dunder Mifflin. He often refers to himself as the "assistant manager" of the branch, although Michael Scott is quick to correct him by saying, "assistant TO the regional manager." He's been nominated thrice for an Emmy for playing Dwight in The Office, for Outstanding Supporting Actor in a Comedy Series. The Office continues to be close to Rainn Wilson's heart, and he is highly aware of its continuing influence on fans. Unknown to even die-hard fans of the show, Rainn originally auditioned for Michael Scott, which he described as just being a terrible impression of Ricky Gervais (creator of the original British The Office), according to Mashable. "[Jones] keeps threatening to release my Michael Scott audition.
It is truly terrible because I just did a Ricky Gervais impersonation. I didn't know what else to do, so I was kind of pulling on my tie a lot," Wilson explained in an interview with Mashable. "But Dwight I knew. I was like, 'This is completely in my wheelhouse. I know exactly who this person is. This guy is in my DNA. I have cousins who are really not that different from Dwight Schrute.' And the rest is history." In an interview with Collider last year, Wilson expressed interest in an Office reunion, saying: "I'd love to revisit The Office. I've told [creator and showrunner] Greg Daniels that I would love to do something. They're gearing up for putting it on Peacock. Maybe someday we'll do something. It's funny, I hear things like, 'We can't do anything because we ended this show perfectly, and we don't wanna do anything else.' But then, someone will send some idea that's just preposterous and I don't know what to think. Hopefully, one day. The fans would really love it. That's the thing that counts the most. The fans would really love to see those characters again and have an experience with them."
After The Office, Wilson has pretty much succeeded to move his image away from Dwight Schrute, having appeared in projects that required him to play totally different characters. He's also ventured into projects that have nothing to do with on-screen work. What has Rainn Wilson been up to since the last episode of The Office aired 10 years ago?
Rainn Wilson's book
In 2015, Rainn Wilson wrote an autobiography book titled Bassoon King. The book details Wilson's rise as an actor as well as his thoughts on religion, particularly his involvement in the Baha'i faith. The foreword for the book was written by Wilson in the character of Dwight Schrute. Paste Magazine published a review of the book, which characterized Wilson's autobiography as not like the typical celebrity memoir that often gets published in Hollywood. "Wilson defies the typical tropes of celebrity memoir. At points, Bassoon King's episodes read with the comparably startling, surreal and yet downright endearing outrageousness of an Augusten Burroughs or even David Sedaris essay. As we follow Wilson from diapers to Dunder Mifflin, we discover an investigation of the experience of transitions—from the personal to the cultural, and everything between." In an interview with Bahai Blog, Rainn Wilson explained the process involved in developing the book. "My wife, author Holiday Reinhorn, is the real writer of the family. She writes fiction and has to expertly create characters and words with exact language and an evocative voice. I just started at the very beginning and began to tell my life's story starting with how I was born with a giant, fat, melon head to bohemian parents who lived on a houseboat in Seattle. I always loved "God Loves Laughter" by Hand of the Cause William Sears and although my book pales in comparison, I wanted to write a modern day version of that book that could reach a large audience and be sold in airports."
Rainn Wilson's post-The Office projects
Rainn Wilson's first major film after The Office is Cooties, a zombie comedy film starring Elijah Wood (Lord of the Rings) and Alison Pill (Newsroom). In an interview with Fandango, Rainn Wilson explained how the movie was pitched to him: "The first thing that was really said to me about it that immediately piqued my interest was that it was written by the cocreator of Saw and the cocreator of Glee. It took me a second. I had to pause, take a deep breath, and think about how that could be really cool. So that was the lens through which I saw the movie and I loved it. It's gruesome and freaky; scary, bloodthirsty children was something I had not seen before. And the ensemble cast, everyone is given some really funny moments." The movie was widely panned and, despite its star-studded cast, didn't make much money at the box office. In 2017, he lent his voice in the animated film Smurfs: The Lost Village, co-starring Demi Lovato and Joe Manganiello. He is set to appear as a lead character in the upcoming series Dark Winds, where he will be playing a missionary.
Rainn Wilson's SoulPancake
In 2008, Rainn Wilson founded a digital media company called SoulPancake. On its website, the company described their mission as follows: "SoulPancake was created to encourage open-hearted dialogue about what it means to be human. Throughout the years, we created content that explores the ways we all seek connection, hope, truth, identity, and purpose." The company is most notably known for launching the Kid President series. SoulPancake was recently acquired by Participant Media, according to Variety.
Tell us what's wrong with this post? How could we improve it? :)
Let us improve this post!