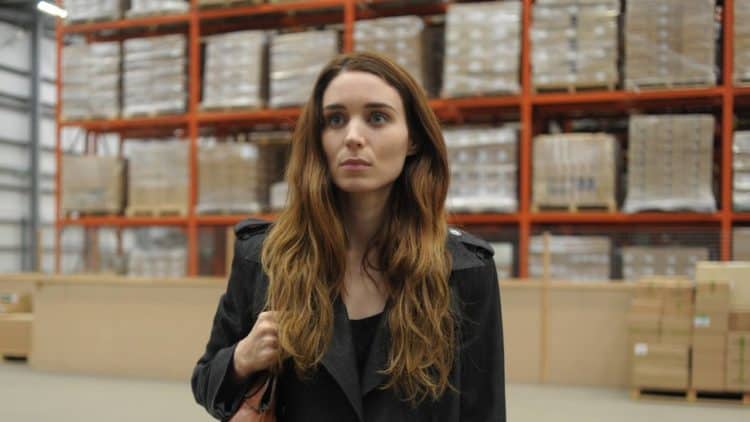 Rooney Mara is an American actress who was born as Patricia Rooney Mara in New York on April 17, 1985. She began her career as an actress in 2005, and she has worked predominantly in the film industry, although she has had some small roles in television. She is best known for her award-winning performance as Lisbeth Salander in 'The Girl with the Dragon Tattoo'. However, she has had roles in many films, including 'Tanner Hall', 'The Social Network', the 2010 remake of 'A Nightmare on Elm Street', 'Side Effects', 'Trash', 'Her', 'Ain't Them Bodies Saints', and 'Carol'. She is also famous for being the sister of actress Kate Mara. Although she is now a well-known and successful actress, there are many things that people do not know about her. Here are 20 interesting facts about Rooney Mara.
1. She Traveled a Lot as a Student
When she was a student, Rooney Mara traveled a lot, says Panda Gossip. After leaving Fox Lane High School in 2003, she decided to have a little adventure. As part of Traveling School, she visited Peru, Ecuador, and Bolivia. In these different countries, she studied in an open-air environment. She then returned to the United States to study at the George Washington University, although she later transferred to the Gallatin School of Individualized Learning at New York University. At the latter, she studied non-profits, international social policy, and psychology. Choosing to study and travel in this way gave her the opportunity to enjoy a diverse education and gain interesting life experiences.
2. She Was Shy at School
Rooney Mara was shy at school, says ScreenRant. Her shyness was often mistaken for being stuck up by the other students. She is still shy now and prefers to stay out of the limelight when she is not on screen. She once said that she wanted to move back to New York because you can blend into the background without people taking too much notice of you.
3. Football is an Important Element of the Mara Family
Rooney Mara and her family have strong connections with football. Her father's side of the family founded the New York Giants, while her mom's family were the founders of the Pittsburgh Steelers. Rooney has two uncles who hold senior positions in football. Art Rooney II is the owner and president of the Pittsburgh Steelers, and John Mara is the president and CEO of the New York Giants. Mara has described football as the glue that holds football together. Despite her family connections with football, she has very little interest in the sport herself.
4. She is Passionate About Charity
According to Fan World, Rooney Mara is passionate about supporting charities, and this was something that interested her even at university because she studied non-profits as one of her subjects. She now focuses on supporting the Uweza Foundation, which is a charity that empowers children and families who live in the Kibera slums of Nairobi, Kenya. She also founded a charity called Faces of Kibera, which continues to provide support for those living in the slums. This includes providing housing, medical care, and food for orphans. The charity has purchased six acres of land with the intention of building an orphanage.
5. Rooney and Kate Mara have Acted on Stage Together Just Once
Although the sisters Kate and Rooney Mara are both talented actresses, they have hardly worked together in their careers. When they were younger, they appeared on stage together just once. As youngsters, Kate was desperate to become an actress and was trying to persuade her parents to get her an agent. On the other hand, Rooney had no interest in pursuing a career in this field and tried her best to steer clear of acting. The sisters both appeared in a stage production of 'The Wizard of Oz'. It was the second time that Kate had performed in this musical, and on this occasion, she had the role of the scarecrow. Rooney's part was much smaller as she played a crow.
6. She Played Juliet in a School Play
Other than her appearance in 'The Wizard of Oz' with her sister Kate, Rooney Mara was in just one more play while she was in high school, says Irish Central. She played Juliet in the Shakespeare play 'Romeo and Juliet'. Speaking of the experience of performing in the play, Mara has said that she would have preferred to play Romeo because that is the better role.
7. She Likes to Vary her Look at Events
Style Caster highlights how Rooney Mara always makes a statement when she turns up at events, regardless of what she is wearing. Like most female celebrities, she has worn stunning evening gowns to awards ceremonies and various other entertainment industry events. However, she has also rocked the red carpet in jeans and a baggy sweater, which is a brave fashion statement to make at a high-profile event. No matter what this actress wears, she always manages to cause a star and there are many who consider her a fashion icon.
8. She Was Inspired by 'Gone with the Wind'
As a child, Mara didn't want to become an actress as she did not consider it an honorable career and was afraid of failure. However, there were several things that changed her mind. The first was watching classic films, such as 'Gone with the Wind', with her mother. The second was seeing her older sister, Kate Mara, making a success of her acting career.
9. Her Piercings in 'The Girl with the Dragon Tattoo' Were Real
In 'The Girl with the Dragon Tattoo', Mara's character Lisbeth Salander has multiple piercings. These included piercings in her ears, eyebrows, and nipples. At first, it was thought that these were fake, cosmetic piercings. However, it was later rumored that Rooney Mara actually had the piercings done for real in preparation for her role, says IMDB. According to the rumors, she had the piercings done over several sessions in Sweden and Brooklyn. This shows how seriously she took getting into character for the film.
10. She Craves Cigarettes Even Though She Does Not Smoke
Rooney Mara does not smoke, and nor has she ever smoked. However, a strange thing happened to her while she was filming 'The Girl with the Dragon Tattoo'. While she was filing in the role of Lisbeth Salander, she began to crave cigarettes. This only ever happened when she was working on the set. In other situations, she has never craved a cigarette.
11. She is a Vegan
According to Useless Daily, Rooney Mara is a vegan. This is probably what inspired her to collaborate with Sara Schloat and Chris Wong to launch a vegan clothing line called the Hiraeth Collective. The collection consists of clothing, accessories, and shoes that are designed by Mara and her co-founders. The range went on sale in Barneys New York in August 2018.
12. She Learned Many New Skills for 'The Girl with the Dragon Tattoo'
Mara took training for her role in 'The Girl with the Dragon Tattoo' very seriously. Not only did she visit Stockholm, where the film is based, she also trained in skateboarding and kickboxing. Furthermore, she also underwent computer and dialect training to perfect the character.
13. She Has Also Learned to Play the Guitar
It is not only for her role in 'The Girl with the Dragon Tattoo' that Mara has learned new skills. She also needed to learn new skills for her role in the romantic drama 'Song to Song', says Tons of Facts. To play the role of Faye in this 2017 film, Mara learned how to play the guitar.
14. She Turned Down a Role in Great Expectations
Rooney Mara has enjoyed playing many major roles in critically and commercially successful films, but she has not always accepted every role that she has been offered. In fact, she was once offered the role of Estella in the 2012 period drama 'Great Expectations'. Mara did not feel that the role was for her, so she turned down the offer. The role was then given to actress Holliday Grainger.
15. She is the Face of Calvin Klein
Although she is best known for her work as an actress, she is also a model and brand ambassador. Mara became the face of the Calvin Klein fragrance 'Down Town' in May 2013.
16. She Was Almost the Lead in 'Zero Dark Thirty'
'Great Expectations' is not the only film in which she has almost played the lead role. Mara also nearly played the lead in the action film 'Zero Dark Thirty'. Unlike 'Great Expectations', she did not turn down this role. In fact, she initially accepted the job before realizing that she should be unable to take the role due to scheduling conflicts. Hollywood Life says that Mara was replaced in the role by Jessica Chastain.
17. She Has Been Accused of Whitewashing
In 2015, Rooney Mara played the role of Tiger Lily in the fantasy film 'Pan', says Hollywood Life. She was widely criticized for taking on this role as the character is Native American. This caused people to accuse Mara of whitewashing, and activists even created the hashtag #NotYourTigerLily in protest to Mara playing the role. Regarding the controversy, Mara has said that she hates that by taking the role she was on the wrong side of the whitewashing conversation.
18. She Has Dated Two High-Profile Men in the Film Industry
Whenever possible, Rooney Mara prefers to keep her personal life out of the limelight. However, she has had two high-profile relationships with men in the film industry. Between 2010 and 2018, she was in a relationship with American director Charlie McDowell. She then began dating actor Joaquin Phoenix in 2016. Mara and Phoenix have worked together in two films. They first met on the set of 'Her' in 2013. They then co-starred in 'Mary Magdalene' in 2018. The couple also related the 2018 Australian vegan documentary 'Dominion'. Mara and Phoenix currently live together in Hollywood Hills.
19. She Does Not Like All Her Films
Although Rooney Mara is proud of many of her films, that is not the case for all of them. Clearly, a shadow has been cast over 'Pan' due to the whitewashing controversy, but this is not the only one of her own films that she dislikes. Apparently she also hated 'A Nightmare on Elm Street'. Not only did she hate the film, but she also hated her own performance in the horror remake.
20. She Has a Growing Social Media Following
Rooney Mara is an active user of social media and has a growing following. On Instagram, she has 45,000 followers. She predominantly posts photographs of herself, including photos from her films and of her attending events and ceremonies. She also uses her Instagram to promote her vegan clothing line, Hiraeth Collective. On her Twitter account, she has 24.4 thousand followers (but hasn't been active in nearly a year). Again, she uses this account to update her followers and fans about various aspects of her personal life and avoids positing anything that relates to her personal life.