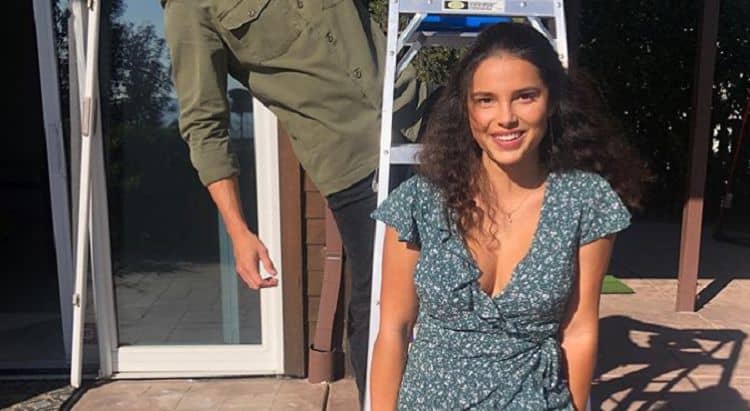 13 Reasons Why may be in its final season, but that hasn't stopped the show from introducing new characters. One of those new characters is Estela de la Cruz, played by a talented young actress named Inde Navarrette. Since the show's debut, lots of people are interesting in knowing more about Inde. Just like at Liberty High School, the new girl always attracts lots of attention. Although she only has a few acting credits to her name, that likely won't be the case for much longer. In addition to her upcoming role in Superman and Lois, 13 Reasons Why has proven to be a breakout opportunity for her. Keep reading for 10 things you didn't know about Inde Navarrette.
1. She Loves Traveling to Visit Family
Lots of people love to travel for the sake of seeing and experiencing new things. However, one of Inde's biggest reasons for traveling is the chance to see her family. She says, " I have family everywhere…siblings in Texas, immediate family in Tulare County near Fresno, grandparents in Thailand, my mom's side in Australia, my dad's side in Mexico…I feel like I have an endless amount of family to see and learn from. Before quarantine, I would take every moment I could to ping-pong between them so I wouldn't miss out on making memories. I also really enjoy seeing the world, to get out of the bubble our minds put us in."
2. She Enjoys Meditating
There have been lots of hectic things going on in the world lately, and Inde has found that regularly meditating helps her deal with it all. Inde's version of meditation differs a bit from the traditional format though, She likes to listen to some of her favorite music and sit in front of a blank canvas and allow her mind to roam free.
3. She Is A Big Music Fan
Everybody has at least one thing that helps them stay grounded, and that thing for Inde is music. She says that music is her "medicine" and she's a huge fan of Kehlani's new album. In addition to being a fan of music, Inde also hopes to create music of her own.
4. She's Bilingual
Inde is very proud of her Mexican roots. In addition to English, she can also speak Spanish although it's unclear whether or not she is fluent in Spanish. Having the ability to speak two languages will certainly be helpful as Inde continues to grow in her acting career.
5. She Has A Mixed Ethnic Background
By now, most people are aware that Inde is Mexican. However, she is also Australian on her mother's side. Inde has deep love and respect for both cultures. In a recent Instagram post, she opened up about some of the things she's experienced as a member of both communities.
6. She Supports The Black Lives Matter Movement
As protests against police brutality continue all across the country, lots of people in the entertainment industry have used their platforms to speak out against injustice. Inde has joined the fight and has made several posts supporting the Black Lives Matter movement and educating her followers on things they can do to help.
7. She Treasures Her Relationships With Her Friends
Inde may be on the road to becoming rich and famous, but that doesn't mean she's forgotten about the people who have been with her all along. She has a deep appreciation for her friends and says "My friends are my chosen family and I love them with all of my heart…I have the most supportive and loyal friends anyone could ever ask for."
8. Skin Care Is Her Self Care
Since the coronavirus became a worldwide pandemic, lots of people's stress and anxiety has been at an all time high. Having to spend a lot of time in the house hasn't helped either. For that reason, self care has become more important than ever, and one of Inde's favorite forms of self care is to give herself a facial.
9. She Loves To Read
Inde is the type of person who loves to learn new things. Continuing to educate herself on various topics is at the top of her priority list.One of her favorite ways to learn is by reading as much as possible. She is currently reading Open Veins of Latin America by Eduardo Galeano.
10. She Loves Photography
Aside from acting, Inde also enjoys other forms of creative self expression. She's a fan of art and has special place in her heart for photography. Not only does she like to have photos taken of her, but she also likes to snap photos herself. She definitely has a natural eye for finding beauty.