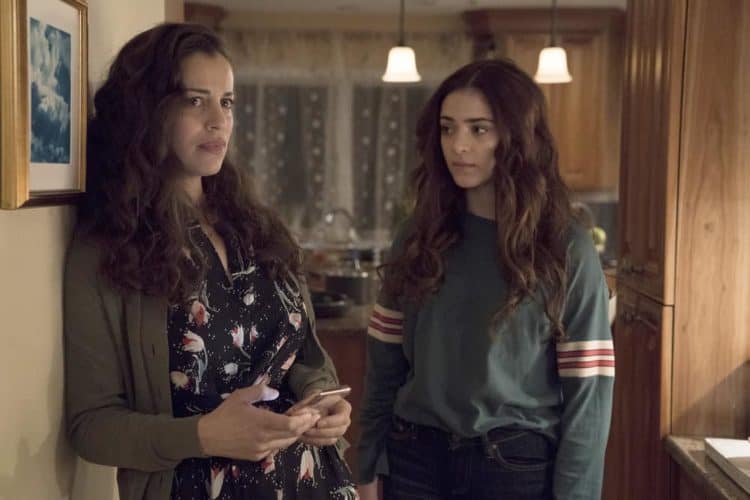 Athena Karkanis is a Canadian actress. Over the course of her career, she has played a wide range of roles in a wide range of movies, TV shows, and even video games. Here are 10 things that you may or may not have known about Athena Karkanis:
1. Born in Alberta
Karkanis was born in the Canadian province of Alberta. For those who are unfamiliar, Alberta is the western most of the country's three prarie provinces. As a result, it shares some similarities with its counterparts, with an excellent example being how agriculture makes up an important part of its economy. Having said that, Alberta tends to be much better-known for being the biggest producer of crude oil, synthetic crude oil, and natural gas in Canada, which is thanks to a considerable extent to its oil sands.
2. Raised in Toronto
Having said that, Karkanis was raised in Toronto, ON. Said city is the provincial capital of Ontario, which is one of the two provinces that make up Central Canada. Moreover, it is the center of Canada's most populous metropolitan area. Based on this, it should come as no surprise to learn that Toronto occupies a position as a center of business as well as a center of culture in the country.
3. Has Both Greek and Egyptian Heritage
Perhaps unsurprisingly, Karkanis has Greek heritage. After all, her personal name is Athena, who was the Greek goddess of wisdom, warfare, and craftsmanship. Besides this, Karkanis has some Egyptian heritage in her as well.
4. Studied At McGill University
Education-wise, Karkanis went to McGill University. Said school is named for a businessman named James McGill, who came from Scotland but headed on over to Quebec in search of business opportunities when those became available in the wake of the British Conquest of New France. In time, McGill managed to become very successful, so much so that he bequeathed £10,000 as well as his summer home to the Royal Institution For the Advancement of Learning. This funded not just McGill University but also a number of other schools such as Dawson College, the University of British Columbia, and the University of Victoria.
5. Studied Political Science
In school, Karkanis studied political science. Said subject is huge because it ranges from the study of ways of governance to the analysis of everywhere that is political in nature. As such, political science encompasses numerous subfields. One example would be public administration, which is focused on how government policies are actually implemented. Another example would be political methodology, which is focused on both the quantitative methods and the qualitative methods used to study political matters. It is interesting to note that political science is relatively young as a subject, seeing as how it can trace its roots to the 19th century when it started untangling itself from its much, much older counterpart of political philosophy.
6. Decided to Go Into Acting Rather than Law School
Initially, Karkanis wanted to go to law school, which made sense considering her educational background in political science. However, when she was accepted to the Circle in the Square Theatre School in New York City, she decided to take a chance on acting rather than continue on in something more practical in nature. Before that, Karkanis had never actually considered acting as a career choice, which says a lot about how much the acceptance changed her perspective on things.
7. Is Multi-Lingual
Karkanis is multi-lingual. However, while she does feel a strong sense of connection to her Greek heritage, she isn't capable of speaking Greek. Instead, considering that she went to school in the French-speaking province of Quebec, it should come as no surprise to learn that Karkanis is capable of speaking both English and French, which are the official languages of Canada. Besides this, she is also capable of speaking Spanish, which is one of the world's most spoken languages. Moreover, Karkanis has shown an interest in learning other languages as well, so it will be interesting to see how many languages she will be capable of speaking in the future.
8. Had Screen Debut on 1-800-Missing
Supposedly, Karkanis had her screen debut on a show called 1-800-Missing. In short, said show was a Canadian crime drama centered on a pair of people working for the FBI searching for missing people. One of the two was a woman who started receiving psychic visions upon being struck by lightning, which enabled her to find missing people. Meanwhile, the other was her much more skeptical partner, thus making the whole thing a classic odd-couple setup. Having said this, Karkanis's role wasn't particularly important, seeing as how she was featured in a single episode and no more than a single episode.
9. Has Done a Fair Amount of Voice Acting
Besides her involvement with live-action projects, Karkanis has been involved with a fair number of animated projects as well as a voice actress. For instance, she had a role in the relatively recent animated movie Spark, which featured some very prominent names in Hollywood but nonetheless proved to be a complete and utter failure at the box office. Said movie failed for various reasons, with examples ranging from what seems to have been a very generic feel that couldn't enable it to stand out from the competition to a serious lack of charm that made its characters incapable of wowing those who actually chose to take a chance on it.
10. Has Been in a Fair Number of Video Games
Speaking of which, since Karkanis has done so much voice acting, it should come as no surprise to learn that she has lent her voice to a lot of video games out there. For example, she has provided the voice for the female Jedi Consular in Star Wars: The Old Republic as well as its expansions. Likewise, she has provided a voice for female civilians in Assassin's Creed Odyssey. It is interesting to note that the latter is set in ancient Greece at around the time of the Peloponnesian War. Said conflict was a clash between the Delian League and the Peloponnesian League, meaning that it involved a very wide range of factions. However, most people who remember it tend to remember it because of Athens and Sparta, which headed up the Delian League and the Peloponnesian League respectively.