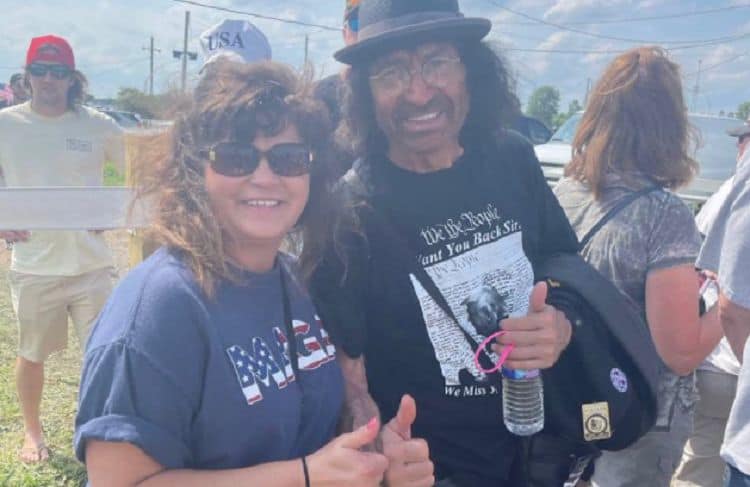 To say that the political world is more charged than ever in 2021 is a gross understatement. It seems as if the beliefs of Republicans and Democrats are so opposing that the two parties cannot see eye-to-eye on anything anymore. While this has almost always been the case, it's far more pronounced now than ever before. No matter which side of the political pendulum you choose, you've heard of Vincent Fusca. He's the man who is photographed regularly at President Donald Trump's rallies both before and after the 2020 election, and he's a man the world knows very little about. However, that doesn't mean that the world isn't speculating. What we do know about Vincent Fusca is that he is a man with a large following of fans who believe that he is not Vincent Fusca at all. Intrigued, yet? Here's everything we can find out about Fusca, but we will warn you it's not much, and what we do know is pure speculation.
1. Vincent Fusca is Rumored to Be An Alias
Vincent Fusca is rumored to be this man's alias. Why? Because many people think that he is the late John F. Kennedy Jr. (JFK Jr. or John John as he is known to the world). The Kennedy family has long been 'cursed,' as the rumors have it, and JFK Jr.'s death is yet another tragic accident that rocked this famous family. He was killed when he and his wife's, Carolyn Bessette-Kennedy, small plane crashed. He was piloting his wife and sister-in-law. He and his wife were on their way to Hyannis Port, Massachusetts to celebrate a Kennedy family wedding, but first, they were slated to drop off his wife's sister in Martha's Vineyard. After contacting Martha's Vineyard's control tower on July 16, 1999, the plane went missing. It took five days before Navy divers found three bodies on the ocean floor.
2. It's Rumored JFK Jr. Faked his Death
Why would anyone believe that Vincent Fusca is JFK Jr.? The theory is that JFK Jr. pulled an Elvis and faked his own death. There are numerous theories about why he faked his own death, but the gist of the story is that he is not dead, that it was not his body in the plane that beneath the ocean's waters, and that he is alive and well.
3. Vincent Fusca is Rumored to be Q
Far-right conspiracy theorists support the QAnon movement. Q is the alias of a person who has been posting sensitive information on internet forums for several years that insinuates top-secret, disgusting, horrifying things going on in the government and Hollywood alleges Hollywood elites and many high-profile politicians are pedophiles, among many other stories. The theory is that JFK Jr. himself is Q, the man making the allegations online, and since so many people believe that Vincent Fusca is JFK Jr.'s new identity, that would make Vincent Fusca Q.
4. He's a Financial Services Manager
Vincent Fusca is a financial services manager. He lives in Pittsburgh, Pennsylvania, according to his LinkedIn profile. He does not use a photograph on his profile, but it's assumed it is his own profile.
5. He's Younger than JFK Jr.
JFK Jr. was 39 at the time of his death in 1999. If he were alive today, he would be 61. Vincent Fusca's LinkedIn profile states that he was a student at Woodland Hills High School from 1991 until his graduation in 1994. Assuming he graduated when he was 18, that would make his year of birth approximately 1976 to JFK Jr.'s 1960 birth. Today, Vincent Fusca is approximately 45.
6. He's a College Graduate
Vincent Fusca enrolled in college immediately after his high school graduation. He began attending courses in criminology and pre-law at the Indiana University of Pennsylvania in the fall of 1994. He graduated in 2000 with his Bachelor's Degree from the same university. Following his graduation, he went into the financial sector in and around Pennsylvania and New York City.
7. He's a Frat Guy
While attending college in Pennsylvania, Vincent Fusca joined a fraternity. He belongs to the Phi Kappa Theta fraternity. While it is the only activity he participate in during his college career, he did play baseball when he was in high school. He sounds like your all-around American teenage boy in the 90s.
8. He Seems to Take his Fame in Stride
While Fusca tends to remain out of the spotlight, he does appear to take his fame in stride. He's happy to pose with fans who see him out and about, and he always smiles and treats the public with patience and a smile.
9. He's a Donald Trump Supporter
If nothing else, we know that he is a Republican who supports President Donald Trump. Fusca is filmed, photographed, and shown regularly at President Trump's rallies over the years. He is often seated near the front of the rallies he attends, and that may be why there is so much speculation that this one man who is so noticeable and so recognizable in his proximity to the 45th President of the United States is more than he appears.
10. He Doesn't Talk to the Press
Vincent Fusca does not talk to the press. He doesn't grant interviews, he doesn't acknowledge the rumors, and he tends to mind his business. We cannot find any information about him online other than the rumors of his aliases and some accounts that are run by other people using his name and photo. He does have a Twitter account where he describes himself as a loving father, husband, and a Trump Supporter who loves America. He is, by all accounts, a private man who is amused by the rumors and his own 'fame,' when he's out in public.
Tell us what's wrong with this post? How could we improve it? :)
Let us improve this post!