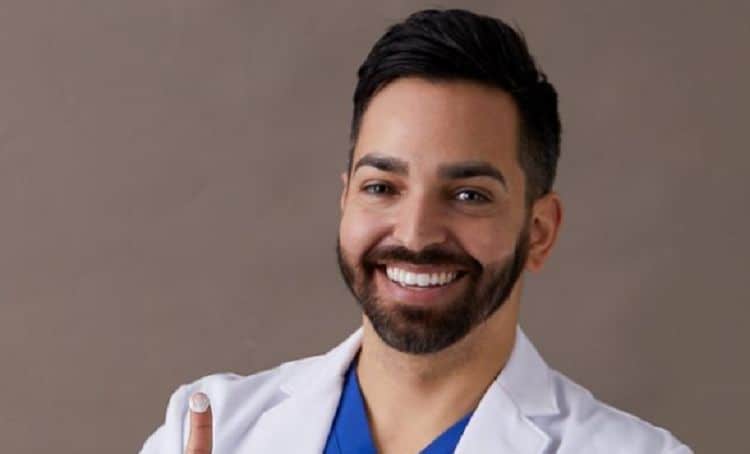 Clear skin is something that almost everyone aspires to have. However, it's not always as easy as washing and moisturizing your face. As a trained dermatologist, this is something that Dr. Muneed Shah knows all too well. Although he has been sharing his knowledge with his patients for several years, he decided to take a new approach during the pandemic. A little more than a year after creating a TikTok account, Dr. Muneeb had become an internet star. His helpful skincare tips have educated countless people, and he loves being able to educate people around the world. Continue reading for 10 things you didn't know about Dr. Muneeb Shah.
1. He's Originally From New York
Since Dr. Muneeb's brand is all about skincare, that's what most of his content is about. As a result, he doesn't share much information about his personal life. However, an article from WECT revealed that he is originally from New York. These days, however, he lives and works in Wilmington, North Carolina.
2. He Loves to Travel
Between his work as a doctor and creating content for social media, Dr. Muneeb's schedule can get pretty overwhelming. However, that doesn't mean that he doesn't like to take time to do other things he enjoys. Dr. Muneeb enjoys traveling and he has gone to places like Italy and France.
3. He Has a Great Sense of Style
The medical field and fashion aren't usually things that people think about in the same sentence, but Dr. Muneeb is proof that maybe they should. He loves being able to express himself through his clothing and he's a natural when it comes to putting outfits together. He often shares photos of his outfits on Instagram.
4. He's Serious About Taking Care of His Hair
Dr. Muneeb's skin isn't the only part of his body he's very passionate about taking care of. He also has a great head of hair and he takes a lot of pride in that. He has a highlight section on his Instagram profile dedicated to haircare and he shares different products that he recommends.
5. He Never Planned On Becoming Popular On TikTok
When Dr. Muneeb started posting on TikTok, he didn't intend on becoming popular. When talking about his online success, Dr. Muneeb told WECT, "I'll say that it certainly was unexpected. It's not something I set out to do." He now has 14.5 million followers on TikTok. What's even more impressive is the fact that his numbers are growing every day.
6. He's Focused on Adding Value to His Audience
There are lots of influencers who post content just for the sake of posting, but that isn't Dr. Muneeb's style. In his interview with WECT, Dr. Muneeb said, "Before I hit post, I just ask myself a simple question: 'Does this add any value to anyone's life?' If it does, I post it. Sometimes they explode and I'm like, 'I didn't expect this! Why is this the one to go viral?'" I think it's safe to say that he has added plenty of value to his followers' lives.
7. He Loves Connecting With His Viewers
Dr. Muneeb is thankful for all of the people who have shown him love and support on his social media journey. While he can't respond to every comment he receives, he doesn't mind when people come up to him and public and let him know how much his content means to them.
8. He's Married
Dr. Muneeb has been very fortunate to find the thing he loves to do and the person he loves. Dr. Muneeb's wife is also a doctor (OBGYN). It's unclear exactly how long the couple has been together, but their relationship appears to be very strong. From what we know, the couple does not have any children.
9. He Loves Recommending Products
With so many skincare products on the market, it can be nearly impossible to decide which ones are worth your money. Dr. Muneeb enjoys sharing his favorite skincare products with his audience. Even if you don't watch his content, you can still see his recommendations on his Shop My Shelf page. At the end of the day, though, whether a product will work for you depends entirely on your skin.
10. He Has A YouTube Channel
TikTok and Instagram aren't the only places where Dr. Muneeb has been focused on building his audience. He also has a YouTube channel called Doctorly which he shares with another dermatologist. The channel currently has 1.61 million subscribers and the videos have gotten a total of more than 591 million views.