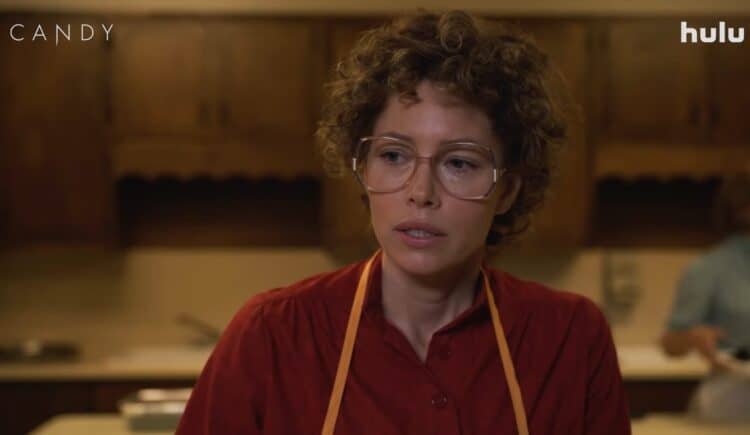 Following in the path of The Sinner, Jessica Biel continues to make her presence known in television with her latest series, Candy. It's about the suburban housewife who seemingly has it all: a good husband, two wonderful kids, and a perfect life that anyone would be proud of. However, the pressure within Candy builds up and her world turns upside down with a steamy affair. This upcoming series will premiere on May 9th and it also stars Timothy Simons and Melanie Lynskey. Here are the top five moments for the Candy Trailer.
Candy Shows Appreciation To Betty's Kind Words
Candy Montgomery seems to have it all. A husband that dearly loves her. Kids who don't nag or annoy her. A community that values Candy and her Christian beliefs. The beginning of the trailer perfectly showcases her world before the inciting incident. It also helps paint the picture for Melanie Lynskey's Betty. She isn't as respected around the community as Candy, who seemingly loves her as a dear friend. Candy's reaction to Betty's kind words at the salon is simply fantastic and a demonstration of tremendous acting. After the kind words by Betty, you would think there be some excitement or joy over how much her friend values her. However, Candy's facial expression is a mixture of several emotions, most notably guilt, happiness, and regret. It gives the clue that her life isn't as perfect as it seems and sets up the conflict that's displayed throughout the trailer between Betty and Candy.
Candy Invites Herself Into Betty's House
Candy is having sex with her best friend's husband. After the monologue highlights the friendship between Betty and Candy, the trailer digs deeper into the story and focuses on the main character's plight in the series. Candy understands what she's doing is wrong, but is tired of living a humdrum life that doesn't provide her with the thrills she's looking for. This portion of the trailer masterfully documents the brewing tension between Betty and Candy. The former was simply looking for acceptance and got it from a woman who's loved by many; however, she's ultimately stabbed in the back by that very same woman. Candy inviting herself into the house reveals that the disdain between the two characters is clear, at least on the end of Betty. Did she find out about the torrid affair? If not, then what were the clues that lead her to believe that something isn't right with her husband and Candy? A storm is brewing between these two friends, and it doesn't seem like a happy ending is sight.
The Gruesome Crime Scene
The biggest twist of the trailer hits: this isn't just some steamy soap-opera type series, it's also a murder-mystery. Betty is dead, and all the clues point to Candy being a prime suspect. The crime is extremely gruesome and it makes you wonder if there's something deeper stirring in this sleepy neighborhood. Is Candy secretly some crazed murdering psychopath? Or is there some estranged serial killer on the loose and Candy just happens to be caught in the middle? The follow-up is a slow build to the proceedings of the incident and any possible easter eggs that could play an important role in the series. This trailer makes Candy seem to be a mix between Desperate Housewives, The Sinner, and Big Little Lies and hopefully the series is able to live up to the quality that each show provided.
Blood Splattered On The Face Of Candy
The trailer is making it too obvious that Candy is the culprit behind Betty's mysterious murder. This is likely a red herring to fool everyone from the actual suspect, though don't rule out the possibility that this show is a twisty mind cluster and it turns out to be Candy in the end. One interesting aspect is the husband, who doesn't seem to know about Candy's affair. Is this another red herring to make you assume that no guilt lies with him because he's portrayed as a good husband and father? There's so much to breakdown from this well-crafted trailer and intimate details like this are what makes the upcoming show exciting. It seems like Candy will be the sleeper hit of 2022.
A Child Screaming
There wasn't much focus on Candy's kids in the trailer; however, this moment brought up a very interesting question: How will the events that transpire effect the family as a whole? As I previously stated, it never appeared that the husband knew about the affair, but surely he'll figure it out sooner than later, right? Exactly how does Betty's murder rock the dynamic of the family as whole? Does Candy become cold and distant to her loved ones? Are secrets revealed following the shocking death? There's plenty of fascinating layers surrounding this tale of sinful sex and murder.
Tell us what's wrong with this post? How could we improve it? :)
Let us improve this post!