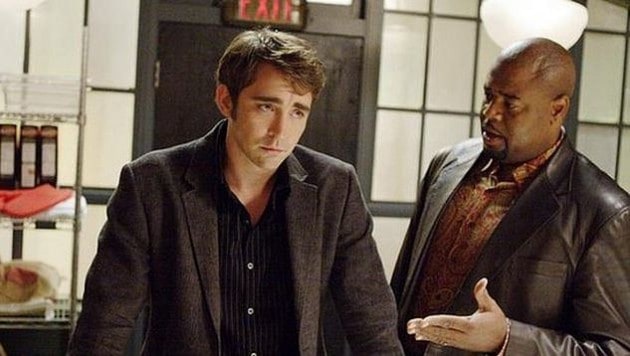 "I was incapacitated with not being able to think. I had one thought in my head, and it was of you, and it clogged me up so no other thought could get through, including the one telling me to touch you again."
Pushing Daisies is a forensic fairy tale procedural with a heart, and it's the heart that ensured we would eventually have to revisit the events from the pilot that occurred when Chuck was allowed to continue living after her reanimation. We get to see this take place in "The Fun in Funeral."
The episode opens with Chuck still oblivious to the fact that death will come to another if one of Ned's touches lasts for longer than a minute, and she begins to question this seemingly arbitrary time limit. Olive, meanwhile, finds a little solace in another, traveling salesman Alfredo Aldarisio (played by guest star Raul Esparza of Hannibal), now that Ned and Chuck's relationship is out in the open. Alfredo also ties in here with a subplot involving Chuck and her aunts, and this storyline will continue running with the show for a good while. Esparza's guest-starring role here is just one of many, many great performances that Pushing Daisies features from guests throughout its entire run, and these roles tend to be extremely important to the show's procedural plots (similar to cop dramas or a Law & Order).
The case in "The Fun in Funeral" deals with the "mysterious" death of the grave-robbing funeral director from the funeral home that held Chuck during her time in the afterlife. Ned and Emerson both realize that the funeral director is dead because Chuck was allowed to live, and Ned is forced to tell Chuck about this aspect of his secret that he had been keeping from her. She decides that she and Ned need to talk with the dead man to apologize to and thank him. In the process, though, they get roped into finding out where he buried all of the stolen items in order to ease the mind of his still-living twin. The dead man reveals, though, that both siblings were involved in the cruel deed. Over the course of the ensuing investigation, our trio of detectives strengthens their bond by working together, and the case is solved after a surprisingly well-choreographed sword fight.
As I mentioned above, a recurring subplot begins in this episode that deals with Chuck attempting to take care of her aunts, even after her "death." Through a chance circumstance, Olive also gets pulled into this plot, and it leads to a lot of interaction between Olive and Lily and Vivian. Their new friendship is just one of the interesting relationships that Pushing Daisies offers us, and it also gives a great excuse to bring Olive more into the secrets concerning Chuck's new life.
Throughout its entire short run, Pushing Daisies is one of the most consistently great series that I've ever seen, and that consistency continues with "The Fun in the Funeral." I really like that the story in this one dealt with the repercussions of Ned's choice to keep Chuck alive, and the guest cast just adds so much to the show. Overall, this was a great episode that continued to build on all of the setup we've gotten so far in the series.
Are you watching along with me for Pushing Daisies? What have been your favorite moments so far? Let us know in the comments below!
[Photo via ABC]