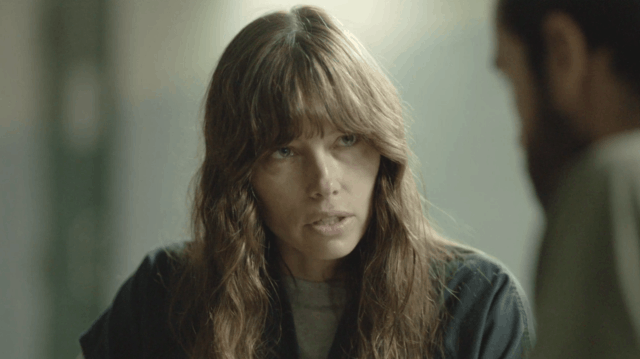 "The Sinner" that premiered on the USA Network this month is a refreshing type of murder mystery. Jessica Biel plays Cora Tannetti. Wearing minimal makeup and her trademark "Seventh Heaven" no fuss hairstyle, she gives us a Desperate Housewife type character to whom we can all relate–if we ever get to know her that is.
We do know one thing. Early on in the first episode, Cora takes a paring knife and stabs a man to death while beachgoers look on in horror and Cora's husband (played by actor Christopher Abbott) wrestles the knife from her clutches. This comes out of nowhere and afterward, she is not saying much. Therein lies the mystery and in comes Detective Harry Ambrose, playing the quirky cop who "just can't let it go". He won't just accept that she did this horrible act for no reason, and he acts as a proxy for the viewers as we can't either. We have the killer, we have the weapon–just no motive.
The scenes between Pullman and Biel are powerful. Detective Ambrose taunts her with the song that was playing during the crime–a song recorded by the victim's band. Ambrose talks to her with fatherly concern one minute and hones in on her psyche the next and it's thrilling to watch them do this interrogation dance.
Scenes that don't add much to the drama are the ones between Detective Harry Ambrose and his estranged wife. Although it's great to see Kathryn Erbe on the show, she and her marriage difficulties add little to the plot, at least for now. Harry has one heck of a secret, and she is clueless. "The Sinner" could double as episodes of "Who The Bleep Did I Marry?"
Perhaps his penchant for pain makes Harry the only one who can make Cora open up. There seems to be a lot of secrets. Cora has been brought up like Stephen King's Carrie White, in a religiously bizarre household. We find out that the title "The Sinner" references much more than the murder. Cora has some serious baggage, and each flashback unfolds like peeling an onion. Is Cora evil or did her problems build up to a stress level where she just snapped?
The actors make this show well worth watching. Jessica Biel is an incredible actress and has a way of portraying her face into a blank canvas in the midst of a horrible nightmare. The fact that she does not overact makes "The Sinner" believable and enthralling. Cora lives in a personal hell, but who or what is responsible for this? In her prison clothes, she looks like a lost waif, yet Cora committed a Manson girl type crime on a beach in broad daylight.
Another plus is that Christopher Abbott fits his role as Cora's husband Mason like a glove gives his fans a treat since he did not fit in so well on "Girls" and so left that show. Mason's suffering is not wildly emoted, his feelings are buttoned but he is very, very angry and bewildered. How well do you really know your spouse? This question is answered as Mason finds out more and more about his wife's mysterious past.
The pace is spot on perfect for those who have followed the story. It's a show that you have to watch from part one forward as there is not jumping in the middle and understanding what on earth is going on. As the subject matter includes some very suggestive sex scenes and graphic violence within the first few minutes it's a show that stays with you. Fans of this "whydonit" thriller can't wait to find out what is revealed next.