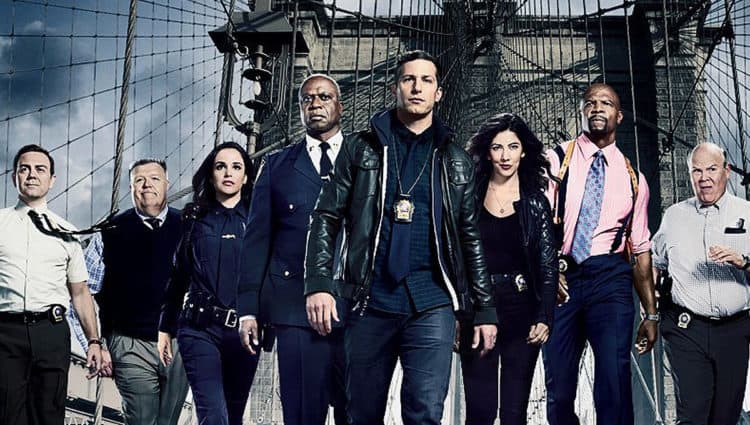 After eight seasons,
Brooklyn Nine-Nine
will be saying with their
final season
that's currently airing. For the past eight years, Jake Peralta, Ray Holt, Terry Jeffords, Rosa Diaz, Amy Santiago, Charles Boyle, Hitchcock, and Scully have made us laugh, dance, sing, cry, and laugh again throughout each tremendous season. To celebrate this amazing show, we'll count the five best episodes of seasons one through seven. Let's not waste any more time and check out the top five episodes of season two.
Once again, Brooklyn Nine-Nine kicks off the season strong with Detective Jake Peralta being undercover for a mob. At first, it appears that the operation was successful thanks to the cops busting the gang's wedding; however, Peralta learns that one mobster got away and gets help from Charles to find him. Easily, the highlight of the opening is Jake's hug to Captain Holt. Andre Braugher's deadpan facial response is priceless and continues to be a winning formula on this show. Other funny gags from the season two opener were Charles jealously over Jake's best friend in the mob, Terry Jeffords acting like an angry prostitute, a confused old woman, an unattended backpacker, and a seven-year-old for Holt's practice drill, and the flashback of what Jake missed while he was away from the precinct. The episode was packed with funny one-liners and gags, with the will they/won't they storyline between Jake and Amy a nice teaser for the upcoming season. Obviously, we know that they will eventually get together; however, the hurdles that they have to go through should make for a fun ride.
Chocolate Milk
Deputy Madeline Wutch has arrived on the scene! First The Vulture, Potomac Bandit, and now Madeline Wutch, Brooklyn Nine-Nine continues their string of top-notch guest star appearances. Andre Braugher's deadpan humor is put on full display again and it pretty much synchs with Kyra Sedgwick's character. The back-and-forth insults between the two are easily the star of the show, though the crew making fun of Jeffords vasectomy was a close second. Jake and Terry's side adventure was a nice and breezy plot that continued to showcase the strong chemistry between Adam Samberg and Terry Crews, and how could you not laugh at Charles rocking cornrows to get Rosa to go with him to his ex-wife's engagement party?
Halloween II
The rematch of the century is on! A very cocky Jake challenges Captain Holt again, but this time to steal his watch. While the lack of dancing adult babies is disappointing, the writers managed to pen another gem here. What's great is that the writing team wasn't lazy, by telling similar jokes as the first Halloween episode. Jake wasn't acting like a complete moron to get Holt's watch and the clever twist of Holt outsmarting Jake the entire time was a rewarding moment for Captain Holt's character. Other highlights included Gina's dance troop, Floorgasm, dancing her out of the group, and the running gag of Charles wanting to be called Deuce.
The Road Trip
Teddy and Amy are officially over! Since Jake revealed his true feelings for Amy late last season, the will they/won't they angle has been an important story throughout a good portion of season two. The situation between Jake, Amy, Teddy, and Sophia made for some uncomfortable fun moments on television; however, the confirmation that Amy was into Jake just made fans anticipate more when the two will finally get together. Meanwhile, back at the 99, Rosa pretending to not be sick provided some of the best moments for Diaz thus far. Stephanie Beatriz is always fantastic when playing the tough Diaz character, but to see the actress break her shell by being crazy hyper after she took some cough medicine was laugh-out-loud hilarious. Another strong moment was Rosa threatening to rip her grandmother's head off in her sleep and breaking the window glass, scaring the hell out of Gina.
The Pontiac Bandit Returns
Doug Judy returns! In season one, we were introduced to the petty theft who managed to outsmart Jake Peralta. Craig Robinson returns to play the goofy criminal and not surprisingly, the winning formula of Samberg and Robinson together makes for a hilarious 30-minute episode. From the visual image of Jake celebrating Judy's capture as the Christmas trees burn down to Judy's repeated attempts at flirting with Rosa, Craig Robinson's infectious energy helps really make his character in Brooklyn Nine-Nine pop. Of course, a good portion of the credits goes to the writers for penning the character of Doug Judy. The Potomac Bandit is without a doubt a goofball, but the writers do an excellent job of balancing out his character; Thus, when Judy outsmarts Jake and the squad once again, it actually feels natural and apart of Judy's charm. Amy being a teacher's pet by making Holt a Christmas present ended up giving her a nice character moment in the end and the silliness of Charles and Gina trying to keep their parents from their relationship growing closer was fun as well.