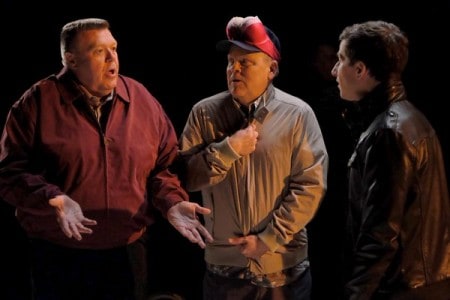 The relationship between Rosa and Adrian Pimento has never been a normal one and that theme continued in tonight's episode, as the two decided to get married after only dating for a short amount of time. In one of the most romantic proposals on television (in a dark alley during a foot chase), they easily agreed to wed each other, setting up a fun party-filled episode with a surprisingly emotional ending. Between the bachelor and bachelorette parties and a threat on Pimento's life, this episode was full of great character moments, especially for Rosa, which made the ending that much more impactful.
For the men (minus Charles who naturally took his place beside Amy and Gina as a co-Maid of Honor), the bachelor party had one main objective: getting Terry to like and accept Pimento. Rosa begged Jake to help accomplish this, in a rare moment where we saw how much she cared about both men and wanted them to like each other. This task was easier said than done, however, when the night turned rocky and Pimento announced that someone was trying to kill him. Along with the always delightful comedic relief of Hitchcock and Scully (who apparently kept accidentally cutting his face with a knife), the group of men set out to track down whoever was after Pimento.
In one of the more high stakes cases we've seen them in, their investigation led them to realize that the man after Pimento was in fact part of the FBI, meaning there may have been someone on the inside who was working in Pimento's group during his undercover days. It all led to the conclusion that Pimento couldn't stick around any longer because this threat on his life was very serious and he didn't want to risk putting Rosa or the others in harm's way. Perhaps it was this noble decision that caused Terry to finally accept that Pimento is a good man but unfortunately, no one could reap the benefits of that newly found respect. Instead, Pimento had to get away fast, not even waiting to say goodbye to Rosa.
While the men spent the bachelor party investigating, the women (and Charles) were able to have a lot more fun. Each co-Maid of Honor set out to prove that they could throw the best party for Rosa, leading to three separate and equally hilarious outings for the group in one night. Gina started by taking them paint-balling which ended up being only a warm up for what was to come. Amy took it a step further, putting her own Amy-twist on the party and doing a trivia competition all about Rosa. To make it fun for Rosa though, every time someone answered incorrectly, they had to do a shot. Naturally, this led to everyone getting very drunk which was the perfect set up for Charles' winning idea of demolishing a restaurant. All three proved that they knew Rosa very well and we got a glimpse of how truly happy she could be with her group of friends, knowing that she was going to marry the man she loved.
Happy isn't an emotion we see on Rosa often so of course, it had to be short-lived. Pimento may only have been on the show for a handful of episodes but his character has become a big part of the team and an even bigger part of Rosa's life. His over-the-top paranoia and craziness that came from having been so deep undercover was a great addition to the show. With his life on the line and wanting to keep Rosa safe though, he needed to make his exit. But even a man who has seen what Pimento has seen couldn't leave without seeing Rosa one final time. In a surprisingly emotional moment, we saw these two say goodbye to each other, Rosa promising to catch the man after Pimento and him promising to return for her someday. For a character who doesn't open up often, we saw Rosa incredibly happy in this episode and then later, close to tears. Stephanie Beatriz did a great job of naturally portraying both sides of the character as she transitioned from the joy of being in love to the despair of having to say goodbye to the one she loved.
All in all, this was an entertaining episode that set up promising developments for the show's future. For one of the first times, it looks like we're going to be following the same case for more than one episode, as the precinct works together to bring down the men who are after Pimento. Despite the show being about detectives, they've stayed pretty close to the 'criminal of the week' storyline which makes sense for a comedy to do. That being said, it'll be interesting to see them try their hand at a longer arc, going after the same criminal for more than one episode. The show has tried some new things this season and has been successful so far and it looks like that trend will continue.