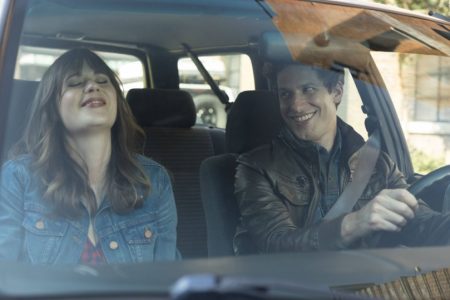 As someone who has watched both New Girl and Brooklyn Nine-Nine since their very first episodes, I was thrilled to hear that the two hilarious FOX comedies would be crossing over. What could be better than combining two of the best comedies on television right now? Unfortunately, on the Brooklyn Nine-Nine side of the event, there wasn't actually too much crossover, something I was somewhat confused and disappointed by. However, that didn't stop the show from putting together a solid episode, that only briefly featured Jess, but had many other things to offer from their own main cast of characters as they explored what life after Florida would be like.
Obviously, having been gone for six months, this was the biggest question facing Jake and Holt upon their return. With his relationship with Amy back on track, things were looking alright for Jake, despite the night shift duty the whole squad had been given. Always the optimist, Jake tried to remain positive about night shift while everyone else lamented how terrible it was not being able to sleep, see your loved ones, or do anything that brings you joy. While Terry might have been a bit overdramatic in his aforementioned description of the emptiness of night shift, everyone seemed to be in agreement that it truly was a joyless task.
Holt's first goal as Captain of the squad was to rebuild the morale on the team which was severely lacking. Between everyone bickering and the introduction of 'night sassy' Terry, someone needed to do something about the squad's spirits (even if sassy Terry is one of the best things ever). While Holt may not seem like the best man for the task of building positive energy, he was their only hope. Having struggled recently with needing to ask the squad for help despite being Captain, he wanted to do something for them and this led to him coming up with various ideas, all equally disastrously hilarious, to rebuild the morale. Unfortunately, between the forced smiles from the team, all of which were laugh out loud funny, and the forced laughter from Holt, which once again proved why Braugher should have an Emmy, nothing seemed to be working.
When none of his plans worked, Holt put together an 'after work hang' for the squad in a last ditch attempt to build morale. Despite all the effort he put into the party, it was once again a bust as everyone remained unwilling to try to find any pleasure in the night shift. For quite possibly the first time ever, we saw Holt do something that goes against everything that he stands for: he gave up. Unable to find any bright side to the night shift, he announced that he was done trying, that he too was miserable, and that they'd all just be miserable together. Over the seasons, we've seen his perseverance, hard work, and dedication to his job pay off time and time again but this time it just wasn't enough.
Lucky for Holt, he still had a great squad behind him, and having seen him sink low enough to give up, they took it upon themselves to set up a 'beginning of work hang.' They used this as an opportunity to show him how much they appreciate him, while also letting him know that now that he's made it clear he is also miserable, they have complete faith that he will get them out of this situation. By doing this, the squad confirmed their belief in something that we knew all along: Holt really does never give up and he won't give up on them now as he tries to get them out of the night shift.
For Jake, his main issue upon return from Florida was navigating the new obstacle that had been thrown into his friendship with Charles: Nikolaj. As the only one excited about night shift, mostly just ready to be back working as a cop again, Jake set out to solve his first case back. Of course, he couldn't do so without the help of his best friend and right hand man, Boyle. After hitting many dead ends during the night, thanks to the less than helpful staff of other workers who were tasked with that shift, it became evident that a major shift was happening in their friendship. Instead of working on the case during the day with Jake, as they would in the past with the goal to never let a case go unresolved, Boyle instead needed to spend the day with his son.
Jake being Jake, lashed out at this, claiming that Nikolaj was interfering with the case and their ability to have fun. Deep down he was hurt because Boyle was the one person he could always count on and now he's losing that because of Nikolaj. Advice from an interesting source though provided him with some perspective, as he realized that he needed to embrace this new change in their friendship instead of rejecting it. Otherwise, he could risk his friendship with Charles completely. A formerly disgruntled night shift worker sat down with Jake and explained that life always moves forward and that things will never be the same as they were. Instead of fighting this, we need to accept it. It was with this advice fresh in his mind that Jake found himself showing up at Charles' place, case still unsolved, and ready to spend some time bonding with Nikolaj. After all, if Nikolaj is going to be a big part of Charles' life now, he's going to be a part of Jake's as well.
During Jake's solo investigation attempt without Charles, he did run into a familiar face from New Girl, having to commandeer Jess' car to go after the suspect. Though only a short scene in the scheme of the episode, it was fun to see these two interact, as their personalities meshed really well. Most of their time together was spent bickering about how terrible New York is compared to LA (which really does have better songs written about it). While this scene was entertaining, it wasn't quite at the level of crossover I expected when I heard about the big event.
Of course, this did leave time to deal with issues for the remaining squad members, providing us with a really great Rosa/Amy storyline that more than made up for the lack of New Girl characters in the episode. The two brought both comedy and emotion to the episode when Amy started questioning why Rosa was randomly disappearing for long amounts of time during their shift. Feeling somewhat upset that Rosa didn't seem to want to spend time with her, Amy set out to discover where she was going. What she found was that Rosa had been going to a park bench, sitting and waiting for Pimento to show up. They had agreed that when all was said and done with Figgis, this is where they'd meet.
Stephanie Beatriz and Melissa Fumero both delivered incredible performances in this episode, as they worked through their friendship and Rosa's heartbreak over Pimento. There were quite a few humorous exchanges in the beginning as Amy tried to determine whether Rosa, who is known for her deadpan expressions, was lying or not. This later led way to an amazing emotional performance by Beatriz, as we saw a side of Rosa we rarely get to see. Hurt and heartbroken that Pimento had not shown up, Rosa opened up to Amy enough to let her see how truly devastated she was.
The friendship between these two has always been an interesting one to watch unfold, as on the surface they are complete opposite. Amy represents light while Rosa represents darkness. But when they come together as friends, it just works. With that in mind, it wasn't a stretch at all to see Amy reaching out to Rosa, letting her know she'd be there for her if she needed to talk, just like Rosa was there for Amy while Jake was gone. This brought up the theme once again of friends being there for each other, something that these two can do just as well as Jake and Charles.
Despite the lack of crossover content, this episode of Brooklyn Nine-Nine had plenty to offer in terms of comedy and great character moments. With everyone back at the precinct, they were able to address how the characters reacted in the aftermath of taking down Figgis, an arc that had lasted quite a while. For Jake, it meant adjusting to the changes back home while for Rosa, it meant realizing that maybe Pimento isn't actually coming back. All of this led to some important realizations for the characters, resulting in a very solid episode.
Summary
The squad struggled with working the night shift while Jake and Holt adjusted to being back home in a funny and emotional Brooklyn Nine-Nine episode.