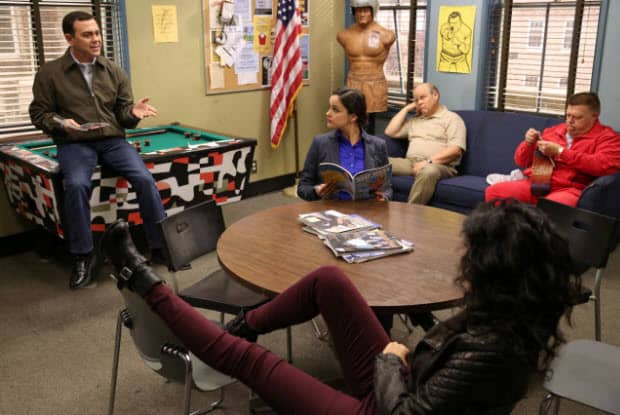 Alright, so the Olympics were fun to watch, but I'm going to be honest, taking the place of my favorite weekly television shows is a pretty bold move. Even last week Brooklyn Nine-Nine was still off air, leaving me solely with Workaholics. Not saying that's a bad thing, but I just don't appreciate having my television rapidly disappear all at once only to return a month later. Either way, Brooklyn Nine-Nine was back last night with the season's 18th episode, "The Apartment," that definitely brought the show back from its minor one week absence with a great episode that featured some nicely unusual character pairings.
I thought last night's episode had a hilarious pre-intro sequence with Peralta accidentally revealing his father issues by intuitively responding to Holt with a, "thanks dad." Even Boyle admitting that he once called Vivian mom is not enough to distract from a rare slip up from Peralta, but maybe him and Holt will talk about it over a game of catch later. Otherwise, "The Apartment," focuses on Peralta's search for a large loan in order to save his apartment and not become homeless. He is eventually accompanied by Gina to go apartment hunting, which leaves Holt and Terry alone to conduct evaluations for the squad. While Santiago spends the entire episode trying to figure out what her biggest flaw is (the perfect evil question to ask Santiago), Boyle and Diaz get to have a little fun together pranking a weekend squad cop named Lohank, who they can't stand because of his office hygiene; mainly shaving at his/Diaz's desk. This creates the unusual pairings of Peralta and Gina, Boyle and Diaz, Holt and Terry (the least unordinary), with Santiago on her own. It was definitely different, but I actually really enjoyed seeing most of these characters mix together.
The main story focuses in on Peralta and Gina's apartment hunt, and I actually thought Gina played off of Peralta really well, and found her really funny last night. Peralta is a broke slob, so it's no surprise that the contents of his apartment include 6 massage chairs, 3 turntables [that are only used to try and mash up his Klezmer Collection], and having bought Olympus Has Fallen 12 times… He also has a claw foot "mail tub" that is just littered with ignored and unopened envelopes. Gina tries to confront him about the problem but this results in Peralta getting a straight cash (homie) loan from a loan shark he won't be able to pay back. Even when that doesn't work, Gina makes Peralta the offer of buying out the apartment and renting it back to him to preserve the place where the two of them grew up and help out a friend; however, Peralta can't seem to swallow his pride.
Meanwhile, back in the office Boyle and Diaz decide to prank Lohank for shaving at the desk again. They decide to fill his locker with a mixture of shaving cream and hair, but quickly begin to realize that Lohank is dealing with lots of unfortunate negative situations in his life and isn't actually a bad guy at all. The dastardly duo is eventually caught red handed by Holt and Terry when trying to remedy the mess they made. It's fun to watch Boyle and Diaz bond now that they have, at least temporarily, nixed Boyle's interest in her. I like watching these two together because it's a great mixture combining goofy Boyle with tough Diaz.
In the end each of the character pairings come together and recognize the friendships they have in one another, reemphasizing the feel similar to Parks & Rec where you know the characters are all caring friends. Peralta recognizes Gina's nice gesture and tells her to take his apartment for herself while she rents him her old one which is within his budget, Terry calls out Holt on being too tough with the evaluations, only to find out Holt respects Terry's "mother hen" mentality towards his squad, and Boyle apologizes to Diaz for being so awkward around her for the past year. Ah, it's good to see the Brooklyn Nine-Nine team back in action with more relationship building. Last night's episode was definitely funny, but also was able to blend in important building between the squad that will payoff in the future. Overall, last night was another solid episode, and am really excited to see what Brooklyn Nine-Nine has in store for its premiere season finale as the season's end inches closer. Either way, the show is doing a great job of establishing the characters, and even more importantly, building relationships between all of them that should create a nice dynamic going forward.
My Moments of the Night:
– Media Content is definitely a great show, I actually just finished the second season last week
– Gina's travel journal includes: Empanadas, Atlantic City, and birth control
– Peralta and Gina, "kick it old stylez," stylez, with a z,
– The story of a homeless cop would make a good TV movie.
– Every now and then Santiago smokes a cigarette.
– "Oh no, Santiago in B flat…"
What did you think of last night's episode, "The Apartment"? Why did or didn't you like it? Drop a comment and let me know!
[Photo via Tyler Golden/FOX]s