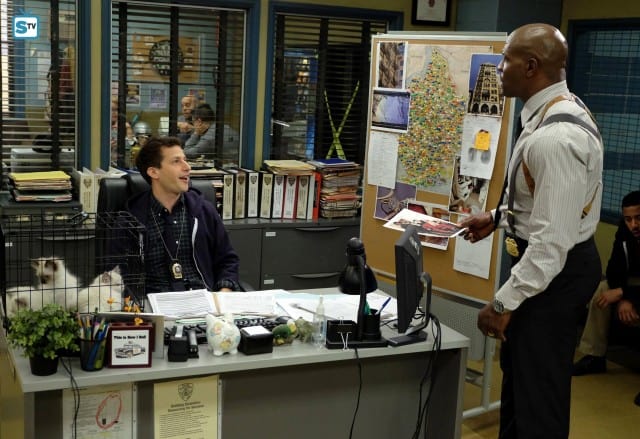 The strength of Brooklyn Nine-Nine has always been in the genuine friendships between the members of the precinct, something we've seen time and time again as we've explored those various friendships. In tonight's episode, we saw that theme come to the surface again, as Jake helped Terry solve an old case from when he first started working as a detective and as Gina helped get Boyle out of a difficult situation. And, in a different way, we saw how friendships can often lead to competitiveness. Between all of this, Brooklyn Nine-Nine provided an entertaining episode that played to it's strengths and was able to find highly comedic moments.
While the whole idea of solving an old case has been done time and time again on Brooklyn Nine-Nine and has grown a bit old, at least this time it featured some Terry backstory. Instead of focusing on Jake trying to solve an old case of his, it was Terry who struggled with the first case he ever tried to solve and failed miserably at. For years, his original precinct had been making fun of him for accusing a cat of being an accomplice after trying to arrest the wrong man in a case that remained unsolved (side note: this reminded me of the Psych episode where the cat helped with the case). Wanting to help Terry prove how far he's come since then, Jake reopened the case with him, set on finally solving it and putting the incident behind Terry.
This plot had a lot going for it, besides the obvious fact that involved a trio of adorable kittens. We were able to see a different, more insecure side of Terry that doesn't come out very often as he dealt with memories of those bullies and the bullying he received from his father growing up. With Jake's freak out on the ledge of the window and Terry's somewhat understandable hatred of the cats, there was also plenty of comedy to go around. The heart of the episode came from the end, however, when Jake stayed up all night to solve the case once and for all, proving to Terry that he truly does have people who care about him. In an important moment, Terry noted that the opinions of people like Jake should matter more than those of the bullies, a lesson we could all learn from.
Elsewhere in the precinct, we got an always appreciated storyline between Gina and Boyle when Pimento started rooming with Charles. Not having the guts to stand up to Pimento himself and kick him out of the apartment, Gina had to do so for Charles in a moment that proves that she actually is capable of caring about and helping other people. I'm not sure what was funnier, watching Boyle try to stand up to Pimento only to immediately fall into a weird British accent and bow down to him or watching Gina put Pimento in his place. It was a job well done by all three actors and while Pimento's dark stories from his time undercover still seem a bit out of place in the show, he has overall been a delightful edition to the show.
We also got to see the hilarious trio of Amy, Rosa, and Holt working together in this episode as they took a bomb defusing class. While everyone in the precinct is competitive in their own way, these three are the ones who display that quality most often and so naturally, they made the class a competition to see who could defuse their bomb the fastest. At first, Holt played it off as though he was taking the class seriously, berating the two women for turning into a competition. Secretly however, he was just using this as a tactic to make them work slower so that he could pull ahead of them and finish first. I will never tire of watching Amy and Rosa sling insults back and forth. Add to that Holt's smugness at winning, and the laughs didn't stop. They may have learned by the end that they should take the job more seriously (they all failed the class while Hitchcock and Scully managed to pass) but that didn't mean they could fully put to rest their competitive spirit. And in the end that's probably a good thing, as it will drive them to do their job better.