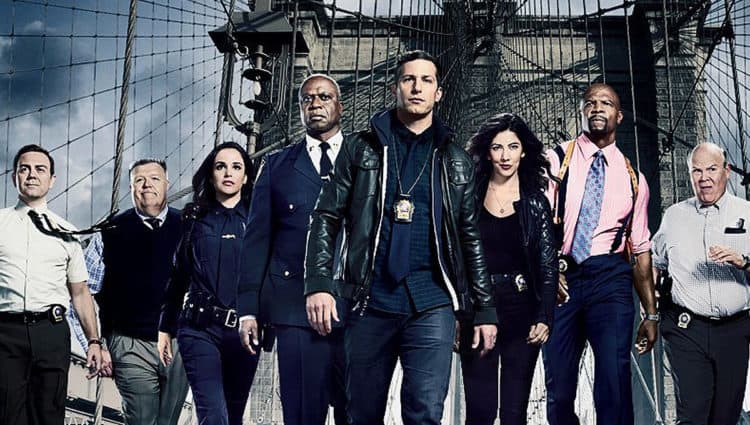 Brooklyn Nine-Nine recently said goodbye with their final season officially in the can. For the past eight years, Jake Peralta, Ray Holt, Terry Jeffords, Rosa Diaz, Amy Santiago, Charles Boyle, Hitchcock, and Scully have made us laugh, dance, sing, cry, and laugh again throughout each tremendous season. To celebrate this amazing show, we'll count the five best episodes of seasons one through seven. Let's not waste any more time and check out the top five episodes of season five.
The Big House Pt. 1
So Jake and Rosa are in the big house. This provided a fun change of scenery for Brooklyn Nine-Nine and the storylines with both Rosa and Jake provided plenty of laughs. Capital Holt repeatedly saying Rosa's name was hilarious as was Terry trying to mask his feelings for her incarceration. That allowed Rosa to take advantage of both men's generosity, which resulted in some of the show's best moments. Jake's story was also filled with riotous moments, from his cannibal roommate to adjusting to life in prison and trying to not get stabbed, this was a great way to start off a promising season. Bonus points for the cold open, as Charles dreaming about the return of his best friend returning home was laugh-out-loud funny.
Two Turkeys
Remember folks, there are downsides to alcohol! This season, the thanksgiving episode stole the show (sorry Halloween) with Peralta and Amy's parents meeting for the first time ever. It's hard to go wrong when you have the comedic talents of Katey Sagal (Married…With Children) and Bradley Whitford (The Cabin in the Woods and Get Out), with Roger Peralta shining as the dim-witted cheating husband. Sagal's role could've been a bit spicer; however, the veteran actress has a few funny moments throughout her interactions with Amy's parents. Speaking of which, Bertila Damas and Jimmy Smits perfectly matched the energy of Sagal and Whitford. The storyline of feuding parents is nothing new; however, the situation became increasingly funny, especially when Jake and Amy intentionally got their parents drunk. The B-Story of Captain Holt trying to find the pie culprit was another welcome distraction and Andre's Braugher deadpan humor was put to good use here, though Hitchcock and Scully being useful was a nice (and funny) surprise.
Game Night
The focus of this episode was Rosa finally coming out to her parents, one of which happens to be Danny Trejo. Brooklyn Nine-Nine has an excellent way of incorporating important topical issues into their storylines and this was no different. From Rosa awkwardly pretending to be Jake's boyfriend to explaining bisexuality on game night, this subject felt authentic and Stephanie Beatriz was excellent at balancing the different emotions she had to display through the 30-minute episode. While her parents weren't fully excepting of Rosa's sexuality, it was a sweet moment when she hugged her father; Jake and crew treating Rosa as a family at the tail end of the episode was even more heartwarming. The Gina subplot didn't have the emotional weight of the Rosa story, but that doesn't mean fun wasn't had along the way.
Bachelor/ette Party
How can you not have a bachelor party without a fake kidnapping and Reginald VelJohnson? Before Jake and Amy finally tied the knot, both of them had separate bachelor parties that put them on weird journeys of sorts. Amy providing excuses for the wild things she hasn't done was priceless, and Charles going over the top for the scavenger hunt also provided some hilarious moments. The standout was Captain Holt…er Raymond in a Kangol hat, whose lewd story and his drunk responses were the funniest moments throughout the episode. Gina holding back her true feelings played nicely with the silly situation that was going on Amy's side. Seeing Reginald VelJohnson was fun, though he wasn't onscreen long enough to provide a lasting impression.
Jake & Amy
Jake and Amy were finally getting married. The only thing standing in their way was a bomb and Teddy. The "wedding day goes bad" angle is nothing new in the world of television; however, Brooklyn Nine-Nine's spin provided some of the season's funniest moments. Plus, it ultimately resulted in Jake and Amy finally getting married after five long seasons. There was never any doubt that Jake and Amy would never get married, or even die (that's really grim for this show); however, the journey to getting to their official wedding was extremely entertaining. Kyle Bornheimer's Teddy Ramos trying to stop their wedding was another highlight of the episode and him making his evil intentions clear made the storyline even funnier.
Tell us what's wrong with this post? How could we improve it? :)
Let us improve this post!