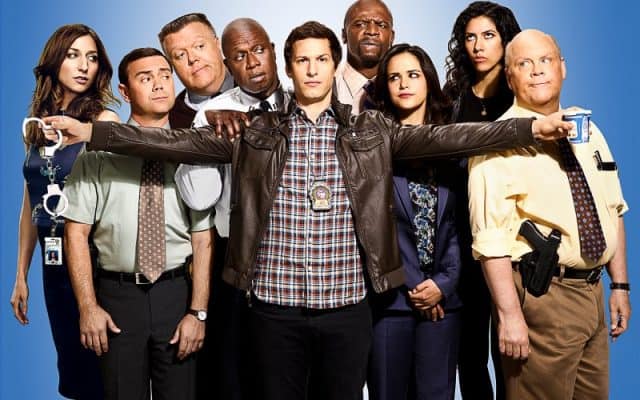 In a pretty rare move for comedies these days, Fox announced during their panel at the Television Critics Association's summer press tour that two of its longest-running comedies, Brooklyn Nine-Nine and New Girl, will be taking part in a crossover event. The event will air on the network on October 11.
We don't know exactly how it will happen, but the events of the crossover should see Jess, Nick, Schmidt, and the gang from New Girl heading to New York to interact with the cops of the Nine-Nine.
In a statement, New Girl creator Liz Meriwether said, "The crossover episode has historically been the artistic high point of any show that has dared to attempt it. Maybe you remember 'Blackout Thursday' on NBC, or even further back the infamous Alf/Gilligan's Island crossover of the late 1980s….We know we have big shoes to fill, and we look forward to disappointing everyone."
Brooklyn Nine-Nine co-creator Dan Goor had this to say about the crossover: "Brooklyn Nine-Nine crossing over with New Girl is very exciting, but (and this is supposed to be a secret) it's just the first step. Stay tuned for our two casts to do a soulful R&B number on Empire, co-anchor the FOX 10 O'Clock News and connect for a touchdown on FOX NFL Sunday."
While it may just be a ploy for ratings, as a fan of both series, I absolutely can't wait to see how this plays out.
The New Girl/Brooklyn Nine-Nine crossover event will air on Fox on October 11. Are you looking forward to the crossover? Let us know your thoughts in the comments down below!
[Photo Credit: Fox]
Tell us what's wrong with this post? How could we improve it? :)
Let us improve this post!