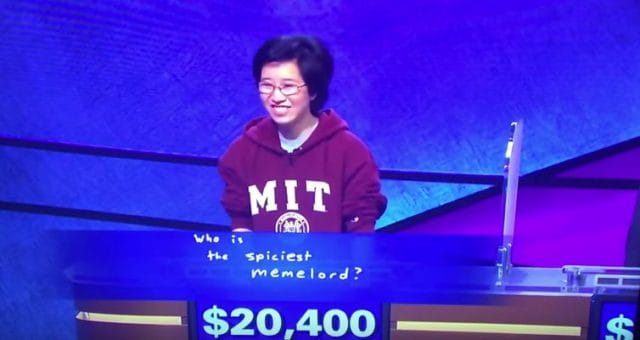 Earlier this week Alex Trebek captured our hearts with his rapping ability, but last night it wasn't the Jeopardy host who got the attention of the internet, it was an MIT contestant who decided to have a little fun with her answer on final Jeopardy. I have no idea what the actual question was (someone please email it in to us and I'll post it here) but I do know her answer was as cheeky as they come. "The Spiciest Memelord" should be making it's way around internet circles today. If anything it was a pretty humorous response to a question she knew she couldn't answer.
Our contestant wagered zero dollars, took no chances, and won the game securing her $100,000. Trebek didn't even bother to comment or even understand what Spiciest Memelord means. Frankly I don't even know what it means but it's certainly one of the more creatives Final Jeopardy answers of the year.
Here's to "Spiciest Memelord" trending today. With all the Oscars stuff dominating the media this weekend, I'd like to see this MIT girl get her moment in the sun.
Save