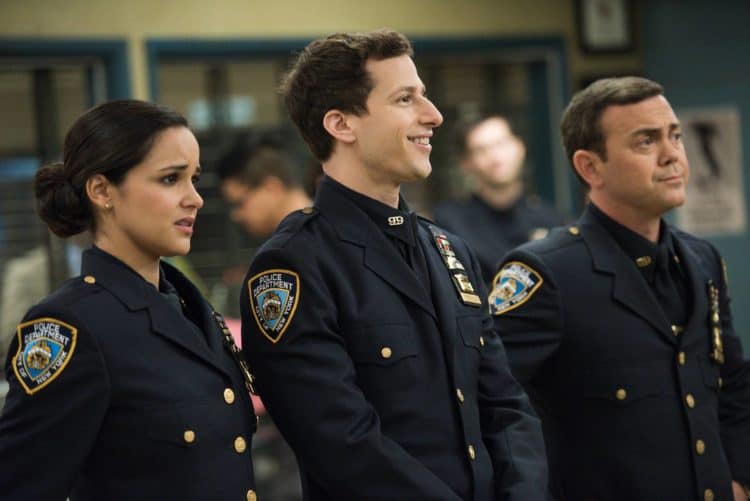 After eight seasons, Brooklyn Nine-Nine will be saying goodbye with their final season that's currently airing. For the past eight years, Jake Peralta, Ray Holt, Terry Jeffords, Rosa Diaz, Amy Santiago, Charles Boyle, Hitchcock, and Scully have made us laugh, dance, sing, cry, and laugh again throughout each tremendous season. To celebrate this amazing show, we'll count the five best episodes of seasons one through seven. Let's not waste any more time and check out the top five episodes of season three.
New Captain
An episode with Madline's Wutch and Bill Hader's Seth Dozerman is an automatic win for Brooklyn Nine-Nine fans. The petty rivalry between Holt and Wutch continues to be fun and their insults remain hilarious. Following Holt and Gina outside of the Brooklyn Nine-Nine precinct was a good storyline that provided strong character progression on Holt's end. To see the former Captain of the Nine-Nine precinct working such worthless jobs was degrading to his overall skills; however, Holt refusing to give into Wutch's clear plan to get rid of him highlighted why Holt was a leader in the first place. Over on the Nine-Nine side, the obnoxious and over-the-top Seth Dozerman character was a blast to see. Seth's Dozer-pads, his heart attack (or his rare genetic aortic valve condition), and attempts at being funny made for a great character that's definitely better in short bursts. Also, Amy and Jake keeping it "light and breezy" was a nice story for their brand new relationship. It's good to see that both characters haven't changed now that they're finally together.
The Funeral
Scully's butt will be the downfall of the Brooklyn Nine-Nine! This great episode featured none other than The Vulture, who's now the Captain after Frick and Frack killed Seth Dozerman. As always, the writers continue to their streak of great guest features and The Vulture continues to shine as a harda** douchebag who loves nip slips. While it was obvious that the relationship between Jake and Amy wasn't breaking any time soon, the storyline did manage to provide some strong one-liners and gags. Charles's odd sexual relationship with the Lieutenant also provided some good fun with his angry outburst over her being a vegan being one of the best moments of the episode. Overall, a strong continuance of the early season with another fun guest appearance from The Vulture.
Halloween III
Who will win the epic third showdown between Captain Holt, Jake Peralta, and…Amy Santiago? It's a Halloween episode and you know what that means, more heist shenanigans between Jake and Captain Holt. The Halloween episodes continue to be one of the best holiday-themed shows on Brooklyn Nine-Nine. Once again, the writers do an excellent job of keeping the battle between Holt and Peralta fresh; With the twist of no one trusting Amy a clever addition to this year's arc. Arguably the funniest moment on the whole episode is the cold open where the squad messes with Charles over his Halloween costume. However, the lack of dancing adult babies is very disappointing once again.
The 9-8
Steve Schillens is in the house! This time, Damon Wayans Jr. got in on the fun and the well-known comedic felt at home in Brooklyn Nine-Nine. Peralta and Schillens being best buds provided some sweet lines throughout the arc; however, the best beats of the story were Charles's reaction to their friendship. The three-way fight inside of the small closet was the highlight of the show. That wasn't the only guest appearance of this episode as the precinct squeezed in new guests into their tiny home. Amy's issues with Brian and his dog, Rosa's new deskmate that…chats and Hitchcock and Scully's microwave problems was a funny B-story for the episode.
Adrian Pimento
Detective Adrian Pimento has officially rejoined the Nine-Nine after a 12-year undercover operation. You know what that means, gruesome stories about violent beatdowns, funny stories about moist eyes, and pancake butts! Episode 17 provided us a new character who's clearly dealing with some, um…issues. Brooklyn Nine-Nine has had some dark humor in the past; however, Pimento's character (played by Jason Mantzoukas) injected a different vibe within the group. Surprisingly, the dynamic works, and Pimento stands out a good way because of the type of humor he provides. Of course, his emotional story is a sad one and the show makes sure to tackle a difficult subject in a delicate manner. Despite Pimento being insane, he's never made to seen cartoonish thanks to the writers humanizing the overall character. The storylines with Mean Marge and Gina being a director kept the momentum of the episode strong.