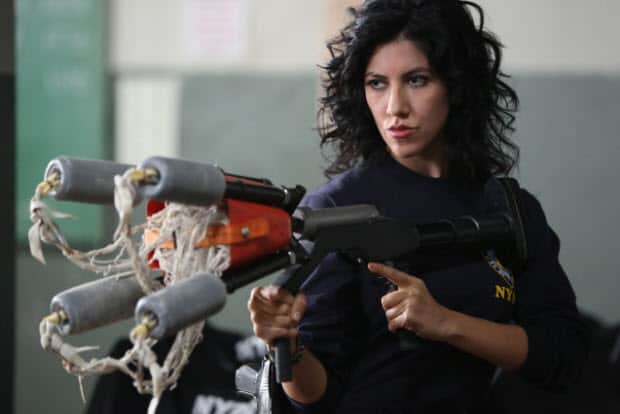 Here we are another week and another Brooklyn Nine-Nine episode closer to the season one finale. This week's episode, "Tactical Village," was a very nice bounce back after last week's flat episode that's only real benefit was its odd character pairings. The show definitely didn't have its worst episode last week, but it just never sat with me to the point where I was constantly recalling it for any particular reason. Last night, "Tactical Village" brought the team together for some good ol' departmental training drills to bond with one another and blow off steam; or just to field test new weapons and feel like you're a part of an action movie (Peralta has been a finalist for coolest kill two years in a row). Meanwhile, Holt and Gina spend the episode hanging back in the office where they end up bonding over a shared addiction for Cwazy Cupcakes (Candy Crush), a simple phone game.
As the team is on the bus headed to Tactical Village Day, Peralta reveals his newest persona to Boyle and Santiago; Rex Buckingham; British secret agent, ballistics expert, and….ladies' man. Boyle notices the chemistry between Peralta and Santiago despite Jake's constant denial and playing the, "she's like my sister," card — that's what Luke said about Leia.
Back at the station, Holt is becoming more and more addicted to Cwazy Cupcakes. Gina catches him multiple times, even once in the bathroom stall (pants up), and tries to drag him out of denial about his addiction. Just as Holt is about to enter the Sprinkle City, he is able to admit that he has a problem, and even though he was able to go 19 milk less years without his a beverage that he's loved, he can't ditch Cwazy Cupcakes; however, as soon as he discovers that Hitchcock has made it just as far as him, the game immediately loses its value.
Back at Tactical Village Day, Santiago runs into a guy she used to date, Teddy, who has recently been re-stationed to a department closer to the nine-nine. Peralta tries to play it cool and act like he doesn't care, but suddenly starts making sure Santiago and Teddy don't get to spend any time together. When it comes time for the nine-nine squad to run through the tactical village day drill, Teddy comes out with his team. They just had a perfect run with an NYPD course record for time, which impresses Santiago, and causes Peralta to ditch his alias and take the drill seriously. Peralta is basically the best cop ever when not goofing off, and an even better pair with Santiago at his side. With a minute left to beat the record, Peralta goes in alone and fakes out the two perps left with Scully's "upsie downsies" shooting method. The squad goes perfect, gets the time record, and Peralta's even buying everyone drinks; yet, Santiago still ducks out to grab dinner with Teddy. Ouch.
The whole night Diaz realizes that Boyle has been avoiding her, and also didn't invite her to his wedding. Throughout the episode she is constantly torturing him instead of just confronting him about the situation. Sadly, all viewers enjoy laughing at Boyle's pain, and tonight was full of it. Watching Diaz commit multiple "accidents" had me shame laughing — first the ultrasonic weapon that makes Boyle, "taste his thoughts," next hitting him with the net gun as he walks out of the break room, spilling hot coffee all over himself, and lastly just straight up shooting him in the back and chest three times. Poor Boyle, but I was glad to see Diaz eventually be reminded of how nice and selfless of a guy Boyle is and talk to him about the discomfort between them.
Boyle informs Peralta that Teddy is beating him because he actually confronts his feelings and simply asks Santiago out on a date. He's been avoiding her because Vivian is uneasy about Boyle's past love interest being at the wedding; however, later when Vivian and Diaz talk at the bar, it turns out Boyle was lying to both of them and was the one who did not invite her. Uh-oh, I guess Boyle recognizes that he still has feelings for Diaz but is just trying to bury them until he can get married to Vivian. I wonder if he will go through with wedding or not?
In the end, Boyle sits Peralta down and explains to him that Santiago chooses Teddy because he isn't afraid to ask her out. The next day, when everyone is leaving the office, Peralta musters up the courage to finally ask Santiago out; but he realizes that she's wearing lipstick, and it's because she's going on another date with Teddy. It was sad to watch Peralta fail, but I am glad they aren't going to throw these two into a relationship straight off the bat. Peralta has been growing more mature over the duration of the entire first season, so it's nice to see him get serious about Santiago as the season comes to a close. I'd rather watch them delay this so that the characters can grow together as well, and then bring them together down the road like Jim & Pam from The Office, Ben & Leslie on Parks & Rec, or even at the end of season two just like Jess & Nick in New Girl. Overall, I thought this was a great episode of Brooklyn Nine-Nine, and I'm really excited for the season finale and everything else the writers are planning.
My Moments of the Night:
– STD: Save the Date.
– Holt is due for a software upgrade.
– Boyle can sound like Meryl Streep from Mama Mia.
– Peralta loves guns, he's gonna be a great dad.
– "Maximum engagement, what is this, Jurassic Park: The Ride?" Oh man I love Boyle.
Did you like "Tactical Village" last night? Drop a comment and let me know why or why not!
[Photo via Tyler Golden/FOX]