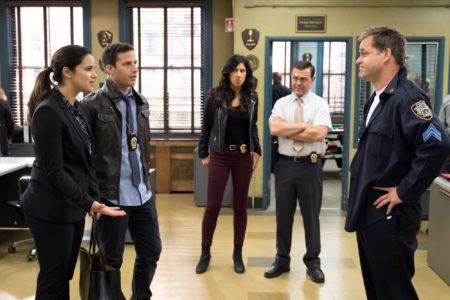 After a long hiatus, Brooklyn Nine-Nine returned tonight better than ever. Bringing laughs and great character interactions that can always be expected from this show, they didn't miss a step coming back from the lengthy break. With the precinct under audit and Amy's ex-boyfriend in charge of seeing where money can be saved, everyone split up on their own mission to make it appear that everything was running as smoothly and efficiently as possible. Of course, nothing ever actually goes smoothly for the squad, as things quickly fell apart for everyone.
While it's not feasible to keep all the characters together for a full episode, it does always provide some of the best moments of the episodes when we see the whole squad in one place. Thankfully, we got to see a bit of that tonight as everyone ended up in a small utility closest, determining everything that needed to be done to ensure their precinct wouldn't be eliminated entirely in the audit. Jake and Amy became in charge of making sure Amy's ex, Teddy, didn't still hate her for calling him boring and breaking up with him. Terry and a still injured Gina were in charge of figuring out the expensive printer that no one could get to work while Charles and Rosa set off to take care of the rat problem.
One of the things this show does best is portray the very realistic relationship between Jake and Amy, not finding it necessary to create contrived drama to keep them apart. Instead, the show embraces what they can explore between two main characters who are in a healthy and established relationship. If you ask me, it's more interesting (and comical) than trying to keep the characters apart. Plus, Boyle would be heart-broken if they ever broke up and no one wants to see that.
In tonight's episode, as Jake and Amy attempted to both win Teddy over and convince him that he is not actually boring, they found themselves at a jazz brunch. After discovering that they had accidentally called him boring again while his phone was recording their conversation, they needed to find a way to destroy the evidence before he heard it. Staging a fake fight so that Jake could flip the table and destroy Teddy's phone seemed like the only logical way to accomplish this.
As Amy nitpicked about some of Jake's less-charming qualities, like his obsession with shoes and unwillingness to floss, Teddy seemed to think he might have a chance with her again. In the end, Amy had to explain to Teddy that these imperfections and quirks are actually what she loves so much about Jake. Even if Jake did basically admit that if he didn't see her every day, he might forget who she is, the two of them are simply meant to be together.
Elsewhere in the precinct, there were plenty of laughs to be had as Terry struggled to figure out the complicated printer while everyone also tried to accommodate for Gina's injury. The big cliffhanger at the end of last episode saw Gina being hit by a bus and her return tonight provided for some great physical comedy, especially as she danced in the brace she now has to wear.
Charles and Rosa also had to contend with a rat problem, as we learned that Charles unsuccessfully attempted to use wolf urine to stop children from bullying his son. The wolf urine also didn't help much with the rats, who somehow got into a bag of a cocaine, causing Charles to fall out of the ceiling and destroy the printer once and for all. It ended up being Gina, who had been slowing everyone down all day, who saved the day and used her injury to garner sympathy to get everything cleaned up quickly.
Returning with such a strong episode, Brooklyn Nine-Nine proved that despite the break, they are still one of the best ensemble comedies on television right now. It is great to have the show back, providing a bright spot in the TV lineup each week. With the squad now facing a new auditor who seems to have it out for Terry, it will be interesting to see where the rest of the season goes. Undoubtedly, the squad will be able to handle anything that comes their way as they have proved time and time again that despite how dysfunctional they may seem, they always work the best when they're together.