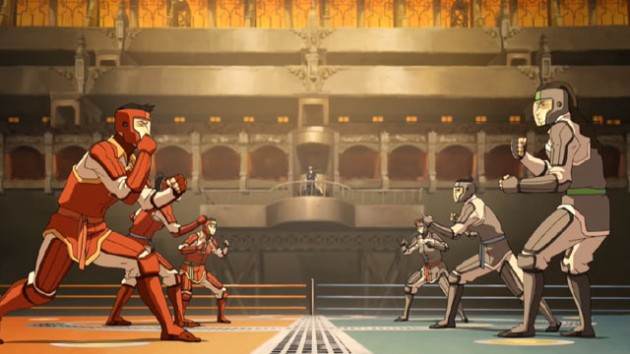 Number 4: Pro Bending
I bloody love Pro Bending. At first when I read about it I was confused. Then I found the rules for it online and, still, I was skeptical. The first time I saw it and instantly fell in love with it. The beautiful blending of bending and sports, Pro Bending quickly became one of the things I loved most about the show. My only gripe with it is that it was gone from the show just as quickly as it came along. Pro Bending also helped Korra along with her training, as well as being fun to watch. The different style used by the athletes was integral to the story, as Korra easily got to grips with the confrontational sport much easier than she did the passive Airbending. It also gave the show the chance to introduce the complete tool Tahno, and his Wolfbats. I can only pray that Korra Energybends the lot of them, and in season two we get another Pro Bending tournament, as Team Avatar/the Fire Ferrets look to capture the title they were so wrongly robbed of. But who will sponsor them?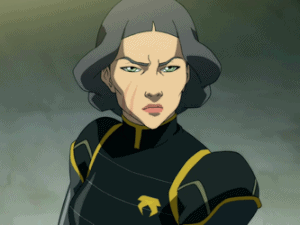 Number 3: Chief Lin Beifong
Lin is awesome. When I first heard the name '�Beifong'my initial reaction was to shout '�you're no Toph!'at my TV. I was right. Whilst similar undoubtedly, Lin is very much her own character. Not as funny or rebellious as Toph, Lin's gruff demeanor and desire to protect the city make her an invaluable ally of Korra and Tenzin, and a great addition to the cast. Encased in that metal uniform is a deeply messed up woman, who puts it all aside to get on with what she considers her duty. As she proved by throwing her badge of her uniform, she doesn't protect Republic City because it's her job, she does it because it matters to her. From the moment she appears as head of the cool Metalbending fuzz, she inserts herself easily into the show as if it was the most natural thing in the world. When she saved Korra from falling in '�And the Winner Is….'and joined in the fight, I was sold.
Lin Beifong is awesome, and one of the best Benders of any variety on the show. Beifong women are cool, apart from Lin's grandmother. On a different note, I'm so glad they didn't make Toph's daughter blind, that would have been insulting. (Now it's something that could happen to her though.) No, it doesn't really matter who her father is, curious as I am. No, I can't understand why Tenzin chose Pema instead (maybe fear of the dominant Earthbender gene?) but none of that is important. What is important is one simple fact. Some heroes do what they do because of destiny, some do what they do because no-one else will; others, they do it because it's who they are. The Metalbending, police leading, rogue cop crusading, bare-foot scanning, defiant to the end Lin is just that kind of hero; she does it because it's who she is, and that's one of the many reasons why she's awesome.
Concluded on next page…