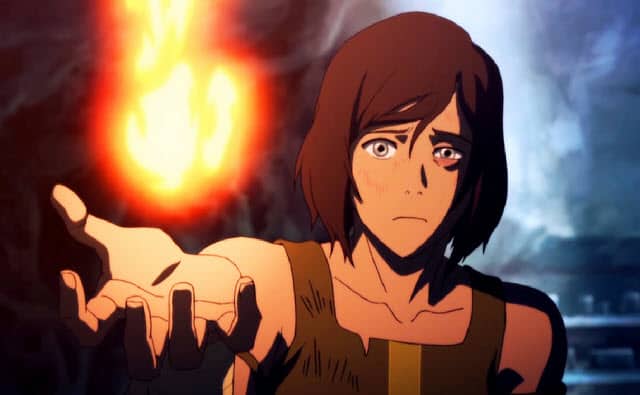 Because I know a few people watching The Legend of Korra who haven't seen Avatar: The Last Airbender, let's take a moment to talk about "Korra Alone" within the context of both series (and without spoiling anything for viewers who plan on going back to the first series after Korra is done). One of the five or so best episodes of Avatar is "Zuko Alone," which follows the episode's title character through a rather tumultuous period. He is at a crossroads and struggles to find his identity in a world that doesn't make as much sense as it used to. By titling today's episode "Korra Alone," Michael Dante DiMartino and Bryan Konietzko are doing a few things all at once. It's impossible they wouldn't know how successful "Zuko Alone" was for both Avatar's development and for fans who have gone on to rightfully canonize the episode. So, in some sense, they're announcing an Important episode for Korra. And if that episode follows in the tradition of "Zuko Alone," it will similarly push its main character around until she winds up in some state that will allow her to see and understand her circumstances for what they are (and, ideally, it will set her on the path she needs to travel). Most interesting to me, though, is that by virtue of having a "Korra Alone" episode, Korra is being compared not to the previous Avatar but to the character who begins Avatar as the antithesis of Aang. Throughout The Legend of Korra, Korra has deviated in personality and decision-making from previous Avatars; it's what makes her interesting not just for us but for the world of the series. But thinking about Korra as the opposite of the Avatar is a wonderfully intriguing way of viewing this episode.
The means for considering all of this are laid out in "Korra Alone" in nearly every sequence. The most obvious and direct way that Korra is the opposite of the Avatar is the haunting presence of the other Korra who follows her around to torment her. That Korra is in a perpetual Avatar state, which is the most recognizable quality of the Avatar to a layperson. Our Korra can't achieve the Avatar state; in fact, she can't connect to the spirit world at all. The Avatar Korra, on the other hand, embodies the spirit world in its purest form. The spirit that disguises itself as a dog is the only other entity that seems to see the Avatar Korra, which might make that Korra a malicious spirit designed to illustrate the spiritual quality that our Korra has lost since her battle with Zaheer.
But the episode also separates Korra from her true identity in other ways. She's surrounded by characters telling her to not worry because people have things under control (Tenzin and the airbenders and, to a lesser extent, Kuvira). They, unlike Korra, are fulfilling the role of the Avatar by bringing balance where it's needed (at least in the airbenders' case; we know Kuvira has other intentions even if restoring the Earth Kingdom is probably a good thing in general). To belabor the point, Korra also dons an Earth Kingdom get-up. If you look back at her past lives, you get Aang (Air Nation) closest to her, then Roku (Fire Nation) and finally Kyoshi (Earth Kingdom). So, even though the next Avatar is designed to be from the Earth Kingdom, Korra's appearance in "Korra Alone" is as disconnected elementally as it can get. The merchant she encounters even says that the Avatar he would have liked to meet the most would have been Kyoshi.
It's no wonder, then, that she runs into Toph at the end of the episode. Korra is as distanced from herself as possible, unable to fully recover under the guidance of the greatest master of her tribe in Katara. Toph is a representation of that antithesis for her right now; so, theoretically, if that wrong identity can be removed through transference, then Toph is the right person to make that happen. She is also someone who knows plenty about the Avatar, uses her senses in a generally different way because of her blindness (Korra is in desperate need of an alternative perspective) and, as an earthbender, utilizes the kind of patience that everyone keeps saying Korra needs. The Legend of Korra has been a bit coy with Toph over three seasons, but this is clearly by design. This is exactly the right person that Korra needs at the right moment to restore her personal balance before she can restore worldly balance.
There's plenty of other stuff to talk about in relation to "Korra Alone," but I'll leave that for the bullet points and other reviews out there. What I took away from this episode and what I wish to impart is appreciation of how thoroughly DiMartino takes an idea and develops it in the space of 22 minutes. Few writers outside of Mad Men's Matthew Weiner are capable of doing this kind of thing so effectively.
Meditations from the Spirit World:
– Hats off to Janet Varney for this one. That final Korra vs. Korra fight calls for a lot of grunting and yelling that must be hilarious to witness in the sound booth.
– Speaking of Korra vs. Korra, see Samurai Jack's "Jack vs. Mad Jack" from its first season for a good companion episode. The Jack one is much more explicit with its theme and doesn't have the same richness of story surrounding it that Korra does, but it's a fine episode of television. And since Samurai Jack joins Korra in my top five animated series of all time, I feel strongly that everyone should watch it. What are you doing still reading this?
– Most gorgeous shot of "Korra Alone": the mild zoom-in when we see Korra (mostly in silhouette) training atop a hill set against a backdrop of stars.
– Naga howling a goodbye to Korra is just about the saddest thing in the world.
– There's also an excellent structure that DiMartino uses for this episode. Beginning a story pretty much at the end is a fairly common technique, but it works wonders here–especially in the way that it re-tells Korra's sparring match from the end of last week's episode.
– I'm going to be annoying and say that Amon has always been the most terrifying antagonist of The Legend of Korra. I get that Zaheer brought her to the brink of death, but Amon took her bending away (briefly). So, c'mon. Why haven't we seen more nightmares about that since the first season?
– "Now, don't take this the wrong way, but I can't wait for you to leave." "How else is she supposed to take that but the wrong way?"
– Korrasami continues to be a thing. Not only does Asami offer to go with Korra, but she is the only person Korra can write to. 'Shippers gonna 'ship.
– Okay, everyone go back and watch that scene in which Korra moves her big toe. After she says "Did you see that? It worked!" we get a shot of Katara smiling. I know it's supposed to be a proud smile, but it's actually the most smug smile ever. Like, "Of course it worked, you stupid girl. I'm Katara."
– Compare Mako's letter that details the weather in Republic City to Bolin's, which utilizes words like "fortnight," "convalesce," "gainful employment" and mentions how he's going to set off "on the morrow" with "trepidation." If Bolin's looking for another pen pal, sign me up.
– Again, the animation in this series is stupid good. Avatar Korra's design is creepy, but the way she dodges attacks is even creepier.
– "Nice to see you again, Twinkle Toes." Right. To. The. Heart.
[Photo via Nick]