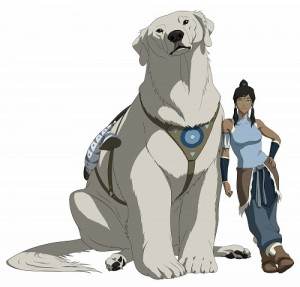 Number 6: Naga
I admit it, as soon as I saw Naga, I wanted to like her. As discussed earlier, Appa ruled. I was so keen for Naga to be cut from the same cloth. Whilst it's only early in her career, she has been impressive. The Polar-bear Dog was always there for Korra, whether she just wanted to nap or if she was being held hostage by Tarrlok. I still love that episode, and as soon as it's mentioned that Naga is missing I knew she was off to find her and couldn't have been happier when she did. And the pimp-slapping of the Lieutenant (moustache guy), that was just beautiful. My only concern is that if Korra starts Airbending, she'll fly or Airscooter like everyone else, and Naga will get side-lined. Hopefully, that won't happen, and there will be a lot more Naga. Just so long as she doesn't get captured, because I nearly cried when Appa disappeared and I can't deal with that again.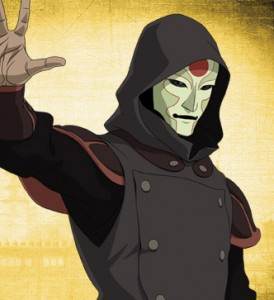 Number 5: Amon
Every series needs a main villain. Fire Lord Ozai was the big bad for all of ATLA, although when he finally showed up to fight, he got owned by Avatar state Aang. For all his posing, sneering, threats and bad parenting, Ozai was not the villain he should have been. Amon had no such problems. Charismatic, motivated, highly skilled and possessing a clear tactical mind, Amon went about his business with ease and, for the most part, backed up his claims. He left Korra a crying wreck on Aang Memorial island, he wiped the floor with the Wolfbats in the Pro Bending stadium, he convinced all his followers to hate benders despite being one and he took away people's bending like it was nothing to him. The man was evil, a hypocrite and needed to be vanquished. The perfect villain.
Yes, the whole Bloodbending thing, whilst making sense (at least his graceful dodging being subtle manipulation), was a bit annoying, but even when it was revealed that he was full of it, it only enhanced his persona as a creep. Amon was a villain to be feared and for that I found him mesmerizing. I grew up on Shredder being defeated by pizza slices to the face, so it was so good to see an antagonist back up his claims (until his eventual defeat) of dominance and power.
Continued on next page…