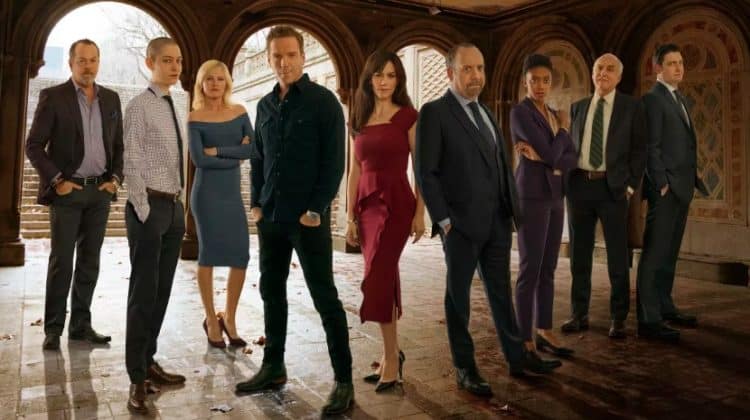 According to Variety,"Billions" is one of Showtime's highest-rated and most-watched shows with an average of 4.2 million viewers per episode. If you're not up-to-date of all of the goings-on at Axe Capital, Taylor Mason Capital, or the corruption that runs rampant in the governing offices of the state of New York, you can get an idea as well as some concise info on the cast of characters according to Refinery 29 complete with some cool video shorts of them. The cast includes:
Paul Giamatti As Chuck Rhoades
Damian Lewis As Bobby Axelrod
Toby Leonard Moore As Bryan Connerty
Daniel K. Isaac As Ben Kim
Maggie Siff As Wendy Rhoades
David Costabile As Mike 'Wags' Wagner
Condola Rashad As Kate Sacker
Kelly AuCoin As 'Dollar' Bill Stearn
Dan Soder As Mafee
Malin Akerman As Lara Axelrod
Jeffrey DeMunn As Chuck Rhoades, Sr.
Zina Wilde As Helena
Asia Kate Dillon As Taylor Mason
Kira Harris As Donna
Glenn Fleshler As Orrin Bach
Terry Kinney As Hall
Stephen Kunken As Ari Spyros
The main theme of the show is insider trading and it's just about as realistic as it can possibly be while artfully displaying all of those grey areas of human behavior from the very good to the very bad. That's what makes "Billions" so exceptional and so deliciously different from other shows according to Drama, USA complete with a pic of the entire cast ala "the Last Supper".
1. Old Enemies Make Strange Bedfellows
At the end of Season 3, arch enemies from the start, Axe and Chuck, sat at the Rhoades' dining room table with Wendy and made a pact to help each other with destroying their enemies. And, search and destroy they did. By the season 4 finale, both Chuck (Paul Giamatti) and Axe (Damian Lewis) had eradicated every one of their rivals from Grigor (John Malkovich) to Taylor Mason (Asia Kate Dillon), Bryan Connerty (Toby Leonard Moore), and Waylon "Jock" Jeffcoat (Brown). On top of all of them, Axe also got back at his girlfriend, the lovely but treacherous Rebecca Cantu (Nina Arianda) for teaming up with Taylor and trying to tell him that she "did it for them". Right. Now, the kicker came in the finale of season 4 when Chuck teamed up with Taylor to take down Axe in season 5.
2. Bobby Axelrod and Wendy Rhodes Together At Last
And, Wendy (Maggie Siff) got back at crazy S&M freak hubby, Chuck, for just basically being a dick. For starters, he didn't even remember when he first realized that he wanted to marry her. On the other hand, Axe remembered the exact moment that he knew they would become partners. Chuck also tried to take credit for getting her medical license back when it was actually Axe who did that for her. Chuck never lifted a finger to help her during the entire ordeal while Axe was there for her every step of the way. So, our prediction is that Maggie ends up with Bobby Axelrod and they will definitely make a beautiful couple! Also, Wendy won't have to tie him up and whip him to satisfy him in their marital bed.
3. If it Quacks Like a Duck
OK, there are no ducks on "Billions" but you've undoubtedly heard the expression. And, on this show, nothing ever seems to be what it looks like. So, is it possible that the team up between Chuck and Taylor against Axe is all part of the Chuck/Axe plan? It seems like it could be. Axe has Taylor and her talented team back under his roof at Axe Capital and she's "happy to be here" because she thinks she's finally going to get revenge on Axe. But, will she? Maybe not.
4. Will the Ex Return?
Although Axe's ex Lara, (Malin Akerman) is mostly off the canvas since their divorce (and working on another show full-time), she's still an ongoing character and part of the cast. We predict that, in Season 5, she'll be back and trying to put a monkey wrench in Axe and Wendy's new romantic relationship. After all, what fun would it be if everything went smoothly for the perfect couple? We wanted them together from way back in season 1 when they were naked in the jacuzzi together, so why should it be easy? The road to true love never is and, although the Season 4 finale included Wendy going to stay with Axe when she was finally fed up with Chuck, they still haven't crossed that line yet. She stayed in the guestroom where they made the bed together but both stayed in separate rooms. Or did they? Only time and Season 5 will tell.
5. S&M Anyone?
Now, we've seen enough of Chuck in S&M gear to make our stomachs turn but this new dominatrix, who seems to be his latest fetish-friend, doesn't really look too trustworthy. Will Chuck finally get what he really deserves and end up in the hospital with injuries at this weird woman's hands? Let's face it, it couldn't happen too soon for most of us. We loved to hate him when he was pursuing Axe by using his office as state's attorney and felt just a little bit better about him when he teamed up with Axe against their respective enemies. We loved the machinations that each went thru to help the other but now we love to hate Chuck again when he's allegedly out to get Axe one more time. Imagine how nasty he'll get when his wife, Wendy, ends up with Axe. That would be the final insult and will surely send crazy Chuck spiraling out-of-control. That's when we predict he ends up hospitalized by his crazy S&M fetish. We'll also bet that the EMTs will get a good laugh out of this one!
So, make sure that you don't miss another minute of the fascinating "Billions" saga in Season 5. Tune in to "Billions" on Showtime in March 2020 to see what happens!
Tell us what's wrong with this post? How could we improve it? :)
Let us improve this post!