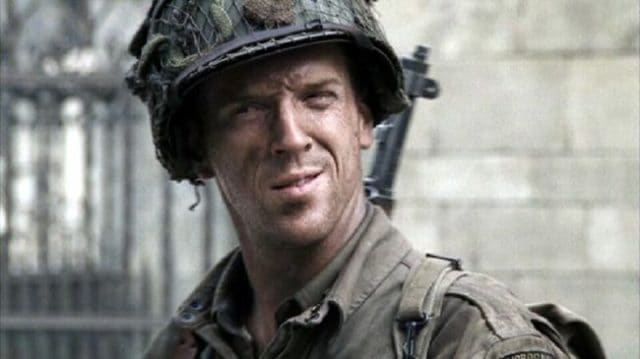 British-born 46-year-old Damian Lewis is one of those actors that you might not have found very recognizable before he did the Showtime television series, "Homeland", where he played U.S. Marine Sergeant Nicholas Brody. He received both a Golden Globe Award and a Primetime Emmy Award for that role. And, more recently in "Billions", as billionaire Bobby Axelrod, founder and head honcho of Axe Capital, he rules his business realm with the aplomb that belies all of the intrigue and stress that is involved in the wide world of fast and furious financial dealings. Up against a worthy opponent like Chuck Rhoades, played by Paul Giamatti, these two are definitely the stars of this hit series. Their lovely wives played by Malin Ackerman and Maggie Siff are great characters in and of themselves, as well, but basically they sometimes seem like just arm candy for these two powerful men. Fans of the series are eagerly awaiting the start of the new season in early 2018.
But, prior to these two great TV series, Damian Lewis was already flexing his acting chops and showing off his considerable talent in other vehicles as well, both on the small screen and in major motion pictures. And, although they may not be as recent or as memorable as "Homeland" and "Billions", they may have just been the exercises in acting that led to his two greatest roles. So, here are five roles that you may have totally forgotten that Damian Lewis played:
"Band of Brothers"- 2001- HBO- Major Richard Winters
Damian Lewis received a Golden Globe nomination for his role in "Band of Brothers", a popular HBO miniseries. He played U.S. Army Major Richard Winters. The series was shot in Europe and included co-stars like Donnie Wahlberg, Tom Hardy, David Schwimmer, Michael Fassbender, Colin Hanks, and even Tonight Show host, Jimmy Fallon.
"Dreamcatcher"- 2003- Movie- Gary "Jonesy" Jones
This was a Steven King sci-fi film starring Damian Lewis, Timothy Olyphant, Jason Lee, and Thomas Jane. It was directed by Lawrence Kasdan and was shot in the Prince George, British Columbia area. The plot revolved around four close college friends who go on vacation together and end up encountering a parasitic alien invasion. Other major Hollywood heavy-hitters in the film include Morgan Freeman, Tom Sizemore, and Donnie Wahlberg. It contained some excellent special effects and great acting, especially by Lewis and Wahlberg. Critics may not have agreed, but I found the film highly entertaining.
"Keane"- 2004- Movie- Keane
This film starred Damian Lewis, Amy Ryan, and Abigail Breslin and was directed by Lodge Kerrigan. It was filmed in New York City and received several awards, including the Jury Special Prize and the Critics Award at the Deauville Film Festival.
"Much Ado About Nothing"- Shakespeare Re-Told- 2005- BBC- Benedick
This BBC series was directed by Brian Percival and revolved around a local news studio, where Benedick and Beatrice, played by Damian Lewis and Sarah Parish respectively, are anchors who are always feuding. In the finale of the series, however, they get married.
"Life"- 2007- NBC- Detective Charlie Crews
This was a crime drama that was created by Rand Ravich. It was on NBC for two seasons and was produced by Universal Media Studios. Damian Lewis played a detective named Charlie Crews, who gained his release from prison where he served 12 long years for a crime that he didn't commit. Following its cancellation, it became available on Netflix and Hulu.
And, one last note. Many people may not know that Damian Lewis has been appointed an Officer of the Order of the British Empire (OBE). That honor was bestowed upon him for services to drama during Britain's 2014 Birthday Honours.
Tell us what's wrong with this post? How could we improve it? :)
Let us improve this post!