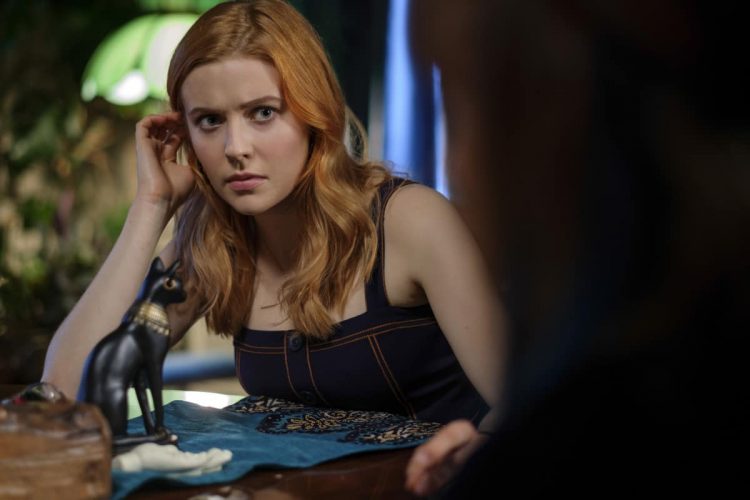 Bringing many notable classics to a new generation, with all that modern special effects and HD can do for those stories, is still one of the best things about the current wave of nostalgia-based TV and films. We no longer have to wonder how an old favorite (Like Krull… someone should redo that movie already!) would look with the benefit of modern CGI and other techniques. The grittier, more realistic portrayals of characters feel like TV is growing up and not treating us like children. We appreciate that. Next in the lineup of brilliantly reimagined shows based on classic TV or novels is Nancy Drew. We loved those books as kids, so we went looking for info on the star. Here are ten things you didn't know about Kennedy McMann.
1. Yogi
The Rig-Veda, one of the oldest sacred texts in India, talks about the practice of yoga. By the best estimates, yoga has been around for about five thousand years. The Indus-Sarasvati civilization in Northern India invented the practice. Bringing tranquility, flexibility, inner peace, and health has always been important. Naturally, it's important to Kenedy McMann, as well. Part of her daily routine is doing yoga first thing in the mornings. Kennedy feels it helps bring her balance and connect her mind and body better for the tasks ahead. Five thousand years of tradition back her up.
2. Pet Lover
Some people prefer dogs, birds, fish, or even snakes, but Kennedy is a cat person. She has two furry friends who live with her. On her website, McMann tells a funny story about the log she keeps in her apartment for them to scratch getting knocked over every night. Not only does she love her pets, but clearly, she's a patient woman with a great sense of humor.
3. Raised in Mesa
Born October 30, 1996, in Holland, Michigan, Kenedy didn't stay in the cold weather for very long. Her family relocated to sunny (and very hot) Mesa Arizona. That's where she and her brother were raised and educated. We don't blame them. Especially with the cold weather coming, we can see why a family might want to move to a much warmer place permanently. There's nothing wrong with snow. However, with thirty-six inches of annual rainfall and seventy-nine inches of snow most years, the wet, cold weather just isn't for everyone.
4. Getting Spicy
Kennedy likes it hot. We're not talking about her personal life, that's none of our business. However, she does love spicy food. Specifically, she's a huge fan of curry. The stand down the street from where she lives is her favorite place to stop for a six-dollar plate of her favorite food. She's also a big fan of Brooklyn's Gandhi restaurant. We have to respect a woman with a cultured palate who can take the heat.
5. Creative Roots
Everyone in Kenedy's family is artistic, though she's the only actor. Her parents Matt and Lisa McMann, are both writers. Lisa has several published children's books, and Matt is just getting started in the genre, though he's also written two novels. As for her brother Killian, he is an artist.
6. Nancy on Nancy
Landing the role of Nancy Drew must have been a dream come true for Kennedy. She was (and is) a fan of the novels and video games as a child. Kennedy is a big fan of young adult literature in general. She's always enjoyed the genre. Since her mother writes for children and young adults, it's probably no coincidence. Kennedy also enjoys the books of Leigh Bardugo and Patrick Rothfuss.
7. Gamer Girl (D&D)
Even a busy, spicy-food loving yogi with a fiance has to find time to wind down with her friends. In Kennedy's case, that means getting together about ten hours a week to play D&D. The popular tabletop role-playing game designed by Gary Gygax and Dave Arneson has been around since 1974. Kennedy is in good company since many actors and actresses are fans of the dice rolling fantasy adventure game. Stephen Colbert, Felicia Day, Will Wheaton, and Vin Diesel are all known D&D players.
8. OCD as a Child and Anxiety as an Adult
Theater wasn't just something that interested Kennedy, getting into the performing arts was something her mother suggested when she was a child. The distraction of pretending to be a different person helped her deal with her Obsessive Compulsive Disorder. As an adult, Kennedy deals with acute anxiety issues, as well. She's very open about it and happy to share information and her story with anyone who may be suffering.
9. Not the Nancy You Knew
Casual sex, waiting tables, and supernatural threats, oh my! The version of Nancy Drew that Kennedy plays on the new show is very different from previous Nancys you may have known. There have been five movies, and two other series about Nancy Drew in the past, but none were modern and edgy in the way the latest show represents her. The new Nancy Drew lost her mother and had her college plans derailed. She doesn't live in a polite 1950s like society at all. Much like Riverdale, the gritty version of the old Archie comics, this new Drew is fully updated and a part of this era.
10. Taken
Kennedy loves international cuisine, and it's a good thing because her fiance Samuel likes to cook it. She doesn't share very many personal details about him, but the couple is engaged. We always respect celeb's privacy when they don't put it all out there in the news. After all, we're not a tabloid, but we'll be excited to learn more if and when Kennedy shares it.
Final Thoughts
Though Kennedy McMann is a relative newcomer to Hollywood, we think this is going to be her breakout role. Playing a character you love is always a dream job, but so early in your career, it can change everything. We can't wait to see the show, and we think there are great things in Kennedy's future. Are you looking forward to new Nancy Drew, or would you rather see something more classical in its interpretation? Let us know in the comments section.