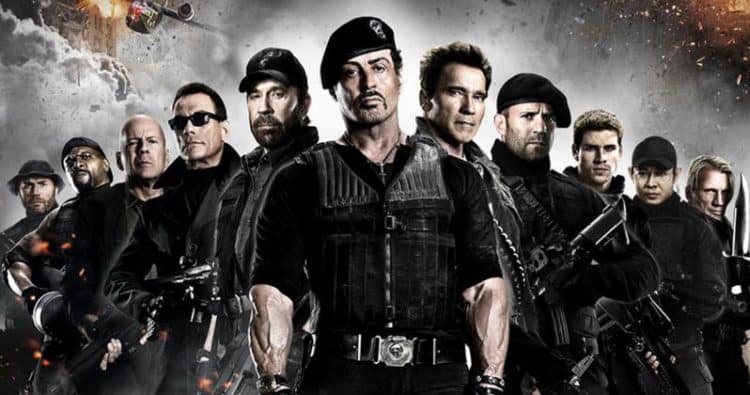 The action movie genre is one of the most well-loved in Hollywood. It is known as one of the highly budgeted and highest grossing film categories for good reason. Think of all the state of the art technology used to create those massive and intense effects, or the genius minds that get together to create innovative and heart racing plotlines, as well as the kinds of rigorous training the skilled actions stars have to go through to make the impossibly difficult stunts go as smooth as possible. Whenever action movies are mentioned, there are certain established figureheads that easily come to mind. The bold and the brave ones who do death defying stunts to save damsels in distress, all in their macho glory. One famous film franchise that was able to effectively combine a kickass storyline with a stellar casting, composed of the biggest and most badass action stars of their generation, was The Expendables.
This move franchise was created with an intent to pay homage to the iconic action films of the 1980's to 1990's. It was a period wherein a lot of the action classics were established. Some of the notable ones that are still able to stay relevant up to this day are the Die Hard, Rambo, Rocky, and Terminator franchises. It was a groundbreaking era in American cinema, wherein bigger was always better. Filmmakers took actions scenes to the next level, which translated to over-the-top action scenes, and the most explosive of stunts and sequences. It was definitely a privilege to grow up with the action movies of this time period.
Looking Back at the Successful Film Franchise
The well-loved action thriller is composed of 3 blockbuster films, which has made waves since its initial release in 2010. The films were based on the characters created by David Callaham, who is also behind other hit superhero and action flicks, such as Godzilla, Ant-Man, Zombieland: Double Tap, Wonder Woman 1984, Spider-Man: Into the Spider-Verse, as well as the upcoming live-action remake of Hercules. The movies are also most famously known for casting the crème de la crème of action stars, which are let by A-listers, Sylvester Stallone (Rocky movie series), Arnold Schwarzenegger (The Terminator movie series), and Jason Statham (Transporter trilogy). The first film of the franchise followed The Expendables, a group of elite mercenaries who were deployed to the Gulf of Aden to save a group of people held hostage by Somali pirates, which later turns into a mission to overthrow a ruthless Latin American dictator, General Garza.
The plot thickens when it was later revealed that Garza was just a puppet that was being controlled by a notorious ex-CIA agent, James Munroe, for his own profiteering benefit. The film franchise was off to a good start, as it garnered international box office success that paved the way for more sequels to follow. The cast was led by Stallone, who portrayed group leader, Barney Ross. Some of the other cast members include Statham, Jet Li (Romeo Must Die), Dolph Lundgren (Masters of the Universe), Randy Couture (The Scorpion King 2: Rise of a Warrior), Terry Crews (White Chicks), Mickey Rourke (Man on Fire), and Steve Austin (Damage).
The second installment, The Expendables 2, was released last 2012, and went on to follow the adventures of Barney Ross, as he undertakes another mission to overthrow their rival mercenary, Jean Vilain, portrayed by Jean-Claude Van Damme (Double Impact), who has murdered one of their own, and poses as a threat to world safety. Additional cast members who joined the sequel include Schwarzenegger, Chuck Norris (The President's Man), Liam Hemsworth (Independence Day: Resurgence), and Bruce Willis (Die Hard franchise). The third installment of the franchise, The Expendables 3, went on to premiere in 2014 after another successful run of the previous movie.
The storyline continues to follow the group of mercenaries, as they find a new enemy in the persona of arms dealer, Conrad Stonebacks, who is portrayed by Mel Gibson (Braveheart), who was also the former co-founder of The Expendables before going rouge. Other notable names who joined in on the fun this time include, Antonio Banderas (Desperado), Wesley Snipes (Blade film trilogy), Kelsey Grammer (Frasier), Kellan Lutz (Immortals), Ronda Rousey (Mile 22), Glen Powell (Set It Up), Victor Ortiz (Southpaw), Robert Davi (Predator 2), and Harrison Ford (Indiana Jones film franchise). It's almost mind blowing to think of all of these names starring in one movie.
The Long-Awaited Reunion
Fast forward to 2021, and The Expendables is officially making its comeback! Details of film's production are still in its early stages, but the films' fans must be psyched to know that Stallone, Statham, Lundgren, and Couture are set to reprise their roles in the franchise, while a couple of fresh faces are about to spice things up once again. These include 50 Cent (Escape Plan), Megan Fox (Transformers), and Tony Jaa (Furious 7). The upcoming sequel is described to be a "no-holds-barred action film" that promises nothing but bigger and more badass adventures ahead. The news on another sequel comes during a time where comebacks and cast reunions have become a regular occurrence. It's only proper to give the famed film franchise another opportunity to thrill and entertain its long-time followers. The past 7 years may have been a lengthy wait, but it sure is well worth it.