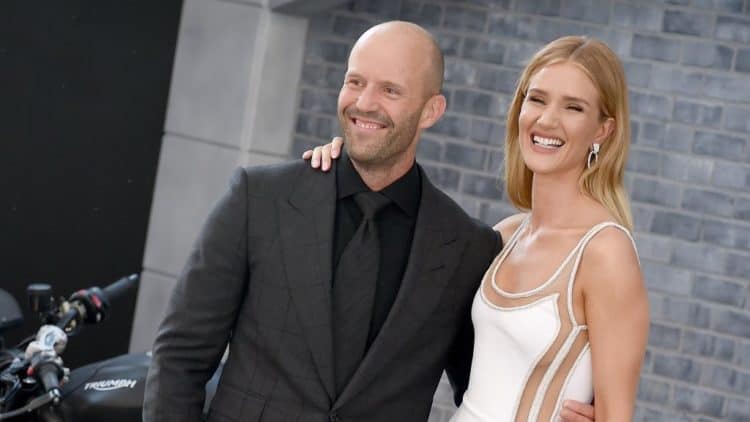 Congratulations to Rosie Huntington-Whiteley for her pregnancy. The 34-year-old model took to social media some time ago to reveal that she and her fiancé Jason Statham are welcoming a little bundle of joy to the family. Actor Jason Statham looks very excited. The two are preparing themselves for the little one. They have reportedly gotten a baby room decorated. Huntington-Whiteley made an announcement on Instagram by sharing a number of photos of herself wearing stylish and beautiful outfits. If we carefully look at those photos, we will get to know that she doesn't look too fat. She only has a baby bump, and there is too much shine and glow on her face. This glow comes to the face of every mother-to-be, and it is quite natural. In one of the images, she could be seen in a body-hugging outfit and cradling her baby bump."Taaa daahhh !! ?????? #round2," she wrote in the caption of the photo.
Huntington-Whiteley's experience about shedding extra pounds
In December 2019, Huntington-Whiteley spoke to Ashley Graham on her podcast, Pretty Big Deal, and said that she had one of the humbling experiences of her life when she had lost her weight after giving birth to baby number 1. "Listen, I enjoyed myself. I let the reins go," Huntington-Whiteley talked about her first pregnancy. She revealed that she had gained more than 50 pounds at that time. "It's a new experience, so you're kind of like, 'Well, let's see how this goes.' And six months in I was like, 'What? This is crazy!'" When the baby was born, Huntington-Whiteley said she looked in the mirror and said so many things to herself like I will have to lose 35 to 40 pounds for sure. "I [would] go to the gym, go to the gym, go to the gym. It's not falling off, it's not coming off, and it was very humbling for me because having had a certain body type for most of my life … I will say working out in the gym and looking back at myself and feeling like sh*t, I was like, 'Now I understand how hard it is for some people to get to the gym,'" she said at the time. "I cannot tell people how to feel about their bodies, because everybody has a different experience."
What makes Huntington-Whiteley and Jason Statham the most incredible celebrity parents?
Huntington-Whiteley and her fiancé Jason Statham are the coolest and most incredible celebrity parents because they always spare time for their son no matter how busy they are or how many things they have to do at home. Besides, they love sharing family photos on social media, especially Instagram. The couple thinks that happy moments must be shared with the world and no other medium is as good to make it possible as social media. Rosie Huntington-Whiteley is currently living in Los Angeles with her Hollywood star and fiancé Jason and their beautiful child, Jack. They have only one son, and the new baby will surely make their brood up to two. Last year, in 2020, Rosie Huntington-Whiteley revealed that raising her son during the lockdown was really very difficult. The toddler could not be provided with the entertainment he actually deserved. Still, the couple managed time for Jack and did everything needed to make him feel good and happy at home. It can only be done by some sensible, responsible, and of course, incredible parents.
When are they expecting their second baby?
On August 20, 2021, Rosie Huntington-Whiteley shared a gallery of photos to surprise her fans and to let them know that she is expecting her second child. She looked happy and excited in those pictures. It has not been revealed when will she and Jason welcome their baby, but after taking a look at her baby bump, it can be guessed that the baby will be born in autumn or 2021. Or else, the baby is due in winter 2021.
It is worth mention that Jason Statham and Rosie Huntington-Whiteley met eleven years ago. They fell in love during the shooting of the third installment of the Transformers films. Everything happened on the sets of Transformers: Dark of the Moon in 2010, and it was just too romantic and unforgettable for the two. They announced their engagement in 2016 and said that they are not in rush to get married. Rosie Huntington-Whiteley revealed that she and her partner were spending more and more time with each other. Being happy together is the core priority for them. I think it will be fun for them and their little son to welcome a new member to the family.