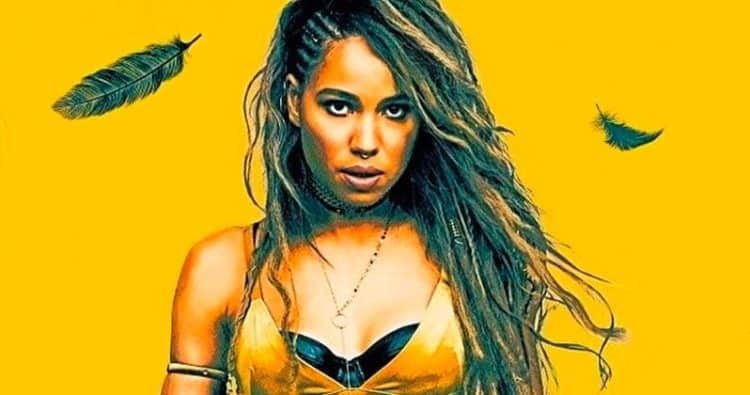 If you're a fan of the very underrated female superhero Dinah Lance, aka Black Canary, guess what? She'll be getting her own movie soon on HBO Max. And guess what? It's the same character we all saw in the Birds of Prey movie back in 2020. That is, when she was on screen, and Harley Quinn wasn't taking over the spotlight. Then again, who doesn't love Harley Quinn? Rhetorical question, of course. But in my opinion, the Dinah Lance of the DC Cinematic Universe, played by Jurnee Smollett, was easily one of the best parts of the Birds of Prey movie.
When I first heard the news that Jurnee Smollett would be playing the role of Dinah Laurel Lance/Black Canary, I initially thought what everyone else did: why didn't they cast Katheryn Winnick? She's a legitimate martial artist in real life and looks a lot like the character. She would be the logical choice to play the Black Canary, who is among the top martial artist characters in DC Comics. Now don't get me wrong, I'm not saying that casting an actor who looks very much like the character is the be-all-end-all factor. Make-up artist, costume designers, and probably a good hair stylist can make the actor look like the character. But when it comes to a specific skillset, however, now that's something not every actor has.
So Jurnee Smollett isn't a proficient martial artist like Katheryn Winnick and that turned us off. I also never really watched anything that she was in before Birds of Prey, so I basically walked in to her performance blind. I must admit, I ended up liking her as Black Canary a lot more than I thought I would. For those who remember, she spent most of the movie as a burlesque singer and Roman Sionis' personal driver. She wore a rather flashy outfit, but by the very end of the movie, she donned a costume that much more resembled the Black Canary outfit. She honestly looked good. What was even better about her is that she kicked a lot of bad guy tail. Like literally.
So we now have the Dinah Lance/Black Canary of the DCEU. That's good stuff, but after seeing her short debut in Birds of Prey, I feel like we need more of her. The Birds of Prey movie was a good starting point, and it even gave us a some quick hints at her backstory. What was she doing before working for Roman Sionis? Well, true to her comic origins, which is actually very murky, she comes from a family of crimefighters. In the scene where detective Renee Montoya tries to recruit her, she mentions how her mother was a vigilante. According to her, her mother (the original Black Canary), was killed in the streets and the police did nothing to help her. Her attitude clearly changed by the end of Birds of Prey and she now fights with other vigilantes.
So instead of getting a sequel to Birds of Prey (which we don't really need), Warner Bros. is instead opting for a Black Canary solo movie on HBO Max. Probably the smarter move, but will a movie about Black Canary work? All I know is, I'm a big fan of the character and I want to see more of this version of her. Jurnee Smollett has a lot more kung fu fighting to do, not to mention canary crying, if this Black Canary is going to become a more prominent DCEU character.
Collider has recently reported that this Black Canary solo movie is a go and it has even landed Misha Green as the screenwriter. While no director has been confirmed to be attached yet, Sue Kroll is returning to produce. Kroll was among the producers behind Birds of Prey, along with Harley Quinn herself, Margot Robbie. While we shouldn't expect Margot Robbie to return, and that also means no Harley Quinn, for this Black Canary movie, there's really no need. And honestly, that goes for the rest of the Birds of Prey members. I believe Dinah Lance is a strong enough character to carry her own movie. Why her? Well, aside from being a super tough femme fatale character, she has a lot to offer in terms of story.
Her origins have always been a bit of a head-scratcher. Where did she get the ability to do the canary cry? According to Birds of Prey, she basically inherited it, but using it does drain her. Her solo movie can be a good chance to further explain on how she learned to hone that power. Better yet, we can see how her relationship with her mother shaped her life and how her eventual death caused her to lose faith in their cause. They were all about crimefighting, so it would be cool to see how her training began. But that canary cry, however, is something she can learn to hone further. You know, to the point where she doesn't pass out after using it.
Now since Black Canary is shown to be in the DCEU, fans are still asking one thing and that's the whereabouts of Oliver Queen. Okay, this is a bit of a fanboy moment here, but what if the Black Widow solo movie debuts Green Arrow into the DCEU? It would be a good way to establish their relationship and have them work together as crimefighting partners. As a matter of fact, think about Black Canary's rogues gallery. Does she even have one? Maybe a small one, but she normally helps Green Arrow take on his villains. Since she has fully embraced the crimefighting role, I reckon she might run into Green Arrow while pursuing some gangster.
Green Arrow has fought a variety of villains, from the street-level crime bosses, to the elite assassins, to the downright weird ones. Seeing him team up with his eventual superhero girlfriend would be very fun to see. At that point, just call the movie Green Arrow and Black Canary. The Brave and the Bold as an actual movie. What are your thoughts, DC fans? Is Black Canary worthy of the solo movie treatment? I'm very curious to hear more details about this movie and I'm crossing my fingers for a Green Arrow appearance. Let's get ready to hear the canary sing again.