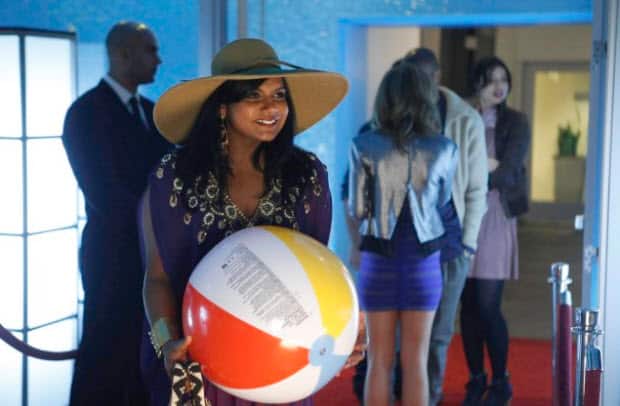 Someone like Mindy Lahiri (Mindy Kaling) craves the Los Angeles lifestyle. She loves fashion and celebrities. It was only fitting that an episode of The Mindy Project would venture to the west coast. The latest outing entitled, "L.A." did just that.
Jeremy (Ed Weeks, who's storyline keeps dwindling as the season progresses) has asked that Mindy, Danny (Chris Messina), Peter (Adam Pally) and for some reason Morgan (Ike Barinholz) travel to California to attend a seminar about cosmetic injection. Of course, Mindy is extremely excited. She already got a bikini wax and downloaded star maps for the occasion. This is when she utters the most hilarious line of the episode, "George Hamilton, I hope you like your trespassers completely hairless."
It is also during this time the first of many Entourage references are made, which made this episode even better. Mindy and Peter, who is just excited about going to L.A., do their impressions of Drama. I was shocked how accurate they were. However, there is one person on the team who is dreading the thought of leaving the east coast behind. Danny does not want to go, mostly because his father lives in the area.
Before Mindy heads out to the conference, Cliff (Glenn Howerton) tells her that he needs to move out of his apartment. She quickly volunteers her apartment, but he is not so quick to respond with a "yes." Mindy then compares how she and Casey (Anders Holm) shared a tent after only being together for a few months. Later in the episode, Cliff does call Mindy while she is on the trip to let her know he found a place to stay. She asks if it a new place for them both and he turns that idea down.
Conveniently, while Mindy and Peter are shopping in L.A., they bump into Casey. He now owns a shoe store called Dope Feet, a store too pretentious for me to ever set foot in. He invites Mindy to a celebrity pool party. After thinking it over, her and Peter decide to go. I find it hard to believe Mindy would want to go to a pool party when just last week she almost had a meltdown over how her body looked naked. I guess the chance of seeing celebrities trumps being embarrassed in a bathing suit. When the two arrive, they quickly remember that this location was also where a party was thrown on an episode of Entourage.
I was hoping this week's celebrity guest would be a cast member of Entourage. Though they do mention Jerry Ferrara is at the pool party, he does not make an appearance. Earlier in the episode, Peter notifies Mindy he plans on visiting Maria Menounos since they hit it off so well at the holiday party. Sadly,the very beautiful Menounos was a no show too. The celebrity guest was Pat O'Brien, who ends up kicking Peter when he is looking for Maria.
Elsewhere in L.A., Morgan was able get Danny out of the hotel to see some of the sites of the city. While they are touring a movie set, Danny finds out that Morgan is planning on taking him out to dinner to meet his dad. Danny learns his brother set it up and returns to the YMCA, where he is staying because Morgan checked him out of the hotel. In the final scene with Danny, we find out that he has called his dad. Maybe next week the two will meet face to face.
At the party, Mindy takes a dip in the pool and is joined by Casey. He mistakes her accidental boob popping out of her top as a sign she wants to hook up in the pool. He quickly takes his trunks off. A horrified Mindy leaves the party and proceeds to call Cliff to say she is okay with him not moving in with her. He ends up breaking up with Mindy because he saw pictures online of her and Casey in the pool. After all, it is a celebrity pool party and paparazzi are everywhere. I think this is the first time the comedy ever ended on a depressing note. I have faith next week will be more humorous. The Mindy Project is steadily becoming the funniest show on TV.
[Photo via Jordin Althaus/FOX]