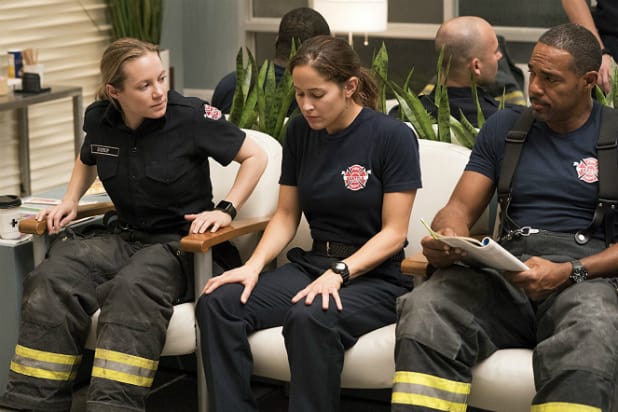 For many years, now TV audiences have been avidly watching dramatic shows involving firefighters and the like and loving every minute of it. One of the more recent shows of that genre is "Station 19", which premiered on March 22, 2018. It's a show designed strictly for entertainment purposes, not for the purpose of informing the public. As a "Grey's Anatomy" spin-off, it portrays an equal melodrama level that has been keeping that medical drama alive and well for the past 13-years.
Not a Documentary
Now, according to numerous reviews on Quora, many firefighters (and other folks) don't like the show even a little bit because it may occasionally stray from real life situations. News flash, "Station 19" isn't a documentary, it's drama at its best. If you're actually looking for absolute realism involving doctors, paramedics, cops, or firefighters, then you probably won't love "Station 19" the way that so many viewers do. That being said, here are a few specific things that firefighters don't particularly like about "Station 19",.
A Hawaiian Firefighter's View
One Honolulu firefighter explained that most of what happens in the show honestly couldn't possibly happen based on simple physics. There aren't any face-to-face conversations while in a building fire and firefighters are lucky if they can even see just inches in front of their faces, and understanding what anybody says when they're talking to each other. Being inside a building that's on fire is about having to feel your way around while hoping that you don't end up losing your partner. And, if a firefighter were to run into a burning building without any breathing apparatus, he or she would probably drop dead or be unresponsive within seconds.
A Female Firefighter's View
According to one review by a real-life female firefighter on IMDB, the show is making female firefighters look like incompetent sex-driven babies. She stated further that she watches both "Grey's Anatomy" and "Chicago Fire" but feels that "Station 19" is more unrealistic and poorly done in her opinion, while also sending the wrong message to viewers. She also found fault with the nepotism involved in the show.Another firefighter pointed out that an outgoing captain never decides who the next one will be. In addition,in large departments like the one in Seattle in "Station 19", family members would never be working together. He also found fault with an overturned tanker in one episode where only a few of the firefighters were wearing firefighting gear. In addition, he stated that firefighters never stoop to fixing smoke detectors but just buy new ones. And, last but not least, he said that real firefighters would call their Captain on the radio to tell him/her that they're in the bathroom and busy trying to deliver a baby.
Not "Seattlish"
Other reviewers said that there's simply nothing about the show that is the least bit "Seattlish" and that seems like a reasanable complaint since the show is shot in Los Angeles. As a career firefighter, he said that he was truly offended by the show's portrayal of his profession. He further stated that you can't talk a fire out, an outgoing Captain doesn't promote his own daughter as his replacement, and between runs, nobody is hooking up with their shiftmate. In addition, he said that, after fires nobody is clean and that firegrounds are not quiet. Also, he complained that "Station 19" makes television about as habitable as Trump is making the White House.
Needs More Believable Medical Expertise
According to IMDB, another reviewer said that the show is a lot less about fire fighting than it is about who's having sex with whom. Also, if they're going to follow in the footsteps of "Greys Anatomy", they might want to add some medical expertise believable to combine with all of the drama. Apparently the writers have never heard of hard-won concepts regarding merit promotions, civil service, and seniority. Perhaps all of that would've gotten in the way of some good plot twists. The producers' were too eager to portray a Seattle firehouse that simply looks like their own views on the world and ended up with one that does not even look like Seattle nor like its fire department. Actually, waiting for the "Station 19" Seattle firefighters to finish talking and get to work cold cost somebody their home.
30-Year Career Firefighter Opinion
A firefighter who recently retired from a 30-year career called the show fake and nowhere near reality in any way. He said that firefighters would only have a 5 oclock shadow if they wanted to get fired or written up. He said that he grew a beard after he retired because you can't have a beard in the fire service, so then he grew one and went fishing. He also said that he loved those short cut sleeves on the show that show off those arm muscles and he was really surprised that they could even put out fires. Last but not least, he was wondering what the real Seattle Fire Department was thinking of the show.
Heroic Beautiful People
And, on a more positive note, a reviewer says that, as with all television shows, they're going to bend many of the firefighting and medical rules for the drama, which is normal. Let's face it, who watches "Grey's Anatomy" because it's so medically accurate? We all watch Grey's because it's about a bunch of beautiful people who act really heroic between dramatic hook-ups and break-ups. Same for "Station 19".
So, in spite of all of the firefighter and former firefighter negative opinions, we found the show to be entertaining and have only one complaint about the latest show. What's up with Andy (Jaina Lee Ortiz)? When the battalion chief (Boris Kodjoe) comes to her for help, bares his soul, and tells her he loves her, what does she do? She slams the door in his face and leaves him standing all alone in the hallway! Really, Andy? Is a lousy promotion more important than a friend in need? I guess we'll just have to keep tuning in to see!
Tell us what's wrong with this post? How could we improve it? :)
Let us improve this post!