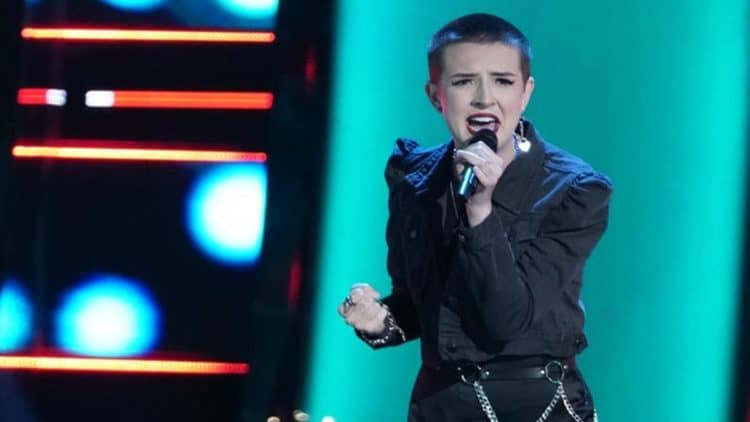 If there is one thing fans recognize, it's that "The Voice," is not new. It's not a show that just began. It's not a show that has a new following. It's been on the air so long that we cannot even remember a day when it was not on the air. However, this is also a show that is feeling brand-new right now. With a load of talented singers so good we cannot believe they all found their way into one single season, we are torn over who we think will win and who we want to see rise to the top. Ryleigh Plank is a talented young woman who is doing her thing, and she's got a ton of fans who want to see her go all the way. If you're unfamiliar with her, here's everything you need to know.
1. She is Young
Ryleigh Plank may not be the youngest contestant on this reality show this season, but that does not mean she's not young. She is exceptionally young at only 20. However, her talent is unmistakable. Judges such as Blake Shelton and Ariana Grande, Kelly Clarkson, and even John Legend cannot deny her talents.
2. She Grew Up with Her Mom
She's a Floridian. She was born and raised in the beautiful Fort Meyers. Her mother is a single mom, and she grew up with her, and the two of them have always been close. She had an interesting childhood with her mom in that it was always filled with music, and she knew from a young age she would focus on her music no matter what.
3. She's Always Been a Singer
From the day she was born, she was a singer. She grew up singing all the time. She sang in the car, in recitals, in the choir, and she was even an avid karaoke singer. She loves it. Music makes her happy, and she cannot deny that.
4. She Sang in High School
During her high school years, she did something that we all think is just beyond cool. She was able to join the a cappella group, and she sang there. There is nothing more talented than someone who can sing like that, and we wish she would show off her talents.
5. She Struggled in School
While she's amazingly talented, she didn't fly through life without a care in the world. Her school years were not that good for her. She was relentlessly bullied to the point that she went through periods of severe depression. She had a difficult time growing up because of it, and she did what she could to try and make the pain mean less to her through singing.
6. Music is Her Safe Place
As a result of her bullying and the difficult time she had in school, she focused harder than ever on her music. Her music was her release. It was her safe space. It was the time in her life when she felt good and healthy, and it was a time in her life when she felt in control and capable. She was not someone who could deal otherwise.
7. She is into Fashion
Despite her difficult past, she is learning to appreciate the things she finds exciting. She is very much into things like fashion and makeup, and she takes her time focusing on her clothing, her style, and the things that make her feel good. She's a young woman who has changed her own life for the better as a result of this, and she's bringing her A game to her fashion life.
8. She Finds Peace in Yoga
She's found that while music is her safe place, she's got a few other things going on in her life that make her feel good, too. She's discovered yoga, and she practices often. She recognizes that it is a time that she can focus, breathe, and calm herself, and there is nothing about it that she doesn't love.
9. She is a Writer
She likes to journal. We call that a writer. Anyone who likes to sit down and write out their thoughts and their feelings should call themselves a writer. All you need to do is put pen to paper and make words come out of your thoughts. She does that, so she is a writer.
10. She's Learning to Embrace Herself
Being bullied is not an easy thing to deal with, and it has a way of making you feel as if you don't fit in and you don't belong. However, here is a young woman taking that time in her life and turning it around on herself. She is making sure she no longer feels that kind of behavior directed at her, and she's learning that what other people think is none of her business. She is learning to embrace who she is, and she's finding peace in that.