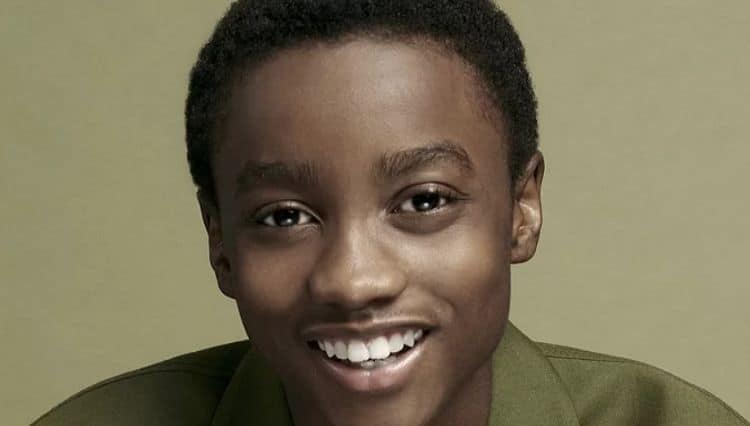 Rodney L. Jones certainly isn't your typical middle school student. The rising young actor has already found his passion, and he's building a solid career in the entertainment industry. He made his on-screen debut in 2019 with a small role in the Showtime series The Chi, and he got a major break in 2020 when he was cast in the TV show Fargo. Now, Rodney has entered the movie world thanks to the 2021 film Candyman, and he has shown that he can light up the big screen just as well as he can the small one. His talent, dedication, and versatility are already proving to be the main ingredients for his success. Keep reading to learn 10 things you didn't know about Rodney L. Jones III.
1. He Is An Illinois Native
Rodney was born and raised in the Chicago area and he is very proud of his roots. Being cast in the Candyman remake was an extra special moment for him because the movie was filmed in Chicago. On top of that, it's a great opportunity for him as an actor.
2. He Has A YouTube Channel
Movies and shows aren't the only times you can catch Rodney in front of the camera. He is also interested in creating his own content and he's gotten off to a great start with his YouTube channel, Rodney Rants. He has used the platform to post a series of reviews on Star Wars: The Bad Batch.
3. He Enjoys Spending Time Outdoors
With all of the success Rodney has had over the last few years, he has officially reached a point where his life is a lot different from other kids his age. However, that doesn't mean that he still doesn't like to play and have a good time. When he isn't working, you can usually catch him enjoy some time outdoors.
4. He Isn't The Only Actor In The Family
As far as we know, neither of Rodney's parents have a background in acting or any other kind of performing, but he and his siblings were definitely bitten by the acting but. He has two sisters, both of whom are actresses. In fact, one of his sisters, Hannah, played his younger sister in Fargo.
5. He's Tried To Summon The Candyman
Anyone who has seen the original Candyman movie knows that saying "Candyman" five times while looking at a mirror in a dark room will summon the creepy character. Even though people acknowledge that it's superstition, they still won't risk trying it. Rodney, however, decided that he wanted to see what would happen. He told Looper, "So here it is, I have said it but it definitely took me a while to just conjure up the guts to say in the mirror five times and even in the dark. I went through it. I said it two times, then I was like, "No!" I just walked out of the room, turned the light on, and closed the door. But then, I think, maybe a few days later, I was like, "Okay, Rodney, you can do this, if you're in this movie, you should be able to say it five times."
6. He Likes To Skate
Rodney loves a good adrenaline rush from time to time, and skating is one of his favorite ways to get one. Based on a photo on his Instagram account, it's claear that he enjoys skating although it's unclear how long he's been doing it. Skating seems to be one of his favorite ways to decompress.
7. He's A Big Star Wars Fan
There are millions of Star Wars fans all over the world, but Rodney isn't your typical fan. He is truly all about the franchise. While talking to Just Jared Jr. Rodney said, "My favorite franchise of all time is Star Wars. I love all of it. The movies (mostly the prequels and originals), the series, and the books/comic books. I'm currently learning how to read and write in the Star Wars aurebesh typeface."
8. He's Studied Spanish
Even outside of acting, Rodney has already gotten the chance to have some very cool experiences. During his interview with Just Jared Jr., Rodney revealed "From Kindergarten to 4th grade I went to a full Spanish immersion school and studied spanish there."
9. He Watched The Original Candyman Movie Before Auditioning
Rodney wasn't even thought off when the original Candyman was released in 1992. However, he made it a point to watch the movie before auditioning for the remake. Having that point of reference definitely came in handy during the audition process and once he landed the role.
10. He's Been In Commercials
Rodney may not have a long list of on-screen credits at this point, but that doesn't mean he doesn't have a good amount of experience. According to his resume, Rodney has done several commercials and he's gotten to work with some very big companies including Chrysler and BonTon.