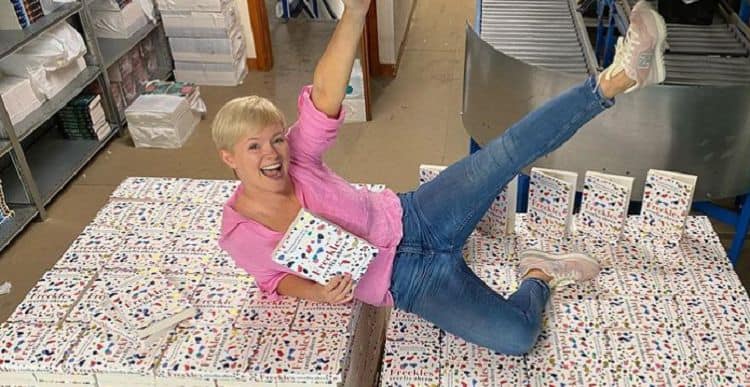 Cecelia Ahern is young. She's only 40, and she's already done more in her life than most people even dream of doing. She's made big changes. She's made things happen. If you are sitting here wondering who she is, think about the fact that while she might not be a famous actress, she is the kind of woman who hires famous actresses to star in her own movies and television shows. She's a young author with over 20 books to her name, many of which have become best-selling books and some of them are movies with best-selling stars. She's the kind of woman who does big things. She's a wife, a mom, an author, a television show creator, and the brilliant mind behind books that are regularly turned into movies. Cecelia Ahern is a star, but she's managed to keep her life private, her earnings even more private, and she is not worried about what you think of her.
1. She is Irish
She was born in Ireland. Her family is from the city of Dublin. It's a well-known Irish city that many people flock to Ireland to visit. It is known for many things, including its Irish pubs, its history, and its beautiful castles.
2. She is a Mom
One of the best things about her life – if not the best thing – is her children. She welcomed her first baby at the very end of 2009. Her name is Robin. Her second child was born in the summer of 2012, and his name is Sonny.
3. She has a Famous Father
If you don't know much about her family life, it's important to note that she does have a little fame running in her blood even prior to her own fame. She is the daughter of one of Ireland's most important political figures. Her father is Bertie Ahern. He is the former Taoiseach. If you're not Irish and don't know what that means, you certainly aren't alone. It means Prime Minister.
4. She has a Famous Brother-in-Law
In addition to a famous father, she also has a famous brother-in-law. Her own sister is Georgina, and she chose to marry a famous man. His name is Nicky, and he happens to be a musician. If you're wondering if this happens to be Nicky Byrne of the group Westlife, you are not mistaken.
5. She is a Musician
Something fun that many people don't know about this young author is that her talents don't lie strictly in her writing. She is also a woman who has a lot of talent when it comes to her musical life. She is a former band member of the group Shimma. It's an old Irish Pop group. She was a member when she was in her late teens.
6. She is a College Graduate
Following her high school career in Dublin, she knew college was a thing she wanted to experience. She enrolled in courses at Griffith College Dublin. She has a degree in journalism as well as media communications. She began a master's degree course when she finished her bachelor's degree, but she later decided it was not for her because she was busy writing her first novel.
7. She Wrote Her First Book When She Was Young
She was only 21 when her first novel was completed. As it stands, the novel is one of the most famous. It's called PS I Love You, and it was published in 2004. She was around 23/24 at the time it was published, which is a huge deal for someone so young.
8. Her Book is a Movie
Not only was her first book published when she was a young 20-something, it was also turned into a movie. It's the movie by the same name, and it starred the likes of Hilary Swank and Gerard Butler, both of whom are two of the most famous faces in Hollywood. The movie was released in 2007, only three years after she was published.
9. She's a Television Show Creator
All right, there really isn't anything she cannot do. She's also the co-creator of a show that was on television for some time, and it also had an ensemble cast. The cast included Christina Applegate and Jean Smart, Melissa McCarthy, and even Jennifer Esposito, and it's called "Samantha Who".
10. She is a Fall Baby
She was born in the fall of 1981, which means not only did she just turn 40 but she will turn 41 in the fall of 2022. She's a September 30, 1981 baby.
Tell us what's wrong with this post? How could we improve it? :)
Let us improve this post!