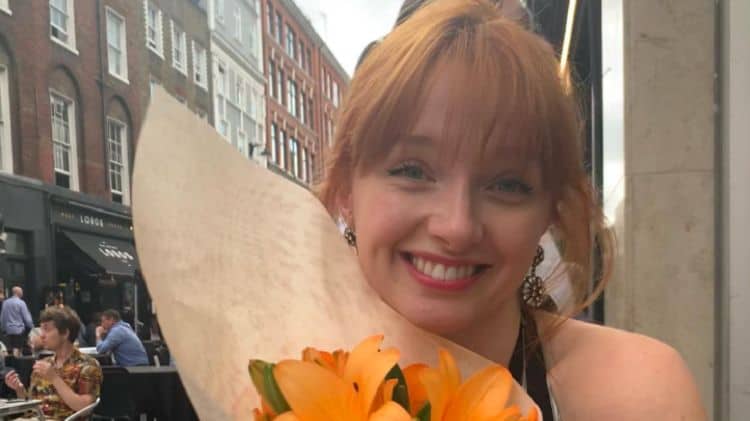 For lots of actors, it can take many years to finally get a life-changing opportunity. However, Poppy Gilbert has been very fortunate in that regard. Just two years after making her on-screen debut, she is already well on her way to becoming a star. In 2021, she landed a role in a Netflix mini-series called Stay Close. The project allowed her to share her skills with a large audience, and she has since become known to people all over the world. She plans to keep the momentum going in 2022 and she will be playing the title role in an upcoming TV series called Chloe. Continue reading to learn 10 things you didn't know about Poppy Gilbert.
1. She Is A Formally Trained Actress
Some people may think that Poppy is an overnight success, but that isn't really the case. She has been working hard for several years. Poppy attended the Guildhall School of Music and Drama where she studied acting. The school has a stellar reputation and a long list of notable alumni including Michaela Coel, Daniel Craig, and Dominic West.
2. She Is A Private Person
With the rise of social media and reality TV, most of us know more about celebrities than we ever could have imagined. Poppy isn't one of those celebrities, though. At this point in her career, Poppy hasn't revealed any information about her personal life and that probably isn't going to change. While it would be nice to know more about her, it's easy to understand why she's chosen not to reveal much.
3. She Loves Spending Time Outdoors
Poppy's star may be on the rise, but she still knows how to enjoy the simple things in life. One of those things includes spending time outside and taking in the beauty of nature. She especially enjoys doing things like hiking and hanging out on the water. Being outside is a great way for Poppy to disconnect from the entertainment industry and recharge.
4. She Is A Pet Parent
As far as we know, Poppy is single and doesn't have any children. However, that hasn't stopped her from getting some maternal experience under her belt. She has an adorable fur baby named Mickey who has become the start of her Instagram profile. Maybe one day she will decide to make him an account of his own.
5. She Loves To Travel
From what we know, Poppy is originally from the United Kingdom. However, she has gotten the chance to do lots of traveling over the years. Some of the places she's visited include Italy and Iceland. Now that her career has really started to thrive, she will probably get the chance to travel to even more places.
6. She Only Has A Handful of On-Screen Credits
Poppy may not have the longest resume, but you know what they say, quality over quantity. As of now, Poppy only has six on-screen credits. She doesn't appear to have any new projects in the pipeline, but we feel confident that we'll be seeing a lot more of her in the future.
7. She Enjoys Taking Pictures
Pictures are one of the best ways to capture long-lasting memories, and snapping photos is one of Poppy's favorite things to do. The fact that she loves taking pictures pairs perfectly with her love for traveling. It'll be interesting to see if she decides to step behind the camera and do some directing and/or producing at some point in her career.
8. She Participated in Blackout Tuesday
We might not know much about Poppy outside of her career, but we do know that she supports human rights. On June 2, 2020, Poppy participated in a virtual show of solidarity called Blackout Tuesday. The event was created so that people all over the world could use their social media presence to show their support for the fight to end racism.
9. She Hasn't Done Many Interviews
Doing interviews is a standard part of being a professional actor. Surprisingly, however, Poppy has managed to get by without doing many interviews at this point in her career. As her popularity continues to grow, though, there's a very good chance that more interviews will be coming her way.
10. Family Is Important To Her
Since Poppy is a very private person, we weren't able to find any concrete information about her upbringing or her family life. However, it does appear that she has a close relationship with her mother. In March 2018, she shared a photo of her mother in honor of Mother's Day. It's unclear whether Poppy has any siblings.
Tell us what's wrong with this post? How could we improve it? :)
Let us improve this post!