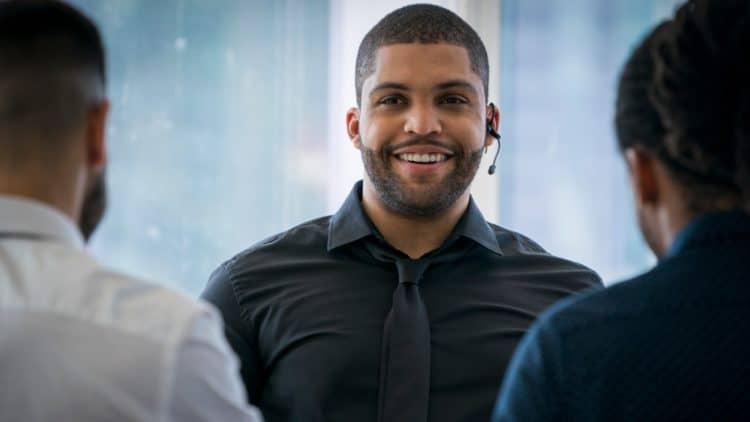 When O'Shea Jackson Jr. made his professional acting debut in the 2015 movie Straight Outta Compton, he had some pretty big shoes to fill. Not only was the movie a major project, but he was also playing his legendary father, O'Shea Jackson Sr. AKA Ice Cube. While some people may have thought nepotism was the only reason O'Shea was cast, he quickly proved that he was full of talent. His performance earned him lots of attention, and it quickly became clear that he had the potential to have a long career in the entertainment industry. Since then, he has continued to do his thing, and he has some very impressive things coming up in the future. Keep reading to learn 10 things you didn't know about O'Shea Jackson Jr.
1. He Hopes To Play A Variety Of Roles
It's no secret that it can be easy for actors to get boxed into playing certain kinds of roles. That is something O'Shea really hopes to avoid. His goal is to play as many different kinds of roles as he can. So far, I think it's safe to say that he's doing a pretty good job in that regard.
2. He Loves Interacting With His Fans
No matter how talented a person is, the reality is that it's impossible to make it big as an entertainer without having a strong base. This is something that O'Shea fully understands, and it's exactly why he never takes his fans for granted. He enjoys being able to interact with his fans whenever he gets the chance, and it's common to see him responding to questions and comments on Twitter.
3. He Studied Screenwriting
Acting may be O'Shea's main focus at the moment, but that probably won't always be the case. During an interview with Paper Mag, O'Shea said, "I went to school at USC for screenwriting — I'm a Trojan at heart. I still have to finish up there. But screenwriting is my first love. I can't shake it, you know?"
4. He Has An Account On Cameo
Social media has made it easier than ever for people to stay in the loop with what's going on in the lives of celebrities, the Cameo has taken things one step further. The platform allows people to record and sell personalized video shoutouts. Although O'Shea isn't currently accepting any new orders at the moment, fans can be notified when he's back in action.
5. He's A Proud Dad
In general, O'Shea has chosen to stay pretty private when it comes to his personal life. One thing he has been very open about, however, is the fact that he loves being a dad. While talking to Essence Magazine, O'Shea shared that being a father has given him "a new purpose in life".
6. He's A Musician
Acting and screenwriting aren't the only ways that O'Shea Jackson Jr. is following in his father's footsteps. He also enjoys making music. He has been performing under the name OMG for several years and in 2012 he released his debut mixtape titled Jackin' For Beats.
7. He's A Basketball Fan
In his recent role in the Apple TV + series Swagger, O'Shea plays a youth basketball coach who was once a promising player himself. While he may not have been a high school basketball star in real life, O'Shea really does enjoy playing and watching basketball. As a Los Angeles native, it goes without saying that he's a fan of the Lakers.
8. He Has A Close Relationship With His Parents
O'Shea was raised in a close-knit family and his loved ones continue to play important roles in his life. In an interview with Talk Stoop with Nessa, O'Shea talked about the love and respect he has for both of his parents. He also added that his mother calls him every year for his birthday to tell him the story of his birth and remind him that his birthday is really all about her.
9. He's A Wrestling Fan
O'Shea Jackson has been a huge wrestling fan for much of his life. Watching isn't the only thing O'Shea likes to do, though. In an article from Ringside News, O'Shea said that he is a WWE "fanatic" and that he would be happy to get the chance to work with the organization.
10. He Loves Anime
O'Shea has played some very cool people on screen, but in real life, he isn't worried about being smooth all the time. Jackson admits that he has a bit of a nerdy side and he loves things like anime and video games. His Instagram account contains a fair amount of anime content and it appears that he is a fan of Dragon Ball Z.
Tell us what's wrong with this post? How could we improve it? :)
Let us improve this post!