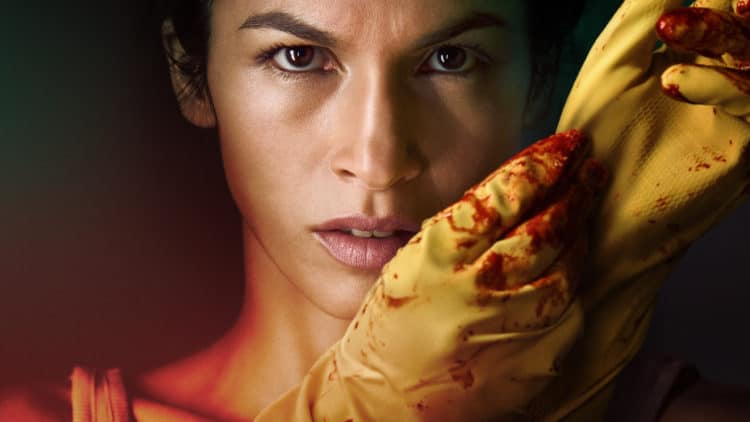 2022 is just getting started, but it's already clear that it's going to be a great year for TV. There are lots of new shows hitting the airwaves, but The Cleaning Lady is easily one of the most intriguing. The series, which debuted on January 3rd, is based on an Argentinian TV series called La Chica Que Limpia (The Girl Who Cleans). The series follows a woman named Thony De La Rosa who is a doctor in Cambodia. However, after her son is diagnosed with a rare illness, she decides to go to the United States in hopes of finding someone who can treat him. After several unfortunate events, Thony's Visa expires and she takes a job as a cleaning lady so that she can take care of her son. While on the job, she ends up witnessing a murder which leads to her being recruited by a mobster who wants her to use her medical skills to clean up crime scenes. As you can imagine, this puts Thony in an interesting position. On one hand, she doesn't want to get caught up in any illegal activity. On the other hand, she has to do what she can in order to look out for herself and her son. Since its premiere, the show has been getting lots of attention which has also put the spotlight on the talented cast. While many of the show's stars aren't well known to American viewers, that probably won't be the case for much longer. Keep reading to learn more about the cast of The Cleaning Lady.
Élodie Yung as Thony De La Rosa
Élodie Yung was born and raised in France, but she also has Cambodian heritage on her mother's side. Although it's clear that she was born to be an actress, Elodie's path wasn't a straight shot like you may expect. When she was younger, her father enrolled her in karate classes and martial arts became her main focus. She eventually earned a black belt. In addition to karate, education is also something that has always been important to Elodie. She attended the University of Paris where she studied law with the intention of becoming a judge. However, her plans changed and she decided that she wanted to be an actress. She made her first on-screen appearance in 2002 and she has been working consistently since then.
Adan Canto as Arman Morales
Adan Canto is a multi-talented person whose love for the arts is part of everything he does. He was born and raised in Mexico, but he crossed the border daily to attend school in the United States. When he was just seven years old, he began performing locally as a singer. By the time he was 16, he decided that he was ready to leave school and focus on pursuing a music career. He found a good deal of success writing and singing music. However, once the acting bug came along, it was impossible for him to ignore it. He started with commercials before making his first on-screen appearance in 2009. On top of the work he's done in front of the camera, Adan has also written, directed, and produced. Outside of his career, Adan is a proud husband and father.
Oliver Hudson as Garrett Miller
Oliver Hudson is a name that many American viewers will already be familiar with. He is the daughter of the legendary actress Goldie Hawn and his younger sister is Kate Hudson. Needless to say, Oliver has been around the entertainment industry for his entire life. However, despite his family's connections, he has always been the kind of person who likes to stand on his own two feet. Over the years, Oliver has proven that he deserves every opportunity that comes his way. He has been part of lots of successful projects and he's capable of playing a wide variety of characters. In addition to acting, Oliver also has one producer's credit. It seems likely that he will eventually do more work behind the camera. When it comes to life outside of work, it's clear that Oliver is all about family. He has been married for more than 15 years and has three children.
Martha Millan Fiona De La Rosa
Martha Millan's name may not ring many bells in the United States, but she has worked hard to make a name for herself in her home country of Australia. Although her journey hasn't been easy, Martha has always managed to rise above the odds that are stacked against her. When talking about The Cleaning Lady and the impact it could have, Martha told Pop Culturalist, "it's groundbreaking in every way, where the actors and the writers are all represented culturally. It's a great representation of what the world is and how the world is today. It also poses the question, as Melissa said, "How would you feel if you were in their shoes? What would you do? How far would you go as a family for your family?" It really makes you question that."
Sebastien LaSalle and Valentino LaSalle Luca De La Rosa
The role of Thony's son is played by young brothers Sebastien and Valentino LaSalle. In the series, Luca is suffering from a major illness. Since Sebastien and Valentino are both very new to the entertainment industry, there is much much information on either of them. H0wever, there's a good chance that we're going to hear more from them in the future.
Faith Bryant as Jaz
Born and raised in the Houst0n area, Faith is a young actress whose career began when she was only about six years old. However, it didn't take long for everyone who saw Faith work to realize that she was born to be a star. The Cleaning Lady is her first TV role, but Faith always manages to carry herself like someone who has many years of experience in the industry. At the moment, Faith doesn't have any new projects in the works, but we know that we're going to see a lot more of her in the future.
Eva De Dominici as Nadia Morales
Despite the fact that viewers in the United States may not have heard of Eva De Deominici, she is actually a big star in other parts of the world. She is originally from Argentina Eva began her professional journey in the mid-2000s. Since she got her start as a model, it may have been difficult for Eva to find people who were ready to take her seriously as an actor. However, no matter which obstacles she's had to face, Eva has always continued to move forward. In addition to the success, she's had on the small screen, Eva has also done some work on the stage. Regardless of the medium, however, Eva has already let the world know that she's always down to put on a great show.
Ivan Shaw as Marcos
Ivan Shaw grew up in California, but unfortunately, we weren't able to find any information on his upbringing or what inspired him to get into acting. What we do know, though, is that Ivan's journey wasn't without a few stops. After high school, he went on to attend UCLA, but his studies didn't include acting. At some point, he decided that he wanted to pursue a career as an actor. He made his first on-screen appearance in 2001 in the movie Rush Hour 2 although his role was uncredited. Over the years, Ivan has been working up to bigger and better opportunities and The Cleaning Lady has given him a great chance to continue sharing his talent with the world.
Shiva Negar as Isabel Barsamian
Shiva Negar has been acting professionally for more than a decade, but she is relatively new to the American acting scene. She was born in Iran but raised in Turkey and Canada. Shiva started her career in Canada, and after finding success she decided that she was ready to break into Hollywood. She got her first major break in America when she was cast in the 2017 movie American Sniper. Since then, she has continued working towards major opportunities.
Jay Mohr as Councilman Eric Knight
Jay Mohr is a New Jersey native whose entertainment career began during the early 1990s when he became the host of a show on MTV. In 1993, he became a featured player on Saturday Night Live which lasted for two seasons. Despite finding lots of success early in his career, Jay was struggling with a lot of things internally. However, he never allowed that to stand in his way. Throughout the years he has managed to work consistently and he has been a part of several successful projects. Prior to The Cleaning Lady, some of his acting credits included shows like Gary Unmarried and Suburgatory.
Liza Weil as Katherine Russo
Over the course of her career, Liza Weil has become well-known for her role in shows like How to Get Away with Murder and The Gilmore Girls. Although she doesn't have the biggest role in The Cleaning Lady, she still manages to attract attention every time she gets in front of the camera. On top of the work she's done on-screen, Liza has also found success in the theater world.mobster
Tell us what's wrong with this post? How could we improve it? :)
Let us improve this post!