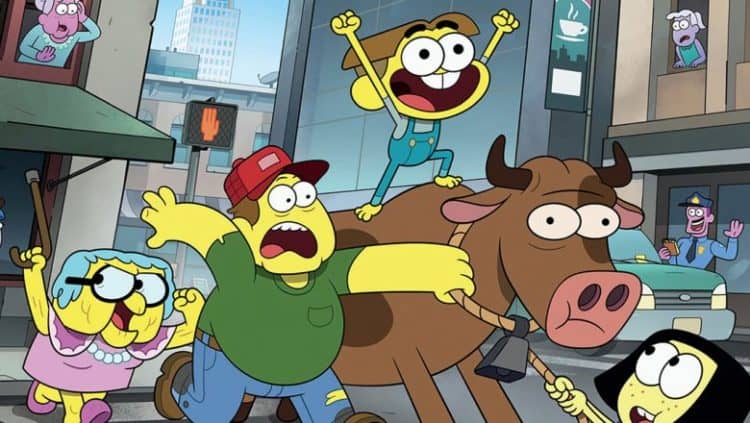 One thing about animation is that they never grow out of style regardless of how old you are; after all, we all could use a laugh now and then. Among the most celebrated animated series is Big City Greens and if you are a fan here are a few things you might know about the series.
1. It is based on the early life experience of Shane and Chris
Most of the characters and setting of the series are dependent on the early life of the brothers who grew up in rural Michigan. They moved to Los Angeles after graduating from college and had to learn there was a difference between the rural lives they were used to and the urban life to which they now had to grow accustomed. Characters such as Cricket are based on Chris including the hairstyle that Chris had as a child. Gramma Alice is based off their grandmother including the name, the dog, Phoenix is based on the dog they had, and the cat is based on their grandmother's cat.
2. Its original title was "Country Club."
According to Wikipedia, Big City Greens was initially titled "Country Club" at the time Disney XD was greenlighting the production of the series on 4th March 2016. The name only changed to "Big City Green" on 21st July 2017 although the reasons were not disclosed. However, maybe it was for the best since anything with "club" makes the audience think of high-end stuff other than what we have come to get used and love.
3. It premiered on June 2018
Immediately after the renaming of the series, they revealed a sneak peek of the show on 22nd July 2017 at the San Diego Comic Con. The convention has been held since 2003, and since 2010 it has had over 130,000 attendees and holds a few Guinness World Records among which is the largest comic and pop culture festival in the world. However, it was not until June 2018 that the series premiered and it comprises 30 episodes running for half an hour.
4. It was approved for a 2nd season in May 2018
Television is like any other business; you do not go buying lots of stock for a new startup yet you are not sure if whatever you are selling will be purchased. Usually, television networks will wait for the reception of a series before they can order a second season. However, Disney was so confident about "Big City Greens' that even before the show had premiered for the first season, it had already renewed it for the second season. According to kidscreen, Disney reserves series that have already created a loyal following so that it justifies resources spent on animation and to guarantee the success of the show. Guess someone had a double portion of faith in the Houghton brothers and what better way to demonstrate it. When the brothers finished writing season one, Disney was impressed with what they saw, so they asked them to keep going resulting into a season two. The second season will premiere in 2019.
5. It focuses on Cricket Green
The series focuses on an optimistic but mischievous boy who spent the first ten years of his life in the country but then moved with his family to the big city. Cricket is naturally enthusiastic and curious, and this leads him to have epic journeys with his family, and they come to be adored by their new urban neighbors. Cricket Green is a loose cannon in his family who takes ideas that might seem sensible to others and turns them into either terrific or horrific incidences depending on whatever his mind cooks up.
6. It comprises several award winners and nominees
The executive producer Rob Renzetti won the Primetime Emmy Award in 2009 for Outstanding Animated Program for "Fosters Home for Imaginary Friends: Destination Imagination." He also won the Ottawa International Animation Festival Award in 2004 for Best Television Series for Children for "My Life as a Teenage Robot." Some of the guest stars in season one include Raven Symone who has won the Blimp Award, Image Award, Impact Award among others. Another award winner is Busta Rhymes who also guest stars in the series.
7. It has a fan blog
Since the show has created such a massive following, it is no surprise that it has a fan blog dedicated to it to enable fans to post anything related to the series. Those who are diehard fans have the option of following the blog and never miss a post. Some of the posts so far include wishing Chris Houghton a happy birthday and a fan displaying excitement about the representation of gay people in the show.
8. The creators, Shane and Chris, have worked together for a decade
The brothers are behind some of the most popular animated productions including "Reed Gunther" which was their biggest project; Chris was the illustrator while Shane was the writer. They have also worked separately with Shane being the writer behind "Casper's Scare School," "Peanuts" and "The Simpson's Treehouse of Horror." Chris, on the other hand, was a contributor to "Gravity Falls," "Kung Fu Panda," "Adventure Time" and "The Simpsons." It is their work on "Reed Gunther" that caught Disney's attention and opened doors to the current collaboration. Disney liked the comic, but since it was not a perfect fit for the studios, they asked the brothers to keep pitching different ideas.
9. Some of the character designs have changed
Change is inevitable, and improvements have to be made, and it was no different for the designs of the characters in this animated series. On Tumblr, Chris reveals one of the very first designs he did for the series. He agrees that designs of characters like Tilly and Remy may have changed, but the spirit has remained the same. Tilly was taller, had puffy cheeks and wore a dress with flowers. Remy was also taller and had a portable laptop, but the design still changed to another version of Remy that did not wear a sweater and had a slightly longer head.
10. Chris Houghton lends his voice as Cricket Green
Chris seems to be giving his all to ensure the success of the series. He does not only write and use his own life story to give life to the show, but he also is the voice of Cricket Green, the series' main character.
Tell us what's wrong with this post? How could we improve it? :)
Let us improve this post!