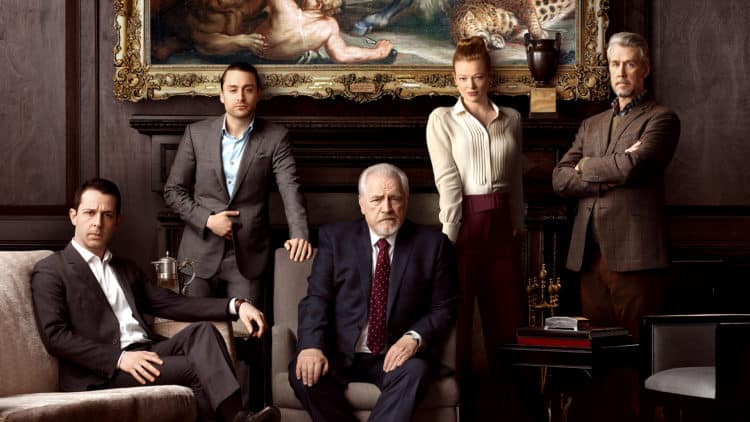 Family drama has always made great fodder for the entertainment industry, so it's no surprise that the TV series Succession has become such a big hit. The show centers around the Roy family and their fight over who will be in charge of the family's company when the patriarch passes away. Not only is Succession full of drama, but it also provides an interesting look into the things that people are willing to do for money and power. Despite being family, the Roys know that can't really trust each other. Now in its third season, the show is still going strong and all of its cast members continue to put on amazing performances. Keep reading to learn more about the cast from season 3 of Succession.
Brian Cox as Logan Roy
Although he was born and raised in the United Kingdom, Brian Cox has been a fixture in the American entertainment industry for decades. His undeniable acting chops have allowed him to play a wide variety of roles across the big and small screens. Thanks to his hard work, his resume not has well over 200 acting credits. No matter what kind of role Brian is playing, he always brings his character to life as authentically as possible. In addition to Succession, Brian also has a couple of other projects in the works that will be released over the next few years. His work doesn't stop at acting, though. Brian has also taken his talents to the other side of the camera as a director and producer. Outside of acting, Brian likes to keep many of the details of his personal life away from the spotlight. However, we do know that he is a proud father.
Jeremy Strong as Kendall Roy
After beginning his on-screen in the late 2000s, Jeremy spent several years focusing solely on film opportunities. He earned his first TV role in 2011 on the TV series The Good Wife. However, Succession is his biggest small-screen role to date. During his time playing Kendall Roy, he has proven that he can keep up with anyone and viewers have really enjoyed seeing him work. Jeremy is currently working on two film projects but it's unclear when they will be released. When Jeremy isn't busy working, he loves spending time with his wife and children.
Sarah Snook as Shiv Roy
Sarah Snook began her career on the stage, but she has since fallen in love with being in front of the camera. She made her first on-screen appearance in 2009 and has been a consistent presence ever since. Her role as Shiv in Succession is her biggest TV role so far and she has definitely been making the most of the opportunity. On a personal note, Sarah has been married to comedian Dave Lawson since 2021.
Kieran Culkin as Roman Roy
As Macauley Culkin's younger brother, Kieran Culkin's was often overshadowed. In recent years, however, Kieran has finally been getting his flowers and he definitely deserves them. Succession is his first major TV opportunity and during his time on the show, he has become a fan favorite. Kieran's acting talent is undeniable and he knows exactly how to command attention. Much like his brother, Kieran is very private when it comes to his personal life. However, we do know that he has been married since 2013 and he and his wife have two children together.
Alan Ruck as Conner Roy
Alan Ruck has been working in the entertainment industry for nearly 40 years. During that time, he has covered a lot of ground. Not only has he found success on the screen, but he is also an accomplished theater actor who has been on Broadway. His resume now includes more than 100 acting credits and he has been a part of several successful movies and shows. Prior to Succession, Alan was most well known for playing Stuart Bondeck in the TV series Spin City. On top of doing succession, Alan also has a miniseries in the pipeline called The Dropout which is set to be released in 2022.
Matthew MacFadyen as Tom Wambsgams
Matthew MacFadyen is the kind of actor who knows how to draw viewers in regardless of the size of his role. Throughout his career, he has left a lasting impression on viewers from all over the world. Although many of his most well-known credits are from UK productions, Matthew has become a star on our side of the pond as well. Acting isn't the only priority in Matthew's world, though. Matthew has been married to actress Keeley Hawes since 2004. The couple has two children together in addition to Keeley's child from a previous relationship.
Nicholas Braun as Gregory Hirsch
Nicholas Braun is a very talented actor who doesn't always get the credit he deserves. However, his time on Succession has really allowed the world to see what he's capable of. His fans are hoping that the success of the show leads to more opportunities for him down the line. Nicholas is very active on Instagram where he posts a variety of content. He also had a viral moment in 2020 when he released a parody song called "Antibodies (Do You Have The)".
Hiam Abbass as Marcia Roy
One of the best things about Succession is the fact that it has given several talented — but not widely known — actors the chance to share their talents on a large platform. Hiam Abbass is one of them. Although she has had a successful career in Arab cinema, Hiam had been mostly unknown to American viewers prior to Succession. However, her time on the show has earned her countless new fans and many can't help but be intrigued by her character's mysterious presence. On top of her work as an actress, Hiam has also written, directed, and produced a handful of projects.
Justine Lupe as Willa
Justine Lupe is a talented actress who trained at the world-famous Julliard School. She got her first big opportunity in 2012 when she was cast in the TV series Harry's Law. Things continued to pick up for her during the 2010s, and she appeared in several successful series including Snowfall, Cristela, and Madam Secretary. Although she'd already made a name for herself before Succession, being on the show has certainly helped turn her into a bigger star. When Justine isn't working, she loves traveling and spending time outdoors.
J. Smith-Cameron as Gerri Kellman
Even though J. Smith-Cameron has been in the entertainment industry for more than 40 years, she spent the bulk of her career doing theater. She has been a part of several Broadway productions including After the Night and the Music and Our Country's Good. Many of her on-screen roles have been on the smaller side, but J always knows exactly how to put on a good show. Her role as Gerri Kellman has earned her lots of attention and her fan base is continuing to grow. J. Smith-Cameron is fairly active on Instagram where she often posts about her travels.
Arian Moayed as Stewy
Arian Moayed doesn't have a main role in Succession, but he is still an important part of the cast. He is a talented actor who has been doing his thing for the last 20 years. Even though he doesn't have the longest acting resume, he has been a part of some great projects. In 2022, Arian will be in a TV series called Inventing Anna.
Peter Friedman as Frank Vernon
Like J. Smith-Cameron, Peter Friedman has spent a good portion of his career doing theater and he has also been on Broadway. He has been doing on-screen work for more than 40 years. Prior to Succession, his best-known TV credits were The Path and Brooklyn Bridge. In many ways, his role as Frank Vernon has been a second wind for his career. Peter was married to actress Joan Allen from 1990 to 2002. The couple has one child together.
David Rasche as Karl Muller
David Rasche's acting resume is about as impressive as they come. In an industry where longevity and consistency are difficult to find, David has managed to find them both. Playing Karl Muller in Succession is one of his biggest roles in recent years and he has been doing a great job. When it comes to his personal life, David Rasche is a relatively private person. He and his wife have three children together and they enjoy living life outside of the spotlight.
Dagmara Domińczyk as Karolina Novotney
After spending 20 years making small appearances across a variety of shows, Dagmara got a great opportunity when she was cast in Succession. The show has introduced her to a wider audience and it looks like it's already helping open more doors for her. Dagmara will be in a mini-series in 2022 called We Own This City.
Fisher Stevens as Hugo Baker
At this point in his career, I think it's safe to say that Fisher Stevens is a legend in the industry. Whether in front of the camera or behind the scenes, Fisher has shown he can do it all. Over the years, he has gotten to work with some of the biggest names in the business and he seems to be highly respected.
Tell us what's wrong with this post? How could we improve it? :)
Let us improve this post!