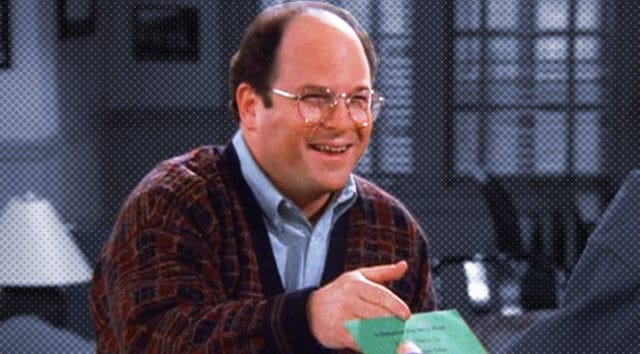 This is a different version of the Yelling Game since it's all about Jason Alexander and it's all about his role on Seinfeld. I'll admit to gasps of disbelief and possible looks of derision that I was never a Seinfeld fan. I might have watched the show a time or two when there was nothing else on and caught a few episodes. My knowledge of the characters runs only so far and their psychoses are known only superficially to me but in some cases that seems like it might be enough. As far as George Costanza goes he's a walking time bomb just waiting to fly off the hook at the smallest thing that he perceives as a problem. In fact it really seems like he does anything and everything he can to avoid having fun because having fun might break him in some fundamental way that just can't be allowed. In essence he's one of the most unpredictable yellers since you never know just what is going to set him off or why.
I'd say poor George but then he kind of brings a lot of stuff on himself.
5. George loses it.
It's funny how everyone else he talks to is calm, collected, and composed. He's the only one that ever flies off the hook and then their reaction is usually dependent on how he's affecting them in that given moment. Being taken to Rage-aholics is probably one of the last things that anyone should do for George. Instead they should really check him into a psych ward.
4. George is stressed.
That's one way to say it, that George is stressed. Another way to say it is that George tends to stress himself out and thereby stresses everyone else out and then perpetuates the cycle by becoming stressed out again. So in other words, he stresses, that stresses others out, and he stresses more because of that. In all honesty he seems to be better when he's stressed.
3. George's rage
Even just acting like he's angry doesn't make him happy. He's got to gripe about something it seems even if it's ridiculous to everyone else. George is the kind of guy that you'd love to just walk away from, but like a tiny dog with a serious small man complex he's bound to get caught up underfoot and continue to harp at you for pretty much nothing at all.
2. World's are colliding.
I'm all for keeping certain parts of your life separate from each other as much as possible so as to enjoy some parts and keep the others the way they need to be, but it can't possibly be this stressful. George really has no life, so how can he stress about taking one part of his life and allowing it to interact with another when it would be as catastrophic as putting two slugs together in a garden?
1. Jerry Seinfeld is a funny guy.
George is the kind of guy you don't know why you stay friends with. Somehow there's a reason why you hang around him but for the life of you that reason is almost impossible to determine.
He's definitely a yeller though.