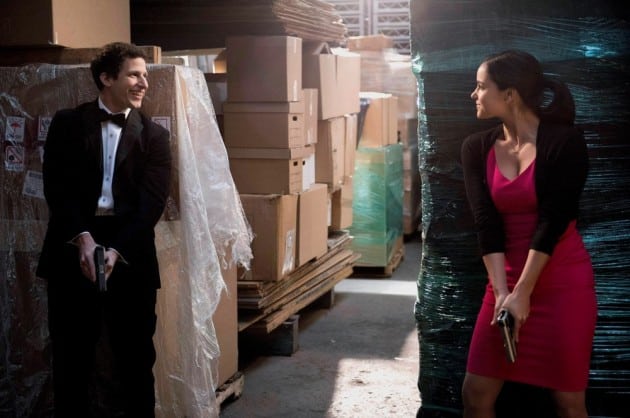 With the 2014-15 TV season coming to a close, TVOvermind is taking a closer look and reviewing the most recent seasons of some of network TV's biggest shows. We last examined CBS' "NCIS: Los Angeles." Next up: FOX's "Brooklyn Nine-Nine."
Making a second season of any TV show is difficult, but it's especially hard when the series is already a hit. There's not just the question of whether you'll fall into a sophomore slump but the added pressure to reach new creative heights. And while I've heard some say that Season 2 of FOX's excellent comedy Brooklyn Nine-Nine didn't take any type of giant leap forward compared to its first season, I'd argue that's because Season 1 of the show made Brooklyn one of the best comedies on TV (which it still is today), and that smaller, more subtler developments throughout this season may have gone unnoticed by some people but had a huge impact on making the series' second season even better than the first.
As my colleague Laura Schinner said in many of her weekly reviews of Brooklyn Nine-Nine this year, Season 2 of the show was mainly focused on examining and strengthening new friendships between members of the precinct. Brooklyn Nine-Nine's first season provided us with plenty of excellent moments involving Jake and Holt and their many connections with other characters, and those relationships were further explored in Season 2 as well (look at the many episodes dedicated to Jake and Boyle, or Amy and Holt, or Jake and Amy–but more on that last pair in a bit). However, Brooklyn Nine-Nine's second season also treated us to the awkward and hilarious hookup buddies that were Gina and Boyle; Rosa and Holt hesitantly growing closer after Rosa began dating his nephew, Marcus; and the incredible combination that is Amy and Gina, who actually found some common ground this year and became real, legitimate friends (I could seriously watch Melissa Fumero and Chelsea Peretti hang out and pretend to be drunk all the time).
And taking time to focus on these new dynamics didn't do anything to disrupt from the already solid foundation that Brooklyn Nine-Nine had built. Terry kept hilariously talking about things he loves (and doesn't love) while considering his family (whether that meant his wife and kids or the precinct) first and foremost; Boyle and Rosa's friendship, which began last season after his romantic pursuit of her stopped, only became more solidified, especially in the Season 2 finale when he helps create her perfect birthday dinner with Marcus; and Jake and Holt's father-son relationship still remained important, particularly in "Captain Peralta," when Jake's real father reaches out to his son only to use him for personal gain. In fact, a lot of the quieter, more emotional moments that Jake had this season was some of the best-written and best-acted material in Season 2, and these scenes allowed for Andy Samberg, who is a terrific comedic actor, to show off his more serious dramatic chops, as he dealt with his abandonment issues, his lack of a "real" family, and struggled with his feelings for Amy.
Speaking of Jake's feelings for Amy, the romantic tension between the friends and coworkers provided Brooklyn Nine-Nine with perhaps its best story of the season, as the two of them continued to try and deny how they felt about each other before everything reached a tipping point in the Season 2 finale. I've already written a lot about why Jake and Amy's relationship is one of the very best parts of the show and how Brooklyn Nine-Nine is doing TV romance the right way with the two of them, and that was all before the finale, which proved yet again how great of a duo they are. It's a combination of the chemistry between Samberg and Fumero, who play so incredibly well off each other, and the smart, focused writing of the Brooklyn Nine-Nine staff. The most important thing that the writers did was have Jake and Amy establish their friendship for one another, illustrating that they each care about what the other wants or needs before their own desires (for example, Jake not trying to wreck Amy's date with Majors, or Amy helping Jake try to get his old crush in this season's wedding episode). It's that compassion and selflessness (plus the fact that the two are just so much fun to watch, as they make one another laugh, or work together to crack a case) that instills Jake and Amy with a depth and authenticity that you don't always see with will-they-won't-they couples on sitcoms; it makes you root for them even more.
Overall, this was another fantastic season for one TV's very best comedies, providing us with some terrific emotional payoffs (Holt leaving the precinct and saying goodbye to the members of the Nine-Nine for the time being, Jake and Amy's first real kiss after their two cover ones) and new directions as we head into Season 3 (Who will the replacement for Holt be? Where do Jake and Amy go from here?). I can't wait to see what happens next when my favorite TV cops return this fall.
[Photo via FOX]
Tell us what's wrong with this post? How could we improve it? :)
Let us improve this post!